Incorporated in 2006, Interglobe Aviation Ltd is India based aviation, hospitality and travel related service provider. Company own and operate 'IndiGo', India's largest airline with over 33% of domestic passenger market share.
IndiGo has scheduled services to 33 cities within India and 5 cities (Bangkok, Dubai, Kathmandu, Muscat and Singapore) internationally with 623 daily flights.
Company also has a joint venture with Accor Asia Pacific since 2004 to develop a network of 'ibis' hotels throughout India, Nepal, Sri Lanka and Bangladesh. With 10 ibis hotels open and 9 under development, the company shall have a portfolio of 19 operational hotels with room inventory of about 3500 rooms by 2017.
Company's Strengths
1. Largest market share in one of the largest and fastest growing aviation markets in the world
2. Maintain disciplined execution of the low-cost carrier business model with single aircraft type, high aircraft utilization, high operational reliability, no-frills product and low distribution costs.
3. A structural cost advantage. Large Airbus aircraft orders enable favorable terms on aircraft, engines and components. Company has Young, modern and fuel-efficient fleet.
4. Company maintained consistent profitability and strong cash flow generation, balance sheet and liquidity position.

Company Promoters:
The promoters of the company are Mr Rahul Bhatia, Mr Rakesh Gangwal and InterGlobe Enterprises & Acquire Services.
Objects of the Fresh Issue
Company proposes to utilize the funds which are being raised through the Fresh Issue for the following objects:
1. Retirement of certain outstanding lease liabilities and consequent acquisition of aircraft;
2. Purchase of ground support equipment for our airline operations; and
3. General corporate purposes,
4. To receive the benefits of listing of the Equity Shares on the Stock Exchanges.

Highlight :
Issue Opens On: Tuesday, October 27, 2015
Issue Closes On: Thursday, October 29, 2015
Issue Type: 100% Book Building
Issue Price Band: Rs.700– Rs.765
Face Value Per Share: Rs.10
Minimum Bid Lot: 15 Equity Shares and in multiples of 15 equity shares thereafter
Minimum Order Value: Rs.10,500 to Rs.11,475
Issue Size: Rs.3,108 crore
Proposed Listing: Bombay Stock Exchange and National Stock Exchange
Lead Managers: Citigroup Global Markets India Private Limited, J.P. Morgan India Private Limited, Morgan Stanley India Company Private Limited, Barclays Bank PLC, Kotak Mahindra Capital Company Limited, UBS Securities India Private Limited
Registrar: Karvy Computershare Private Limited
In April-June quarter, IndiGo posted a net profit of Rs 640.44 crore. During the same period, total revenues stood at Rs 4,317.19 crore. For the year ended March 2015, the carrier recorded a net profit of Rs 1,295.58 crore on revenues of Rs 14,309.14 crore.
As of December 31, 2014, it had a total indebtedness of Rs 4,002.8 crore and Rs 2,474.6 crore of net debt (net of free cash of Rs 15,28.2 crore)

Positive
IndiGo enjoys Highest Domestic Market Share of 34% for fiscal year 2015 which has been increased to 37.4% for the five months ended 30th August, 2015.
IndiGo has been awarded for "Best Low-Cost Airline in Central Asia & India" at the SkyTrax World Airline Awards for six consecutive years from 2010 to 2015.
IndiGo is ranked seventh largest LCC in the world in seat capacity. IndiGo's fleet has grown from a single aircraft to 97 aircraft in 9 years and company is expected to receive 14 more aircrafts by this year end.
IndiGo has the lowest Cost per Available Seat Kilometres (CASK), commonly used measure of unit cost in the airline industry, according to a report by SAP.
Negative
Its net worth fell to a negative Rs 139.39 crore at the end of June 2015. The company has attributed this to payment of interim dividend. Net worth of the company was Rs 426.22 crore as of March 31, 2015 . The company says this may make it difficult or expensive to obtain future financing or to meet liquidity needs.
Key risks to Indigo's growth include:
a) inability to grow domestic networks and frequencies in a profitable manner
b) inability to acquire additional licenses and traffic rights
c) delay or inability to procure, flight slots on financially viable terms
d) changes to cost structure
e) greater exposure to exchange rate volatility
Failure to comply with covenants contained in aircraft and engine lease agreements or financing agreements could have a negative impact on IndiGo.
Unlike most full-service carriers, Indigo does not offer a frequent flyer program, free lounges or include food and beverages in ticket price for non-corporate passengers. These items have helped to further reduce its cost base.
The board member and promoters of Indigo airlines are involved in some legal/criminal cases which may affect on business/financial condition, brand of Indigo.
Company has contingent liabilities of Rs.92 crore which if materialized can adversely affect the profit of current year.
Concerns
If the US interest rates start rising, it will increase the borrowing cost of lessors thereby making it less viable for them to buy planes from IndiGo. In addition, IndiGo may end up paying higher lease rentals. IndiGo's networth turned negative as of June 30, 2015. This is due to high dividend payout.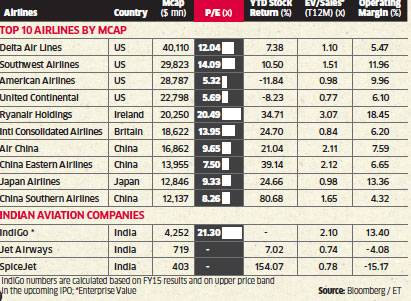 Valuations
"On the valuation front, the company looks expensive comparing with most of its peers in the Europe, the Middle East and Africa (EMEA) and American regions. Further, comparing EV/EBITDA and P/E multiples with the players in the EMEA and American regions, the company is priced higher.
Conclusion
Retail investors should wait for secondary market listing. Hence this appears to be a 'High Risk/Low return' bet.
And if you are applying for Indigo IPO with the intention of selling it for a premium on listing day, please keep an eye on Bihar election results on 8 th Novemeber. Performance of BJP may directly affect the market sentiment and IPO listing price.