Financial Experts believe that it is never too late to start investing. But at the same time, they also emphasis that the sooner you start, better it is for your future. Keeping this in mind, many parents' start saving for their children right from the day they are born. And what's safer than keeping money in a Bank account in the name of your child. Having a savings bank account for your child not only helps you to build a corpus for child's future needs like education, but it also helps to inculcate the habit of savings in children from an early age.
Having kids savings account is like having a bigger piggy bank, where the money will be safe and can earn interest on the same.
Following are some of the popular savings accounts for kids offered by Banks in India.
1. ICICI Bank Young Star Account
Young Star Account is Kids saving account of ICICI bank. In order to open this account you must be existing account holder of ICICI bank.
ICICI Bank Young Star Account Features

Young Stars Account
ICICI Bank Young Stars Account is a banking service for children in the age group of 1day – 18years. The guardian can open and operate the account on behalf of the minor.
• Standing Instructions Facility to debit money from parents account to the youngstars account.
• Special Internet Banking
• Money Multiplier Facility
• Choose Young Stars debit card with limits of Rs. 1,000 / Rs. 2,500 / Rs. 5,000 for shopping and cash withdrawal each day.
• Free Young Stars Debit Card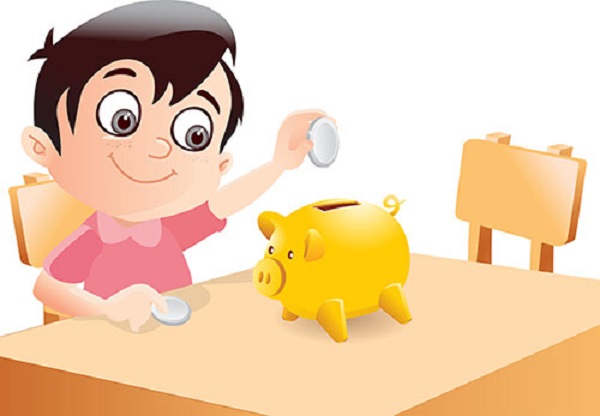 Smart Star Account
Minors above 10 years of age, can independently open and operate the account.
• The minimum Monthly Average Balance (MAB) to be maintained is Rs.2,500.
• Free Personalised debit card with spend and withdrawal limit of Rs. 5000
• Personalised cheque book – cheques can be issued by the child
• Free Internet Banking access
• Free Mobile Banking Access
• Free email statement
• Pre-paid Mobile recharge facility
2. Kotak My Junior Account
Kotak My Junior Account is one of the best kids saving account. This account offers multiple benefits.
Kotak My Junior Account Features
• Earn 6% interest p.a. on savings account balance over Rs. 1 Lakh and 5.0% interest p.a. on balances up to Rs, 1 Lakh on Resident Accounts only.
Debit Cards will be issued to children above the age of 10 years and it will have a daily withdrawal limit of Rs. 5,000/- only.
• Rewards for saving money regularly in this account. These rewards includes book voucher, movie ticket and discount vouchers.
• Exclusive Kotak Junior ID card
• Exclusive privileges and discounts at multiple places.
3. HDFC Kids advantage Account
HDFC offers Kids advantage account for the child. HDFC Kids advantage account offers additional benefits like education insurance cover etc.
HDFC Kids Advantage Account Features
• HDFC Kids Advantage Account is for minor up to 18 years of age.
• This account offers free education insurance cover of 1 Lac.
• You can give standing instruction to transfer any amount from your account to your Kid's Advantage account every month.
• Automatic sweep facility in case amount reaches/exceeds to Rs.35000
• Free cash withdrawals on any other Bank's ATM
• ATM/International Debit Card will be issued for children between 7-18 years of age in your child's name with your permission. Your child can withdraw Rs. 2,500 at ATMs and spend Rs. 10,000 at merchant locations per day.
• Free NetBanking for you to monitor your child's account.
• Standing Instruction to transfer any amount from your account to your Kid's Advantage account every month (Minimum value Rs. 1,000 & Minimum tenure 1 year) (Mandatory).
4. Axis Future Stars Saving Account
Axis bank kids saving account is known as Future Stars saving account. This account is useful if you want to introduce your child to the basic principles of money management.
Future Stars Saving Account Features
• Low minimum opening deposit of 2500 Rs.
• First 5 free transactions at Axis Bank ATMs
• Free SMS Alerts, Monthly e-statements/Passbook and Internet Banking Facility
• Free ATM card for children below 10 years with a daily withdrawal limit of Rs.1,500
• Visa Classic Debit Card at a nominal fee of Rs.150 for issuance and Rs.150 annually thereafter in metro and urban locations
• One free payable-at-par Cheque book per quarter in the child's name
• No Average Monthly Balance requirement if a Fixed Deposit (for 6 months) of Rs.25,000 or a Recurring Deposit of Rs.2,000 (for a year) is maintained.
• For children above 10, an image of their can choice can be printed on the debit card
• Avail of personal accident insurance cover of upto Rs.2 lakhs by swiping your card once every 6 months
• Combined Lost Card Liability and Purchase protection liability of up to Rs. 50,000 to protect against fraudulent use of the debit card or damage/loss of articles purchased using debit card.
5. SBI PehlaKadam PehliUdaan
PehlaKadam and PehliUdaan are two different kids saving account offered by SBI bank. Both these saving bank accounts offer multiple features like internet banking, mobile banking etc.
• Interest at 4.00% p.a. calculated on a daily balance
• Transferability of accounts to any SBI Branch without changing the account number.
• Nomination facility is available and recommended.
• Specially designed branded Passbook issued free of charge.
Personal Accident Insurance Cover (offered by SBI General) for the Parent (in case of Pehla Kadam account only).
PehlaKadam Account Features
• PehlaKadam is account for minor of any age.
• This account will be jointly opened with the parent/guardian.
• No Minimum balance requirement.
• Special ATM card with embossed child photo will be issued.
• Auto sweep facility available.

PehliUdaan Account Features
• PehliUdaan is account for minor above 10 years age.
• PehliUddan account can be opened on the sole name of minor.
• Mode of operation of this account will single by minor.
• All other features of this account is similar to PehlaKadam.
6. Power Kids by IDBI Bank:
The power kids' savings account by IDBI Bank is actually powerful as it requires an average quarterly balance (AQB) of only Rs.1500 and does not charges any penalty on non-maintenance of desired AQB.
It has a set daily withdrawal limit of Rs.2,000 on its ATM-cum-Debit card. Moreover, the children having their savings account can easily strengthen their relationship further with IDBI Bank by availing education loan for their higher studies on discounted rates.
• No charges for non maintenance of AQB
• Exclusive designed Kids ATM Card*
• Personalized Cheque Book
• Free monthly statements via mail on request
• Free Passbook
• Demand Drafts and Pay orders on request
• Free five ATM transactions at other Bank ATMs at Non Metro Locations
There are other banks like United Bank of India, Karur Vysya Ban, Citi Bank and HSBC bank.