Positive for Insurance
Foreign investment in insurance, pension sectors up to 49% via automatic route ( IIFL Hold )
Proposes Rs 5,500 cr for crop insurance scheme for FY17 ( Bajaj Fins,L and T Fin )
NBFC shall be eligible for deduction to extent of 5% of its income in respect of provision for bad debts ( SKS Micro, IIFL,NETWORK 18 )
Propose to launch new health care scheme with Rs 1 lakh as cover per family
Positive for general Insurance companies ( Reliance capital, Kotak )
Target of amount sanctioned under Pradhan Mantri Mudra Yojana (SKS Microfinance, Satin Creditcare )
Amendments in SARFAESI Act 2002 to enable sponsor of an ARC to hold up to 100% stake in ARC
Positive for fertiliser companies
Unified agri market scheme to enhance farmer access to markets (Coromandel Fertiliser,Chambal,GSFC )
Have to give farmers income security, aim to double farmer income
Negative for Auto
To levy 1-4% infra cess on cars, SUVs, higher engine capacity vehicles and 2.5% tax on diesel vehicle
Tax to be deducted at source at rate of 1% on purchase of luxury cars exceeding value of Rs 10 lakh ( Tata motor,Maruti,M&M )
Negative for PSU Bank
FM says Rs 25,000 cr for bank recapitalisation (less than expected, so negative for PSU banks) ( SBI,BOB,PNB)
Positive for PSU Bank
Goverment has option to reduce stake in IDBI below 50% ( IDBI )
Positive for Engineering
Will commission 9 km/day of broad gauge lines in FY18 and 13km/Day by FY19 ( Kalindee rail )

Positive for IT companies
Digital depository for school leaving certificates, college degrees ( TCS,Infosys,Wipro )

Positive for Software and training
set up high education financing agency with Rs 1,000 cr capital ( APTECH , NIIT, zee learn )
Regulatory architecture to be provided to ten public and ten private cos.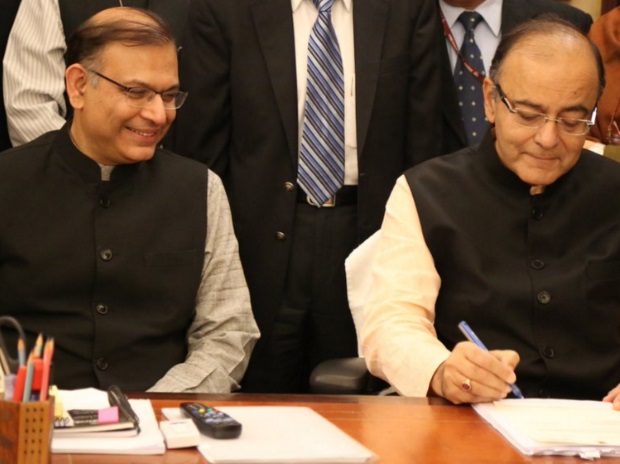 Positive for food processing cos
100% FDI to be allowed through FIPB route in marketing of food ( Nestle , Britannia,)
4 new schemes to enhance dairy farming in India at Rs 850 cr ( prabhat dairy )
Positive for Hospitals & Medical Services
Allocation of Rs 1.5 lakh cr for social sector including education, healthcare ( Aptech,Apollo hospital,Fortis,Narayan hrud )
Positive for Ceramics & Granite
FM allocates Rs 9,000 cr towards Swachh Bharat Mission (Nitco Tiles, Kajaria Ceramic, HSIL, Cera Sanitary )

Positive for Chemicals
e-Platform to connect wholesale agri markets ( pdiilite,Tata chem )

Negative for Cigarettes
To raise excise duty on most tobacco products by 10-15%. (ITC, VST Industries, Godfrey )
Positive for Construction & Contracting – Housing
Propose 100% deduction to undertakings for construction of affordable housing (DB Realty, NBCC ,Ashiana Housing , Peninsula Land, Nila Infra )
Raise personal I-T house rent exemption to Rs 60,000 from Rs 24,000/year. ( DLF,Oberoi Reality)

Positive for electricals
All major stations to have CCTVs in phased manner, 311 railway stations currently under CCTV surveillance (Zicom , Bharat electronics, Genus Power, Centum Electron )
Positive for Infrastructure
Investment in road sector, including PMGSY allocation, would be Rs 97000 cr in FY17.
( IRB, ITNL, HCC, Sadbha, L&T, NCC, Ashoka Buildcon )
To issue guidelines for renegotiation of PPP contracts ( L& T,Bhel,Adani ports,Siemens )
Allocate Rs 55,000 cr for roads & highways excluding Rs 15,000 cr NHAI bonds (MEP Infra, MBL Infra IRB Infra, J Kumra )
Improvement of suburban transport systems ( BEML )
Will set up 2 Locomotive Factories at the cost of Rs 40,000Cr (BHEL, BEML)
Positive and Negative for Mining & Minerals
Propose to scrap export duty on low grade iron ore. ( NMDC )
Clean energy cess for coal Rs 400/tonne (- ve for JSW, Coal India)
Plan to establish wi-fi services in 100 more stations in 2016 and 400 stations in 2017, ( D link )
Positive for Oil Drilling And Exploration
Cess on crude reduced from Rs 4500/MT to 20% ad valorem. ( ONGC, CAIRN INDIA)

Positive for pharma
FM propose to exempt parts of dialysis equipment from basic customs duty ( opto circuit )

Positive for Plastics
Propose to spend Rs 86,500 cr on irrigation projects in 5 years,28.5 lakh hectares will be brought under irrigation, Allocation for Accelerated Irrigation Benefits
Programme at Rs 17,000 cr for FY17, Allocation to farming sector at Rs 35,984 cr (Jain Irrigation, EPC)
Positive for Power – Generation & Distribution
Propose Rs 8,500 cr for rural electrification (Power Grid, NTPC, PFC, REC)
Target is to commission 1000 MW of Solar Capacity in next 5 years (Indowind Energy)
Positive for Power – Transmission & Equipment
Government committed to achieve 100% village electrification by May 1, 2018 (KEC international, L&T, Kalpataru Power
FM allocates Rs 9,000 cr towards Swachh Bharat Mission (A2Z Infra)
To up FY17 allocation for electrification by 50% (Kalpataru Power, KEC Intl, Siemens)
Electrification of 2000 Km (KEC international )
No reimposition of custom duty on crude
Negative for Textile
Higher excise on readymade garments priced at Rs 1,000 or more (Arvind)

Positive for Transport & Logistics
Basic custom and excise duty on refrigerated containers reduced to 5% ( snowmen )

Negative on Aviation
Excise duty on aviation fuel increased to 14% from 8% (SpiceJet, Jet, InterGlobe)
Positive for Transport & Logistics
Mission to provide LPG gas connection to women household members (Aegis Logistics)
Positive for Transport & Logistics
Propose to set up 3 Freight Corridors (Gateway Distriparks)