Ujjivan Financial Services Ltd. (UFSL) is a well established player in Micro Finance sector and is in operation since 2005. Company's missions of providing a full range of financial services to the economically active poor who are not adequately served by financial institutions bear fruits.
It's business is primarily based on the joint liability group lending model for providing collateral free, small ticket-size loans to economically active women. Ujjivan Financial Services also offers individual loans to Micro & Small Enterprises ("MSEs").
On October 7, 2015, the company was one amongst 10 companies in India, out of a total of 72 applicants, to receive in-principle approval from the RBI to set up a small finance bank.

Ujjivan Financial Anchor Allocation @Rs.210 per share for Rs. 265 cr.
Birla MF – 30.04 cr
Birla Life – 25.04 cr
UTI MF – 25.04 cr
Tata MF – 25.04 cr
Sundaram MF – 25.04 cr
I-Pru MF – 25.04 cr
Rel MF – 25.04 cr
Bajaj Allianz – 15.04 cr
HDFC Life – 15.04 cr
Rel Life – 15.04 cr
Max Life – 7.04 cr
Tata AIA Life – 7.04 cr
BNP Paribas – 5.05 cr
Canara Robeco – 5.05 cr
Forefront – 5.05 cr
LIC Nomura – 5.05 cr
Canara HSBC Life – 5.05 cr
Total – Rs. 264.75 cr
They offers group loans and individual loan as per their customer requirements. That include agricultural, education, home improvement, home purchase and livestock loans. In addition to loan products, they also provide non-credit offerings comprising of life insurance products, in partnership with insurance providers such as Baja Allianz Life Insurance, Kotak Mahindra Life Insurance, and HDFC Life Insurance Company Ltd.
Ujjivan Financial operations is spread across 24 states and union territories, and 209 districts across India. serve over 2.77 million active customers through our 469 branches and 7,786 employees.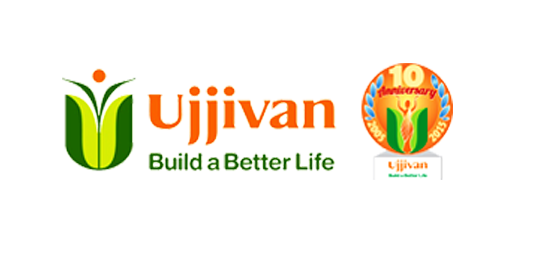 Read also
Thyrocare Technologies IPO review
Objects of the Issue:
1. Augmenting capital base to meet future capital requirements;
2. General corporate purpose.
Issue Detail:
Issue Open: Apr 28, 2016 – May 2, 2016
Issue Type: Book Built Issue IPO
Issue Size: 42,270,760 Equity Shares of Rs 10 aggregating up to Rs 887.69 Cr
Fresh Issue of Equity Shares of Rs 10 aggregating up to Rs 358.16 Cr
Offer for Sale of 24,968,332 Equity Shares of Rs 10 aggregating up to Rs [.] Cr
Face Value: Rs 10 Per Equity Share
Issue Price: Rs. 207 – Rs. 210 Per Equity Share
Market Lot: 70 Shares
Minimum Order Quantity: 70 Shares
Share holders in Ujjivan Financial Services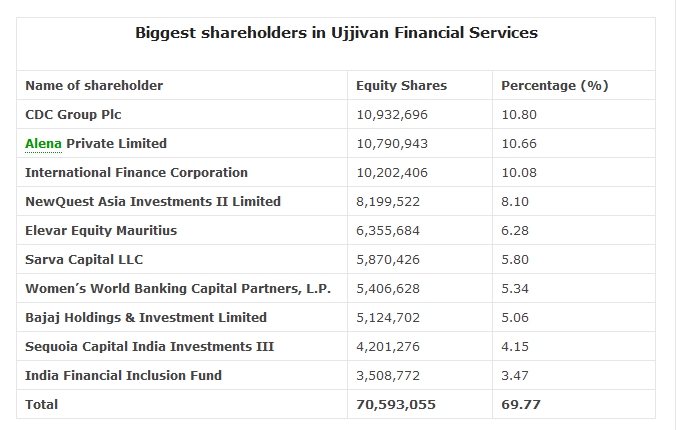 To provide exit option to its existing stakeholders and to raise fresh funds to meet its future capital requirements, the company is coming out with a maiden IPO consisting of primary as well as secondary offer.

On performance front, while the company enjoys well experienced and trained staff as well as loyal customers trust, its AUM and business marked CAGR of 51% and 41% respectively for last five fiscals. Its top and bottom lines has been growing steadily.
For last three fiscals its total income and net profits were Rs. 233.93 cr. / Rs. 32.84 cr. (FY13), Rs. 357.66 cr. / Rs. 58.42 cr. (FY14) and Rs. 611.88 cr. / Rs. 75.79 cr. (FY15). For first nine months ended 31.12.15 it has reported net profit of Rs. 122.31 crore on a total income of Rs.729.64 crore.
If we attribute these earnings on annualized basis on fully diluted equity post IPO then asking price is around 15 P/E that augurs well compared to its listed peers.
Positive
In principle approval received from RBI to set up small finance bank ( SFB ) which can boost its revenues in future.
On the uppar price band of Rs.210/- and on FY15 EPS OF Rs.10.63, PE ratio works out to 19.7x. Similarly on last 3 years EPS of Rs.8.93, PE ratio works out to be 23.5x.
PE ratio between 19.7 and 23.5.
It's competitors, SKS micro finance PE ratio is 36x and shriram city union finance is 17.5x and the industry average is 28x. Hence, i feel the upper price band of Rs.210 per share is reasonably priced.
Negative
Company may not be able to set up the proposed SFB ( small finance bank ) within the timelines prescribed by the RBI

There can be no assurance that they will be able to replicate its past business performance, growth and profitability during the SFB transition period.
Company results of operations and income are dependent on its ability to manage interest rate risk,and an inability to manage its interest rate risk may have a material adverse effect on its buisness prospects and financial performance.
They are exposed to operational and credit risks which may results in NPA.

Conclusion
Considering the status enjoyed by this company in MFI business and the plans for transition into a small finance bank, investment in this IPO will bring reasonable rewards in coming years. ( Readers must consult a qualified financial advisor prior to making any actual investment decisions )
DISCLAIMER:
No financial information whatsoever published anywhere here should be construed as an offer to buy or sell securities, or as advice to do so in any way whatsoever. All matter published here is purely for educational and information purposes only and under no circumstances should be used for making investment decisions. Readers must consult a qualified financial advisor prior to making any actual investment decisions, based on information published here.