Only 3% of the total Market Capitalisation in India is held through Equity Mutual Funds, whereas direct holding of stocks by individuals is nearly 22% of the market (7 times more); contrary to the developed markets where retail investors tend to hold the stock through Mutual Funds.
People usually prefer to invest in both Equity and Debt (Balanced) Schemes due to high volatility in the stocks but such volatility erodes when investing in long term. Equities are a great compounding factor and with government encouraging more entrepreneurs, the Indian Economy is surely in a booming stage which will further attract more investments.
India's Equity Mutual Fund Investors who have kept there Systematic Investment Plans (SIP's) for more than two decades, with mere monthly investment of ₹2000 are worth millionaires now.
For Example, if an investor who has invested ₹2000/month in SIP for last two decades, these scheme would have peaked the actual investment value from ₹ 4,90,000 to the current valuation of ₹ 97,71,152 i.e., 20 times the actual value over 20 years.
Some of these schemes include Franklin India Prima, Franklin India Prima Plus, and Franklin India Blue chip from Franklin Templeton Asset Management Company (AMC); HDFC Capital Builder and HDFC Equity from HDFC AMC; Reliance Growth and Reliance Vision from Reliance Mutual Fund; and ICICI Prudential Multicap Fund from ICICI Prudential AMC. All these are 20-year-plus funds and have made handsome annualised returns of as high as 23 per cent for investors.
The below is a quick recap of how these schemes have developed & performed in the past two decades :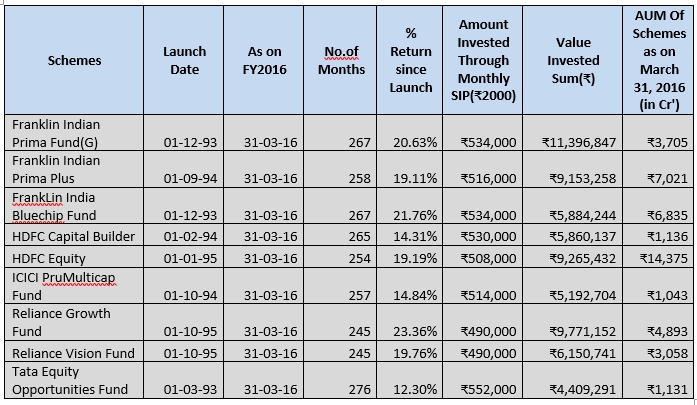 Why buying Mutual funds is smarter way of investing rather than trading in stocks?
One of the main benefit a Mutual Fund provides is that you don't have to pick stocks, track them, make sector and asset allocation. Because buying and selling stocks are best done by a professional fund manager. For example, a 60 year old company's stock might not exist and maybe your father/uncle must have forgotten to track that stock. Therefore, in such situation a Mutual Fund saves the investors dragged portfolio returns by replacing it with new performing stock.
Critical Illness treatments now in Installment/EMI form will be a mode of relief
Short Term Capital Gains Tax is ignored when the Fund Manager is conducting the buy and sell of equities within a year in Mutual Funds while the same is applicable when purchasing and selling stocks over the stock market.
Diversification of Portfolio with investment of few thousands of rupees which will reduce the volatility of high risk stocks and will add convenience to the customer.
The need to make the market irrelevant as investing in regular frequency with both high and low points of the market will average the cost of investment.
Therefore to escape from periodic evaluation, rebalancing while achieving higher returns, Mutual Funds add as a secret ingredient to your investments.