Bengaluru-based Quess Corp is all set to hit the primary market on Wednesday to raise Rs 400 crore in order to fund its businesses as well as pay off its debts.
The Thomas Cook-owned company, which operates in integrated business services segment, has fixed price band of Rs 310-317 per equity share for its Initial Public Offer (IPO). The post issue market cap of the company is likely to be Rs 3,993 crore.
Incorporated in the year 2007, Quess Corp Limited (earlier IKYA Human Capital Solutions Limited) is the largest IT staff augmentation provider and third largest general staffing company in India based on number of employees. Company offers various services including staffing, recruitment, skill development and management.
The company has PAN India presence with 47 offices across 26 cities along with overseas offices in North America, the Middle East and South East Asia. Currently more than 120000 employees are employed with company including 3400 core employees and over 117000 associated with the clients. At the closing of the financial year 2016, company has roped in over 1300 client's including some of the world's largest, reputable organizations, including 20 companies ranked in the 2015 Fortune Global 500 list.
Issue Date : Jun 29, 2016 – Jul 1, 2016
Issue Type:100% Book Building
Issue Price Band:310–Rs.317 per share
Face Value Per Share: Rs.10
Minimum Bid Lot:45 Equity Shares and in multiples of 45 equity shares thereafter
Minimum Order Value:13,950 to Rs.14,265
Issue Size:400 crore at lower price band
Proposed Listing: NSE/BSE
Lead Managers:Axis Capital Limited, YES Securities (India) Limited, IIFL Holdings Limited and ICICI Securities Limited
Registrar:Link Intime India Private Limited
Promoters
The promoters of the company are:
1. Ajit Isaac
2. Thomas Cook (India) Ltd
The issue has reserved quota of 75% for QIB's 15% for HNIs and 10% for retail segment.
It is integrated business services provider of It serves across 4 segments namely,
1. Global Technology Solutions,
2. People & Services,
3. Integrated Facility Management
4. Industrial Asset Management.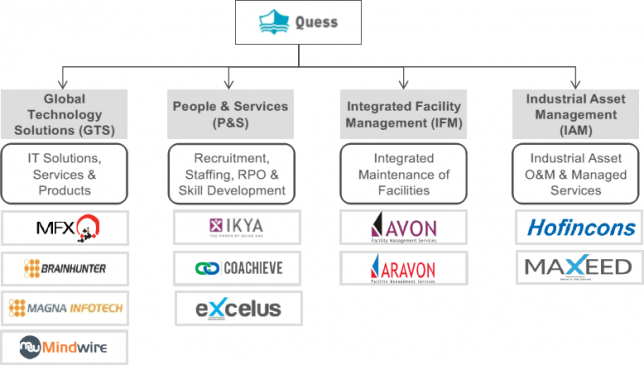 Objects of the issue
Repayment of debt availed by the Company ( 50 Cr.),
Funding capital expenditure requirements of the Company and their Subsidiary, MFX US ( 71.7 Cr.),
Funding incremental working capital requirement (159.9 Cr.)
Acquisitions and other strategic initiatives ( 80 Cr.) and
General corporate purposes (38.4 Cr.)
Financial Performance
Company has reported Revenues from Sales figures at Rs.3,435 crore for the year ended 31st March, 2016. For the past 5 years, company has provided growth at CAGR of 40%.
Company has maintained the EBIDTA margin of around 5% from the last 5 years.
Company is running on PAT of around 2% from the last 5 years. PAT in FY 2011 was just 1% which is now increased to 2.50% in FY 2016.
Return on Net Worth (RoNW) provided by company is 25.62% for the previous year ended 31st March, 2016.
Earnings Per Share (EPS) of the company for last year was Rs.7.82 per share and Net Asset value is Rs.30.52 per share.
In Fiscal 2016 company's top 10 clients contributed 30.40% of its total revenue while largest client, Samsung India Electronics Private Limited, contributed 7.40% of its total revenues in such period.
Book Running Lead Manager to the offer are Axis Capital Ltd, ICICI Securities Ltd, IIFL Holdings Ltd and Yes Bank Ltd. Link Intime India Pvt Ltd is the registrar to the issue. Most of its equity issue is made at par except in December 2010 it issued some shares at a price of Rs. 56.68. It also issued bonus shares in the ratio of 3 for 1 in January 2016. Post IPO its current paid up equity capital of Rs. 113.33 crore will stand enhanced to Rs. 125.95 crore.
On Book Running Lead Manager front, four Book Running Lead Manager's associated with this IPO handled 23 IPOs in past three years, of which 9 IPOs closed below the issue price on listing date.
Positive
Company's client age has been very loyal. For example, 23 out of 25 top clients of the company have been company's customer for more than 15 years.
Quess Corp Ltd. is the amongst the industry leaders and has been on the top spot in IT staff augmentation provider in India based on the number of employees.
Quess topline and bottom-line has grown at CAGR of 52.4% and 80.7% respectively between FY12-16.
Negative
The staffing services market is highly fragmented and competitive. Price competition in the staffing industry is intense, particularly for qualified industrial personnel.
The staffing services sector is subject to complex laws and regulations. Any future changes in laws or government regulations could have a material adverse effect on its business and financial condition.
It generates thin margin of over 2%
One of Company's director have been named respondents in a criminal proceeding.
Company had posted a positive cash flow statement in the previous year but cash flow from operating activities is negative primarily due to increase in working capital requirement fuelled by revenue growth of the Company which translates into longer dues of debtors.
Continued negative cash flows will have an adverse impact on the company's business and its growth plans in the near term.
It's acquisition of Brainhunter Systems Ltd. May be challenged under Indian Law.
Conclusion:
Current Market Premium is Rs.190/- to Rs.195/-
Quess is available at a multiple of 45.2x based on FY16 earnings, which is at discount to its peer Teamlease (57.5x).
This being a niche player with many firsts to its credit and having bright prospects ahead may be considered for medium to long term investment as it also enjoys first mover tag for the segment.
DISCLAIMER:
No financial information whatsoever published anywhere here should be construed as an offer to buy or sell securities, or as advice to do so in any way whatsoever. All matter published here is purely for educational and information purposes only and under no circumstances should be used for making investment decisions. Readers must consult a qualified financial advisor prior to making any actual investment decisions, based on information published here.