HPL Electric manufactures various electric equipment's, including, metering solutions, switch gears, lighting equipment and wires & cables. It currently sells its products under the brand 'HPL'.
It has pan-India network of over 2,400 authorized dealers or distributors and 15,000 retailers, as on March 2016. Its carrying and forwarding agents supply products from warehouses located in 21 states and union territories in India.
Further, it has over 90 branch offices and representative offices across India, which carry out marketing activities. It currently owns and operates seven manufacturing facilities located across the states of Haryana and Himachal Pradesh. HPL supplies products to power utilities, which primarily includes electricity boards & power distribution companies, and also to retail and industrial customers.
Issue Details
Issue Open: Sep 22, 2016 – Sep 26, 2016
Issue Type: Book Built Issue IPO
Issue Size: [.] Equity Shares of Rs 10 aggregating up to Rs 36.10 Cr
Face Value: Rs 10 Per Equity Share
Issue Price: Rs. 175 – Rs. 202 Per Equity Share
Market Lot: 70 Shares
Minimum Order Quantity: 70 Shares
Listing At: BSE, NSE
Min. Investment : Rs.12250/- om lower price band
Lead Managers :
ICICI Securities Limited
IDFC Securities Limited
SBI Capital Markets Limited
Objects of the Issue
Repayment of debt (Rs 130 crore) and funding working capital requirements (Rs 180 crore).
Debt on Books
As on June 2016, the aggregate amount of secured loans outstanding was Rs 593.26 crore, comprising term loans of Rs 141.79 crore and secured working capital loans of Rs 451.47 crore. Additionally, it had availed of non-fund based working capital facilities aggregating to Rs 391.55 crore, on a standalone basis.
Company Promoters
1. Lalit Seth
2. Havell's Pvt Ltd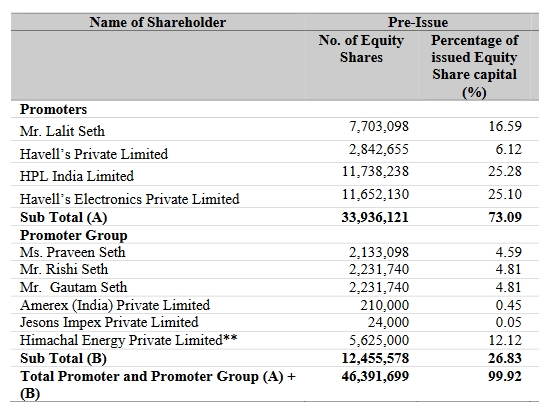 Competition
The market for electric equipment is expected to grow at CAGR of 8-12 percent between 2016 and 2020, with the LED market expected to grow significantly, at a CAGR of 62 percent during the corresponding period. The large scale promotion of energy efficiency by the Government has resulted in greater acceptance of LED lamps that use up to 70 percent lesser energy than conventional luminaires, which is expected to drive the market for LEDs to reach Rs 31,010 crore by 2020.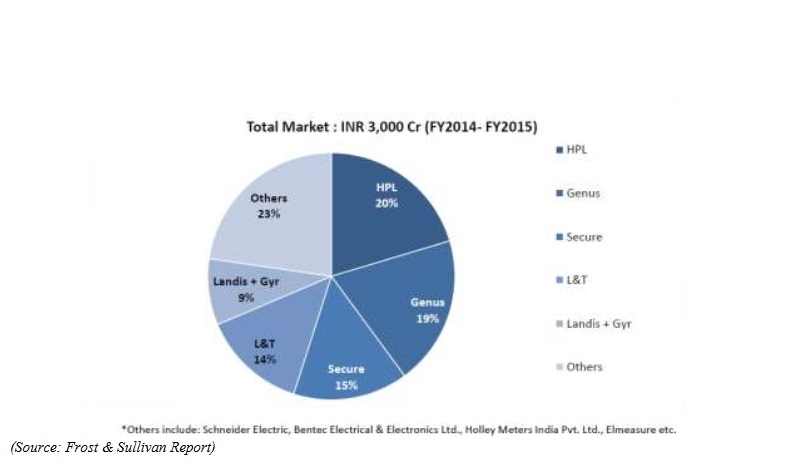 Positive
Pan India sales and distribution network
Experienced management team and skilled workforce
Established brand in the electric equipment industry
Large product portfolio
Established relationship with institutional customers and strong pre-qualification credentials.
Sales Data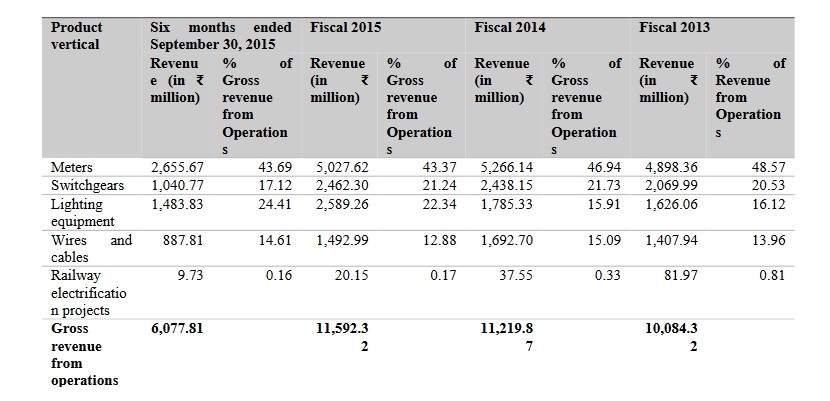 Negative
Foreign currency fluctuation risks, particularly in relation to import of raw materials.
Dependent on third party suppliers for continued supply of raw materials, the availability and cost of which may adversely affect the business, financial condition, results of operations and prospects.
There are two legal disputes pending adjudication,seeking to obtain an injuction against the issue,including a trademark litigation filed against comapany and company promoters.In the event such dispute are not decided in company favor,company ability to proceed with issue may be impaired and company reputation may be adversely affected.
Subject to stringent labour laws or other industry standards and any strike, work stoppage or increased wage demand by employees or any other kind of disputes with employees,could adversely affect on business, financial condition, results of operations and cash flows.
Increases in interest rates may materially impact on results of operations.
Performance :

For last four fiscals, HPL's consolidated turnover/net profits were Rs. Rs. 915.73 cr. / Rs. 31.42 cr. (FY13), Rs.1016.04 cr. / Rs. 28.37 cr. (FY14), Rs. 1051.85 cr. Rs. 34.62 cr. (FY15) and Rs. 1121.25 cr. / Rs. 36.62 cr. (FY16). In FY14, it suffered a setback in bottom lines.
Conclusion
For fiscal 2016, fiscal 2015 and fiscal 2014, the percentage of revenue from exports over the total revenue was 1.35%, 2.88% and 2.90% respectively. If we attribute latest earnings on the fully diluted equity post IPO then the asking price (at the higher price band) is at a P/E of 35 plus and at a P/BV of 2.63 (based on NAV of Rs. 76.52 as at 31.03.16) that makes it a pricy bet.
Grey Market premium

On 21.09.2016 at 10.30 am, Kostak rs. 350/400, No trades in Grey market.
DISCLAIMER
No financial information whatsoever published anywhere here should be construed as an offer to buy or sell securities, or as advice to do so in any way whatsoever. All matter published here is purely for educational and information purposes only and under no circumstances should be used for making investment decisions. Readers must consult a qualified financial advisor prior to making any actual investment decisions, based on information published here