SUMMARY OF BUSINESS
Incorporated in 1988, PNB Housing Finance Ltd, a subsidiary of Punjab National Bank offers housing loans to individuals and corporate bodies for the construction, purchase, repair, and upgradation of houses, as well as loans for commercial space, purchase of residential plots, loan against properties, and loans for real estate developers.
PNBHF is the fifth largest HFC in India by loan portfolio as of September 30, 2015 with the second largest amount of public deposits in an HFC in India as of March 31, 2015.Over the previous five years, it had implemented a business process transformation and re-engineering  programme, which has contributed to its becoming the fastest growing HFC among the leading HFCs in India as of March 31, 2015, Its loan portfolio grew at a CAGR of 61.76% from 39,696.63 million as of March 31, 2012 to 271,772.68 million as of March 31, 2016. As of March 31, 2016, its  housing loans constituted 70.34% of  total loan portfolio and its retail housing loans constituted 87.10% of  total housing loan portfolio.
The average loan size (at origination) of  retail housing loans as of March 31, 2016 was Rs.32 lacs. The Company conducts its operations through an operating model which, as of March 31, 2016, included 47 branches across the northern, western and southern regions of India and 16 processing hubs and its central support office ("CSO") in New Delhi.
Its  distribution network included over 5,000 channel partners across different locations in India as of March 31, 2016,As of March 31, 2016, 2015 and 2014, approximately 40.40%, 46.43% and 52.16%, respectively, of its total loan portfolio was attributable to its operations in the northern region of India.
Issue Detail:
Issue Open: Oct 25, 2016 – Oct 27, 2016
Issue Type: Book Built Issue IPO
Issue Size: [.] Equity Shares of Rs 10 aggregating up to Rs 3,000.00 Cr
Face Value: Rs 10 Per Equity Share
Issue Price: Rs. 750 – Rs. 775 Per Equity Share
Market Lot: 19 Shares
Minimum Order Quantity: 19 Shares
Listing At: BSE, NSE
Lead Managers: Kotak Mahindra Capital Co. Ltd, DSP Merrill Lynch Ltd, JM Financial Institutional Securities Ltd, JP Morgan India Pvt. Ltd and Morgan Stanley India Co. Pvt. Ltd
Objects of the issue

Augment the capital base to meet their future capital requirements
Continue to reduce cost of borrowings and raise public deposits;
Continue to maintain the credit quality of  loan portfolio; and Continue to enhance customer delivery by leveraging digital media and continue to develop and strengthen technology platforms.
HOUSING FINANCE MARKET IN INDIA
In India, the housing industry is recognized as having an important impact on the country's development, civic life and human capital formation. India's economic growth, coupled with favorable structural factors, such as under – penetration of the mortgage market, the large gap between housing demand and supply, improved affordability as a result of tax incentives, the encouraging regulatory environment and positive demographic trends, is expected to fuel continued growth in the housing finance market. Participants in India's housing finance market mainly comprise commercial banks, including national banks, private sector banks, regional rural banks, agriculture and rural development banks and state-level apex co-operative housing 52 finance societies, and specialised lending institutions for housing, such as the Company, known as housing finance companies ("HFCs "). It also includes some smaller institutions, such as microfinance institutions, community – based organisations and self – help groups, as well as other non-banking financial companies ("NBFCs ").
Total outstanding housing loans as at September 30, 2015 was estimated to be ₹11,300.00 billion, a 17.70% increase since Fiscal Year 2011. IMaCS forecasts that the housing finance market in India will grow 20.00 – 22.00% from Fiscal Year 2015 to Fiscal Year 2020. (Source: IMaCS Report) In particular, the government's push for affordable housing projects,reductions in interest rates and rising  income levels are expected to contribute towards increased housing demand and improved house buyers' debt-servicing capabilities, thereby increasing outstanding housing loans in terms of both the number of disbursements and the quantum borrowed under each loan.
(Source: CRISIL Report)

The following graph shows the growth of total outstanding housing loans for banks and HFCs from Fiscal Year 2011 to Fiscal Year 2018.

(Source: CRISIL Report)
NPAs :
Gross NPAs, as a percentage of its total loan portfolio, were 0.20% as of March 31, 2015, which was the lowest among the leading HFCs in India, according to the IMaCS Report, and 0.22% as of March 31, 2016. As of March 31, 2016, 2015 and 2014, its  provision coverage ratio (i.e., the proportion of gross NPAs for which provisions had been made) was 36.25%, 66.82% and 51.47%, respectively
As of March 31, 2016, its  overall Capital to Risk (Weighted) Assets Ratio ("CRAR") and Tier I Capital CRAR were 12.68% and 9.02%, respectively.
Key Growth Drivers
The key growth drivers in the housing finance industry in India include:
Low mortgage penetration and housing shortage;
Urbanisation
Slowing average ticket size growth;
Tax benefits;
Government implemented schemes (including Smart Cities and Housing for All by 2020); and Population growth and changes in demographics.
Positive
Strong distribution network with deep penetration of key Indian urban centres
Scalable operating model and centralised and streamlined operational structure
Access to diversified and cost – effective funding sources
Diversified product offering with specific focus on self-employed customers
Customer – centric approach resulting in strong brand recognition
Managed by experienced and qualified professionals with strong industry expertise.
Negative
Promoter are involved in certain legal proceedings and any adverse outcome in these or other proceedings may have a material adverse effect on PNBHF reputation, business, financial condition and results of operations.
PNBHF business and financial performance may be adversely affected by volatility in interest rates.
PNBHF may not be able to manage the growth of HF business and loan portfolio effectively or continue to grow.
PNBHF business and loan portfolio at a rate similar to what PNBHF have experienced in the past.
PNBHF face liquidity risks as a result of maturity and interest rate mismatches between PNBHF assets and liabilities.
PNBHF face the risk of default and non – payment by PNBHF customers, in particular self -employed customers.
The Indian housing finance industry is highly competitive and increased competition may lead to a relative decline in average yields and spreads.
PNBHF have had high cost to income ratios and PNBHF may not be able to successfully grow PNBHF's loan portfolio to derive economies of scale.
PNBHF may face conflicts of interest relating to PNBHF Promoter and key shareholder, PNB.
PNBHF are exposed to risks related to concentration of loans to certain real estate developers and risks associated with construction finance loans.
PNBHF new loan products and services such as loans for affordable housing may expose us to certain risks.
PNBHF business and operations significantly depend on senior management and other key employees and may be adversely affected if PNBHF are unable to retain them.
PNBHF are exposed to fluctuations in real estate prices and any negative events affecting the real estate sector.
PNBHF may not be able to obtain, renew or maintain PNBHF statutory and regulatory permits and approvals required to operate our business. Further, PNBHF have not obtained registration of trademark over PNBHF branding message "Ghar Ki Baat".
Two of PNBHF's Group Companies have incurred losses during the last three Fiscal Years, which may have an adverse impact on PNBHF reputation and business.

A slowdown in economic growth in India or global economic instability could result in an adverse effect on PNBHF business, financial condition and results of operations.
The growth rate of India 's housing finance industry may not be sustainable.
Valuation
PNB Housing Finance asset quality is better than its peers in the industry as its Gross Non-Performing Assets (NPA) stands at 0.22% as on March 31, 2016. While its peers like HDFC Limited stands at 0.94%, LIC Housing Finance Limited at 0.45%, Dewan Housing Finance Limited at 0.93% and Indiabulls Housing Finance Limited stand at 0.84% for the FY ending 2015-16.
Price to Book Value for PNB Housing Finance Limited post issue is expected to be approximately between 2.3 -2.5 times. While P/B for its peers like Indiabulls Housing Finance Limited stand at 3.6, Housing Development Finance Limited at 6.46, LIC Housing Finance Limited at 3.17 and Dewan Housing Finance Limited at 1.57. So, even though P/B value is higher than Dewan Housing Finance Limited, it is still cheaper than its other peers like Indiabulls Housing Finance Limited, HDFC Limited and LIC Housing Finance Limited.
Comparison with Listed Industry Peers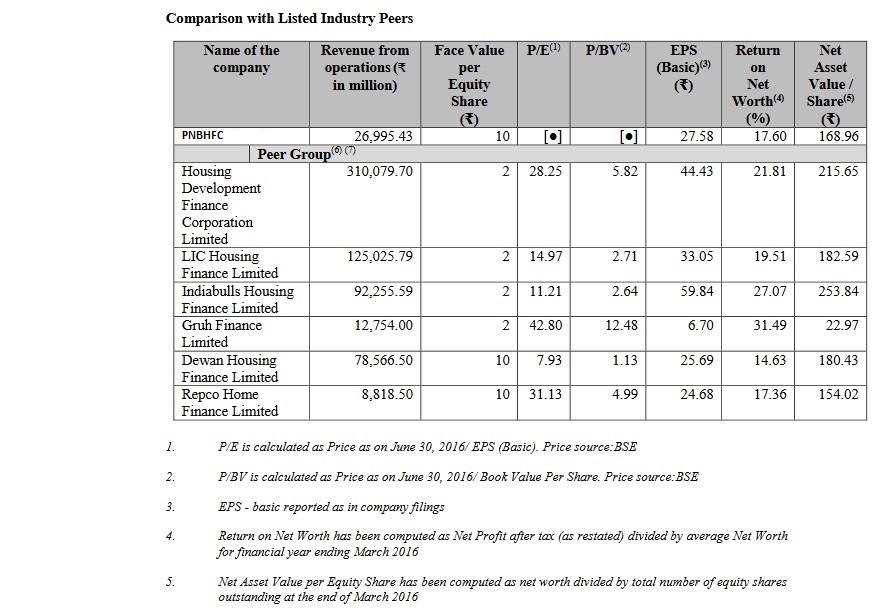 Price to Earnings ratio for the company based on the basic and diluted EPS at the bottom end of the price band i.e. Rs. 750 will be 27.19 and at the upper end of the price band i.e. Rs. 775 will be 28.10 as compared to the industry average of 25.98.
However, if you look at the P/E of some of its peers like HDFC Limited, Repco Home Finance Limited and Gruh Finance Limited, as illustrated in the above table, it still has a decent stand.
The Return on Net Worth for the company is at 17.6% for the FY 2015-16 in contrast to the industry average of 21.98% which is at a lower end.
Grey market premium is Rs.50/- at 12.30
Anchor Investor portion  subscribed 30 times
DISCLAIMER
No financial information whatsoever published anywhere here should be construed as an offer to buy or sell securities, or as advice to do so in any way whatsoever. All matter published here is purely for educational and information purposes only and under no circumstances should be used for making investment decisions. Readers must consult a qualified financial advisor prior to making any actual investment decisions, based on information published here.