Summary of the business
The Bombay Stock Exchange (BSE) is the first and the oldest stock exchange in Asia, which was formed on 9th July, 1875. The BSE was the world's largest exchange by number of listed companies, and India's largest and the world's 11th largest exchange by market capitalization, with US$ 1.52 trillion in total market capitalization of listed companies.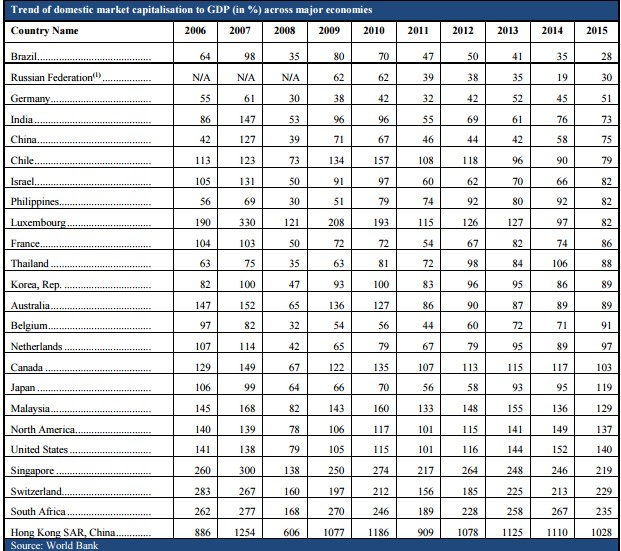 Grey market premium trend at 11.30 Dated 23 Jan 2017
Current GMP IS Rs.134/- to Rs.136/-
And Kostak Is Rs.800/- to Rs. 850/-
Objects of the issue
To achieve the benefits of listing the equity shares on NSE.
For the sale of equity shares by the selling shareholders.
Issue details
IPO opens- 23rd January 2017
IPO closes- 25th January 2017
Issue type- Book Built Issue IPO
Face Value- Rs 2 /- per equity share
Issue price band- Rs 805 to Rs 806 per equity share
Issue size- 15,427,197 Equity Shares of Rs 2 aggregating up to Rs 1,243.43 Cr. Offer for Sale of 15,427,197 Equity Shares of Rs 2 aggregating up to Rs [.] Cr
Market lot- Minimum of 18 shares
Minimum investment- Rs 13600 on lower price band
Leading managers- Edelweiss Capital, Axis Capital, Jefferies, Nomula Intl, Motilal Oswal, SBI Capital markets and SMC Capital.
Listing- Only NSE (it cannot list on its own BSE stock exchange as of now)
Currently, Multi Commodity Exchange of India Ltd (MCX) is the only listed bourse in the country. MCX has market capitalisation of Rs. 5100 crores based on current CMP of its shares.
Strength
Strong brand recognition with a track record of innovation
It has built its own brand by historically anticipating and responding to investor's needs through the introduction of new products and services. Examples of its past product innovations include BSE StAR and BSE SME. It introduced BSE StAR, its online platform for the placement of orders and redemptions of units in mutual funds, in December 2009, providing investors with a single platform to invest and redeem in a wide selection of mutual fund schemes. As at June 30, 2016, BSE StAR offers a platform to invest and redeem in 39 asset management companies ("AMCs") with 6,112 different mutual fund schemes.
Diversified and integrated business model and active relationship with market participants
It operates a diversified and integrated business model including trading, clearing and settlement of products listed and traded on the BSE, as well as the provision of data products, IT services and solutions, index products and training. By providing such integrated services, we support market participants and members throughout the entire life-cycle of a trade.
State-of-the-art infrastructure and technology
It has the electronic systems for entry, trading, clearing and settlement and depository services and we continually seek to improve our core IT capabilities, the reliability and consistency of which help us to maintain our competitive position.
Financial strength and diversified sources of revenue
In order to provide a stable stream of revenue to support our fiscal policy, we have sought to diversify our revenue streams. We derive revenue from a variety of sources including revenue from trading activities on the exchange, such as trading fees and trading tariffs, revenue from post-trade services, such as clearing, settlement, depository, custody and nominee service fees, and initial and recurring listing fees from equity, debt and derivative products, and subscription fees from data products.
Top 10 Shareholders
 As on September 6, 2016, the Exchange had 9,855 Shareholders.

Impact of Demonetization on Real Estate & its effective resolution plan
Summary of the Industry
Positive Factors
Its consolidated revenue grew at 3% CAGR in last 5 years. And its un-consolidated revenue grew at 6% CAGR in last 5 years.
Good profits of 24.2% in the last couple of years (consolidated). However, one should note that there is decline in margins in the last 2 years compared 2012 to 2014 (which was in the range of 26% to 30%).
Strong brand as BSE.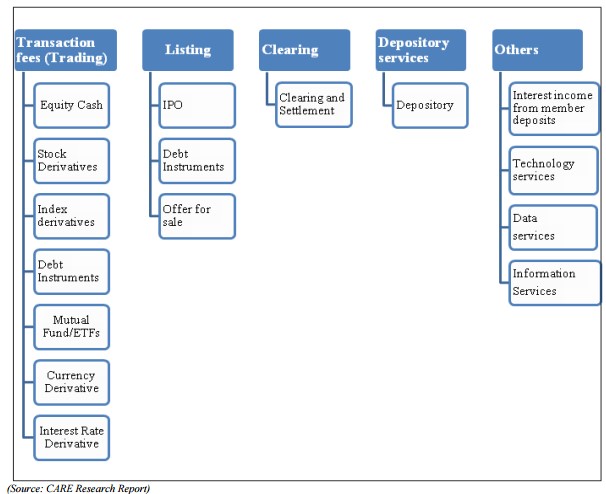 Negative or Risk Factors
There is outstanding litigation against the Company, BSE Group Companies and BSE Directors which if determined adversely, could affect BSE's business and results of operations.
Broad market trends and other factors beyond BSE's  control could significantly reduce demand for BSE's services and harm BSE's business, financial condition and results of operations.
There can be no assurance that BSE will be successful in implementing BSE's current and future strategic plans.
BSE's proposed international exchange in GIFT City is subject to numerous contingencies and uncertainties.
Trading on BSE equity derivatives segment is less than that on the NSE and there is no guarantee that BSE can successfully compete in the equity derivatives segment against the NSE.
Damage to BSE's reputation could materially adversely affect BSE's business.
Any current and future strategic investment, alliance, joint venture or other business combination may materially adversely affect BSE's financial condition and results of operations.
BSE's existing products may lose market appeal and BSE may be unable to expand into new product lines or attract new types of investors.
BSE's electronic trading platform, networks and those of BSE's third-party service providers may be vulnerable to security risks and cyber-attacks.
Certain of BSE's critical trading infrastructure and software agreements are licensed from third parties.
Insufficient systems capacity and systems failures could materially adversely affect BSE's business and reliance on third party service providers.
Changes in regulations concerning BSE's ownership in CDSL may have a material adverse effect.
Changes in interest rates may materially adversely affect BSE's profitability.
Investment strategies/Recommendation
Strengthen BSE's position to become the exchange of choice in India and expand BSE's cross-border reach by entering into strategic alliances.
Increase BSE's variety and market share of derivative products.
Diversify BSE's product and service offerings and maintain new product innovation and development.
Maintain and improve best-in-class platform infrastructure.
Establish an international exchange at GIFT City.
Capture growth in the under penetrated Indian financial markets.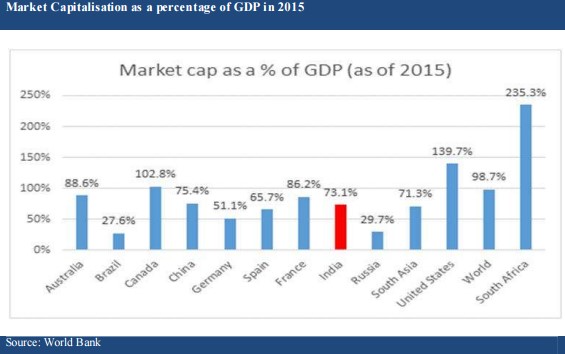 There is no listed peer in India who is in similar business for comparison, hence we cannot say whether this issue price is over priced or under priced.
Company revenues grew at 3% CAGR in the last 3 years. It generated profit of 24% in the financial year 2016. BSE is a good brand. It would be only listed company in India in Stock Exchange business after listing. While revenue growth is not that great, considering higher margins and investor sentiments, this IPO can create.
DISCLAIMER
No financial information whatsoever published anywhere here should be construed as an offer to buy or sell securities, or as advice to do so in any way whatsoever. All matter published here is purely for educational and information purposes only and under no circumstances should be used for making investment decisions. Readers must consult a qualified financial advisor prior to making any actual investment decisions, based on information published here.