The Mumbai-based company is fifth largest domestic pharma company and ranks amongst top 10 for past 12 years in India.
Alkem Laboratories launched its initial public offer of 1.28 crore equity shares for subscription on Tuesday with a price band of Rs 1020-1050 per share. The company aims to raise more than Rs 1,300 crore through this issue.
It is an offer for sale by selling shareholders, which includes a reservation of up to 2,98,913 equity shares for subscription by eligible employees who are getting a discount of Rs 100 on the offer price. "Company will not receive any proceeds of the offer and all the proceeds will go to selling shareholders," says the company in its prospectus filed with the SEBI.
The offer constitutes up to 10.75 percent of post-offer paid-up equity share capital of the company. Promoter and promoter group's shareholding will reduce to 66.23 percent from 70.87 percent post offer.

Objects of the Issue:
1. To achieve the benefits of listing the Equity Shares on the Stock Exchanges and
2. For the sale of 12,853,442 Equity Shares by the Selling Shareholders.
Issue Detail:
Issue Open: Dec 8, 2015 – Dec 10, 2015
Issue Type: 100% Book Built Issue IPO
Issue Size: 12,853,442 Equity Shares of Rs. 2
Issue Size: Rs. 1,311.05 – 1,349.61 Crore
Face Value: Rs. 2 Per Equity Share
Issue Price: Rs. 1020 – Rs. 1050 Per Equity Share
Market Lot: 14 Shares
Lead Managers: Kotak Mahindra Capital Company Limited, Citigroup Global Markets India Private Limited
Registrar: Link Intime India Private Limited
Company Promoters: Mr. Samprada Singh and Mr. Basudeo N. Singh
Listing At: BSE, NSE

Company Promoters:
Alkem Labs has 23 Promoters who jointly hold 64,302,440 Equity Shares of the Company which, in aggregate, constitutes 53.8% of the issued and paid-up Equity Share capital of the Company.
Alkem produces branded generics, generic drugs, APIs and neutraceuticals, in India and 55 countries internationally, primarily the US. India branded formulations still brings in 75 percent of Alkem's revenues, although that is down from 87 percent in FY11.
The company is a clear leader in the highly competitive anti-infective segment with 11.2 percent market share. It has warded off severe price competition from the likes of Mankind, Macleods, and Aristo to retain its market position.
Alkem has generic and branded products for/of:
Central nervous system
Gastro-intestinal
Anti-diabetic
Anti-malarial
Cardiovascular
Immunosppressants
Nutraceuticals
Anti-infective
Pain management
Positive :
The company is the fifth largest domestic pharmaceutical company, and has 16 brands among the top 300 brands in the country.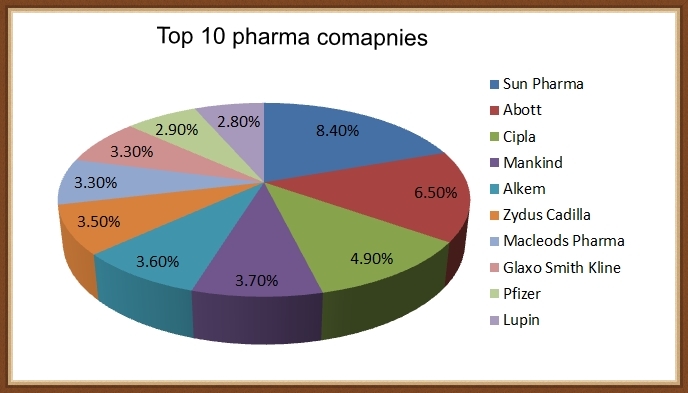 Alkem has acquired three companies in the US in the last few years.
Alkem has reported a strong performance in six months period ended September 2015. Profit shot up 152 percent year-on-year to Rs 431.3 crore and revenue rose over 34 percent to Rs 2,659 crore in H1FY16.
In a short span of just 5 years company has doubled net revenues from international market from 12.6% in 2011 to 25% in 2015.
Company has got 16 manufacturing facilities out of which 14 are located in India and 2 are in United States. Out of these 16 manufacturing units, 5 are approved by USFDA, TGA and UK-MHRA.
Company sells a range of high-quality, cost effective generic drugs to major drug chains, pharmaceutical retailers, wholesalers, food and grocery stores, distributors and managed care companies in the United States.
Company's top management personnel are highly experience and are associated with pharmaceutical sector for over 40 years.
Negative

In a pharmaceutical company, the biggest risk is of course regulatory risk. Company's 25% revenue comes from international market,primary United States and we all know US is severely strict in quality control and has banned various Indian Pharmaceutical Company from entering in US market (Ranbaxy now Sun Pharma). Thus dependency on one market may harm company revenues and profits.So, in this case also 25 percent business is exposed to international markets.
Second thing is out of their 75 percent business in India, some of the business is in the legacy part like the therapies which have become very common now. So, there the growth potential is less.
Third on the local front they are now gone into respiratory and gas ventralogy which again is a growing segment. So, they have taken care of those risks.
Conclusion
Considering company's position, popular brands in the pharma sector and the given track records with over 22% CAGR in revenue growth for last five fiscals and over 36% growth in first half of current fiscal, reasonable pricing, it's a worthy bet for short to long term.

DISCLAIMER:
All matter published here is purely for educational and information purposes only and under no circumstances should be used for making investment decisions. Readers must consult a qualified financial advisor prior to making any actual investment decisions, based on information published here. Any reader taking decisions based on any information published here does so entirely at own risk. Above information is based on RHP and other documents available as of date coupled with market perception.