With every passing year, inflation tends to erode the purchasing power of your money. However,by staying invested in equity for a longer period of time; you could beat inflation.
Let's assume that your equity portfolio has delivered 10%,of which, inflation will consume 7%;leaving you with only 3% which would be your inflation-adjusted return. At the onset, it seemed lucrative but when you adjusted it against the inflation, it was nominal. This is how inflation impinges on your investments in the long run. Equity as an asset class has outdone the inflation in the past, for instance, Sensex has delivered 16.06% CAGR in the last 38 years, beating inflation by 8.09%.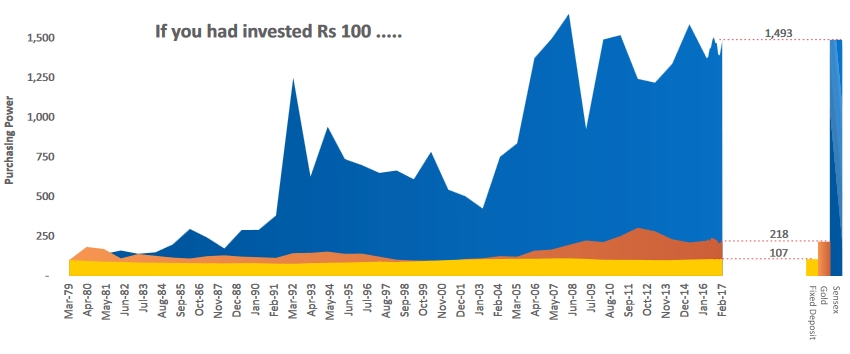 Source : MOSF
The above chart depicts that if you had invested Rs.100 in the year 1979 in to 3 different a venues i.e. Fixed Deposit, Gold and Sensex, today the Value of Rs.100 after adjusting for inflation would have remained almost at the same level in FD,would have merely been just above double in Gold, but in Sensex,it would have been almost 15 times.
YOU COULD also beat inflation through investing directly in equity, provided you have the time and expertise to study the stock/company before you buy and monitor them periodically or simply leave it to an expert by investing in Mutual Funds.
DISCLAIMER
Past Performance is Not Indicative of Future Results.
No financial information whatsoever published anywhere here should be construed as an offer to buy or sell securities, or as advice to do so in any way whatsoever. All matter published here is purely for educational and information purposes only and under no circumstances should be used for making investment decisions. Readers must consult a qualified financial advisor prior to making any actual investment decisions, based on information published here.