These days due to increasing number of vehicles in the country, the number of accidents are happening. Life is capricious or uncertain. Anything can happen to anyone at any point in time. People purchase insurance to protect themselves financially against such unfortunate events. A good insurance portfolio ensures that all eventualities cover you or your finances. Life insurance proceeds will ensure that your family achieves the financial goals in your absence. A health insurance plan will provide quality health care for you and your family. Many people of us are inclined to feel that if we have adequate life, health or critical insurance, your finances are protected.
What about an accident or an illness that causes total or partial disability, which in turn compromises your ability to earn income at the level before the accident. Life insurance will typically not cover such a scenario. Health insurance covers only hospitalization expenses. You can see there is a gap, which is not covered. It is in such cases that a Personal Accident Cover can come in handy. Personal Accident Insurance plans offer limited coverage but are still better than nothing.Under your term cover, you might get the accident benefit rider on extra payment but it will mostly pay off in the cases of permanent total disability, thereby leaving all other temporary and partial disabilities.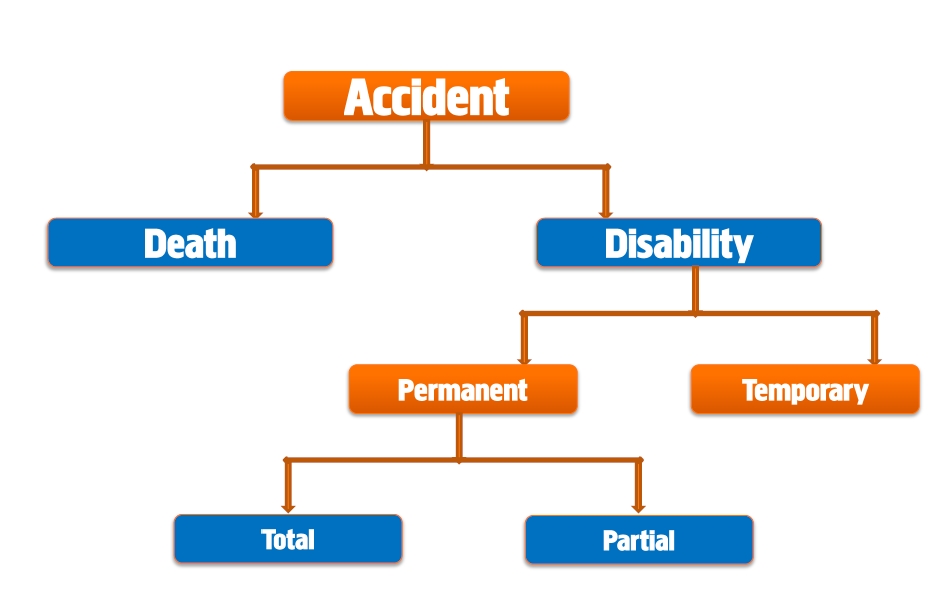 Accidents are categorized as one of fatal health hazards worldwide. When this health hazard is put into the frame of a country where one person dies by accident every four-minute, it does require our attention. According to World Health Organization (WHO) report, about 12.5 crore people die every year due to accidents and between 200-500 crore sustain injuries.
A personal accident policy covers death, permanent total disability, permanent partial disability and total temporary disability due to an accident. First of all, these events have to happen in an accident. If the insured person dies or gets totally or partially disabled through a natural illness, such disability (or death) will not be covered under a personal accident policy.
If one day on your way back home you meet with an accident which may leave you paralyzed for life? It is scary. But, this can happen and might leave a long-lasting impact on your life. With lives lost daily and injuries rising rapidly due to accidents, we come across many cases of permanent total or permanent partial disability. A personal accident cover helps in such a scenario by providing coverage for disability, which is not typically covered under either life or health insurance.

What if you fall victim to temporary total disablement, how would you meet the income/Job loss caused by it. In such a case, your personal accident cover comes handy with income coverage part. This means, if for some time you are completely bedridden due to injury, you will be paid a certain percentage of your sum assured weekly to compensate the income/Job loss scenario.

When you are young, your chances of meeting with an accident are higher. According to WHO report, people aged between 15 and 44 years account for 48% of global road-traffic deaths; If this is just the data for deaths, imagine the rate of disability prone youth. Hence, it is always advisable to opt for a personal accident cover when you first start earning. The plan provides a considerable protection for a very low premium. While you get 100% payout in case of permanent total disability, in partial disability you get paid depending on the extent of the loss. For example; for the loss of an eye, the policy will pay 50% of the total coverage, for the loss of a leg it will typically pay 50-70% of the total coverage.
Regardless of the fact whether you got hit by a two-wheeler or a four-wheeler, your personal accident insurance will cover even minor things like falling off a bike, among others. Not only this, even small injuries like broken bones, fractures, cuts, burns, etc. which do not require hospitalization, get covered under a personal accident cover.
The rule of thumb says you should go for a cover that is eight to ten times your annual income. The personal, emotional or mental trauma triggered by accident often leaves a permanent scar on life. Therefore, having a personal accident insurance can decrease that stress and can make your life a little less stressful. It can brace you from the financial hardships.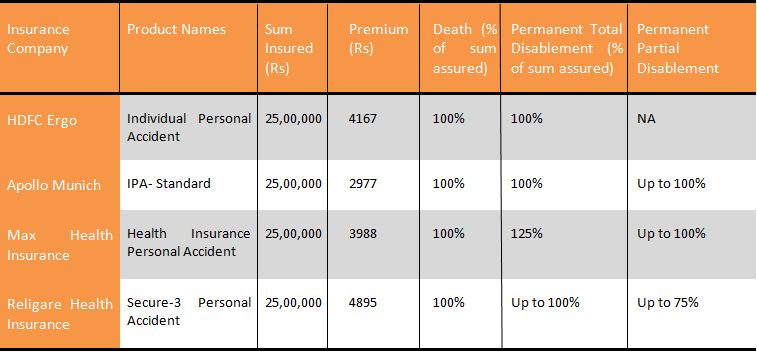 The premiums for an accident cover are abysmally low. For a sum assured of Rs 5 lakh, your premiums can be as small as Rs. 600/- p.a. for death, total and partial disability coverage. This is probably equivalent to what you may pay for a meal for two when buying a food delivery app. However, we suggest that you should always buy a cover, which is at least ten times your annual salary. This is because your accident cover acts as your income in the event of death or disability. The product currently is an evolving one, and most insurers provide a protection of up to Rs 30 lakh online. The higher sum assured can be brought offline only.
Personal accident cover is required only to take care of permanent disability (total or partial). Your life insurance, health insurance, and emergency corpus should take care of accidental death, accident-related hospitalization and temporary loss of income.
Permanent disability, total or partial, can compromise your earning ability. In fact, it can even add to your expenses. You may require domiciliary treatment (treatment at home), physiotherapy sessions or nurse support. No health insurance coverage will cover such costs beyond a point.