Dixon Technologies is manufacturing products like the consumer durables, Home appliances like washing machines, Lighting products like a LED bulb, tube lights, CFL bulbs, etc. and mobile phones markets.The Company also provide repair and refurbishment services for set top boxes, mobile phones and LED TV panels.
The company manufacture products for popular retail brands including Panasonic, Philips, Haier, Gionee, Surya Roshni, Reliance Retail, Intex Technologies, Mitashi and Dish.
The company is also a leading Original Design Manufacturer (ODM) in India. The company develops and design products in-house at its R&D facility. It's ODM business contributes over 25% of its revenue.
The Company has six manufacturing facilities located in the states of Uttar Pradesh and Uttarakhand. The company has  629 permanent employees and 4,030 contractors.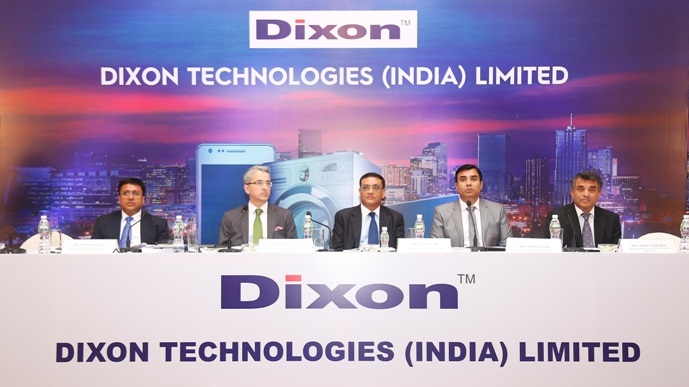 The Promoter:
Sunil Vachani
Object of the IPO
1.The proceeds from the Offer for Sale shall be received by the Selling Shareholders and Company shall not receive any proceeds from the Offer for Sale.
2. Objects of the Fresh Issue
The company proposes to utilize the Net Proceeds towards funding mainly the following purposes.
1. Repayment/pre-payment, in full or in part, of certain borrowings availed by the Company;
2. Setting up a unit for manufacturing of LED TVs at the Tirupati Facility.
3 Enhancement of its backward integration capabilities in the lighting products vertical at its Dehradun I Facility.
4 Upgradation of the IT infrastructure.
Issue Opens on 6th September 2017
IPO Closes on :8th September 2017
Issue Type: Book Built Issue IPO
Issue Size: Aggregating to  INR 722.91 crore at upper price band
› Fresh Issue of [.] Equity Shares of Rs 10 aggregating up to INR 60.00 Cr
› Offer for Sale of 3,753,739 Equity Shares of Rs 10 aggregating up to INR 662.91 Cr at upper price band
Face Value: INR10 Per Equity Share
Issue Price: INR 1760-  1766 Per Equity Share
Minimum Order Quantity:8 shares
Listing At: BSE, NSE
Minimum Application Amt for RII: INR  14128
Tentative Schedule :
Offer Opens On: September 06, 2017
Offer Closes On: September 08, 2017
Finalisation of Basis of Allotment: On or about September 13, 2017
Initiation of refunds: On or about September 14, 2017
Credit of Equity Shares to demat accounts: On or about September 15, 2017
Commencement of trading of the Equity Shares: On or about September 18, 2017
Financials :
The company has earned following EPS during last 4 years
In 13-14 Rs. 11.77
In 14-15 Rs. 10.46
In 15-16 Rs. 38.90
in 16-17 Rs. 48.85
Book Value of the share as on 31.3.2017 Rs. 179.96 based on the restated consolidated statement.
Lead Managers:
IDFC Bank,
IIFL Holdings ltd,
MOTILAL OSWAL INVESTMENT ADVISORS LIMITED,
Yes Securities (India) Limited.
Registrar:
Karvy Computershare Pvt ltd
Post allotment, shares will be listed on BSE and NSE. BRLMs to this issue are IDFC Bank Ltd, IIFL Holdings Ltd, Motilal Oswal Investment Advisors Ltd and Yes Securities (India) Ltd. Karvy Computershare Pvt. Ltd is the registrar to the issue. Having issued initial equity at par, it raised further equity in a price range of Rs. 40 to Rs. 330 per share between March 1996 and September 2016. It has also issued bonus shares in the ratio of 4 for 3 on 20th September 2016. Post issue its current paid up equity capital of Rs. 10.98 crore will stand enhanced to Rs.11.32 crore.
Negative
Limited customer base
The company has a very limited customer base. Major five customer covers 82.94% of revenue from operations. The company is incompetent to bring more customers on the table to optimally utilize its idle capacities.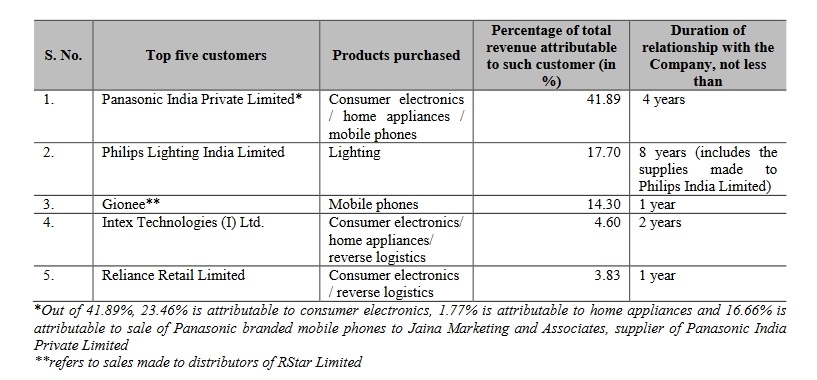 Dixon Technologies are highly dependent on certain key customers for a substantial portion of its revenues. Loss of relationship with any of these customers may have a material adverse effect on its profitability and results of operations.
Dixon Technologies do not obtain firm and long – term volume purchase commitments from its customers.
Dixon Technologies business and results of operations are dependent on the contracts that company entered into.Any breach of the conditions under these contracts may adversely affect its business and results of operations
Dixon Technologies continued success is dependent on its senior management and skilled manpower. Company inability to attract and retain key personnel or the loss of services of its Promoter or Managing Director may have an adverse effect on its business prospects.
Shortages in, or rises in the prices of, raw materials or components for products company manufacturer, which account for the majority of its costs, may adversely affect its business.
Dixon Technologies depend on certain suppliers for its raw materials and other components required for its manufacturing process which could result in delays and adversely affect its output.
Dixon Technologies manufacturing facilities are critical to its business. Any disruption in the continuous operations of its manufacturing facilities would have a material adverse effect on its business, results of operations and financial condition.
Dixon Technologies manufacturing facilities located in Dehradun are availing certain tax benefits which are available for a specified period. Expiry or early withdrawal of such tax benefits may adversely affect its results of operations and prospects.
A success of the products manufactured by Dixon Technologies is driven by user preferences.Obsolescence arising from the changes in technology may affect the demand for its products which may result in price declines.
Certain corporate records and regulatory filings of its Company are not traceable.
Dixon Technologies Promoter, Managing Director and one individual forming part of its Promoter Group, who are also Selling Shareholders, will receive proceeds from the Offer for Sale.
There are outstanding litigations against its Company, Promoter, Directors, and Subsidiary.An adverse outcome in any of these proceedings may affect its reputation and standing and impact its future business and could have a  material adverse effect on its business, financial condition, results of operations and cash flows.
Positive
Competitive Strengths.
Leading market position in key verticals.
Strong relationships with a diverse top-tier customer base.
Dixon Technologies major customers are well-respected players in one or more product categories offered by us and include:
Global brands: Panasonic India Private Limited, Philips Lighting India Limited,
Haier Appliance (I) Pvt.Ltd., Gionee
National brands: Intex Technologies (I) Ltd., Surya Roshni Limited
Domestic retail private labels: Reliance Retail Limited, Vijay Sales
Regional brands in Tier I and Tier II cities: Mitashi
Edutainment Pvt. Ltd., Abaj Electronics Pvt. Ltd
Experienced Promoter and seasoned management team.
End to end solutions provider with dedicated research and development capabilities.
Strong Financial Performance and stable cash flows.
Continue to strengthen its existing product portfolio and diversify into products with attractive growth and profitability prospects.performance
Performance
Dixon Technologies has (on a consolidated basis) posted turnover/net profits of Rs. 1097.09 cr./ Rs. 14.71 cr. (FY14), Rs. 1203.13 cr. / Rs. 13.04 cr. (FY15), Rs. 1391.17 cr. / Rs. 42.57 cr. (FY16) and Rs. 2458.26 cr. / Rs. 50.38 cr. (FY17).
For last two fiscals, its top and bottom line has marked spectacular growth which is due to launch of mobile, CCTV and LED lightings related activities. If we attribute latest earnings on fully diluted equity post issue, then asking price is at a P/E of around 40 and at a P/BV of 9.8 which makes it a fully priced issue. On consolidated basis last three fiscal's average RoNW is 26.62%.
Grey market premium :
Currently Grey market premium is Rs.600/-
Conclusion
Risk savvy investors may consider for listing Gain.

DISCLAIMER
No financial information whatsoever published anywhere here should be construed as an offer to buy or sell securities, or as advice to do so in any way whatsoever. All matter published here is purely for educational and information purposes only and under no circumstances should be used for making investment decisions. Readers must consult a qualified financial advisor prior to making any actual investment decisions, based on information published here.