Future Supply Chain Solutions Ltd. (FSC) is a supply chain and logistics company. Future Supply Chain Solutions is part of Kishore Biyani's Future Enterprise Ltd. The company was incorporated in 2006. The company offers automated and IT-enabled warehousing, distribution and other logistics solutions. It has customers in various sectors all across India, including ATMs, automotive and engineering, retail, fashion & apparel, food – beverage, FMCG, e-commerce, health-care, electronics and technology, home and furniture.
It has 42 distribution centers across India, which covers approximately 3,500,000 square feet of warehouse space.
List of anchor investors
The company offers customers services in three key areas:
Contract Logistics
Express Logistics
Temperature-Controlled Logistics
The promoters :
Future Enterprises Limited ( Kishore Biyani Group company)
Main objects of the issue are:
1. Avail the benefit of listing of the Equity Shares on the Stock Exchanges;
2.To Enhance stability and brand image and
3.To provide liquidity to its existing shareholders.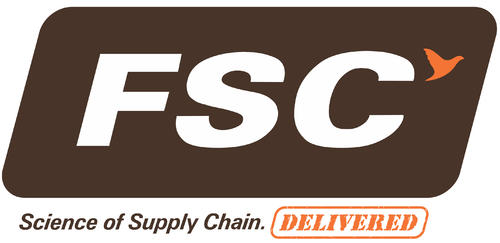 IPO Dates & Price Band:
IPO Open: 06-December-2017
IPO Close: 08-December-2017
IPO Size: Approx Rs. 650 Crore (Approx)
Face Value: Rs. 10 Per Equity Share
Price Band: Rs. 660 to 664 Per Share
Listing on: BSE & NSE
Retail Portion: 35%
Equity: 9,784,570 Shares
Market Lot:
Shares: Apply for 22 Shares (Minimum Lot Size)
Amount: Rs.14,608
Allotment & Listing:
Basis of Allotment: 12-December-2017
Refunds: 14-December-2017
Credit to demat accounts: 14-December-2017
Listing: 18-December-2017
IPO Registrar:
Link Intime India Private Ltd
Lead Managers:
IDFC Bank Limited
IIFL Holdings Limited
Yes Securities (India) Limited
Do Not Compare Yourself with Other Investors While Making Investment
Risks and Upsides
Logistics service providers face the following general challenges in the market:
Foreign direct investment activity is uncertain and is dependent on global policies and market volatility.
A slowdown in the user industry could affect the volumes handled by logistics service providers.
Quality and availability of infrastructure could impact performance.
Intense competition and low barriers to entry in certain segments could affect logistics service providers.
Increasing scale could be challenging.
The express logistics industry is sensitive to high operating costs; and
There is a need to continuously invest in and evolve technology.
Strengths
One of the largest service providers with an extensive network of facilities in a fast-growing third-party logistics market.
Comprehensive solution for supply chain requirements.
Diverse customer base across many sectors.

At the forefront in introducing new standards of technology and automation in the logistics industry in India.
Longstanding relationship with Future Entities.
Experienced management team with logistics and retail sector-specific knowledge.
Strategies
Capitalise on the growth of the third-party logistics industry in India.
Target growth by identifying new customers, increasing its share of existing customers' third-party logistics spending and leveraging existing relationships.
Expand addressable market through customized and new service offerings.
Invest further in infrastructure and expand its network.
Explore inorganic growth opportunities.
Continue to improve operating efficiencies and implement technological and process enhancements.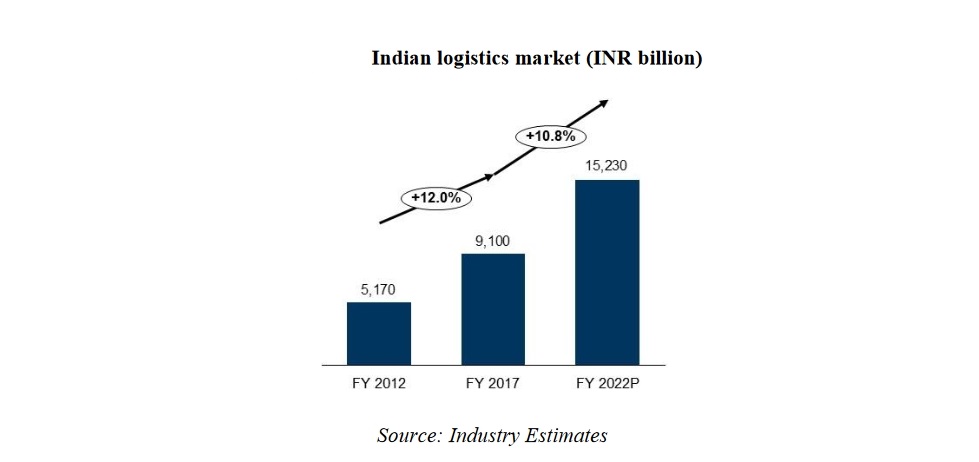 Negative
The Future Entities are its key customers and its Promoter and certain of its Group Companies account for a significant portion of its revenue. Any failure to maintain its relationship with these customers will have a material adverse effect on its financial performance and results of operations.
FSC's business is affected by prevailing economic conditions in India and indirectly affected by changes in consumer spending capacity in the sectors we serve within India.
FSC may face competition from a number of international and domestic third-party logistics companies, which may adversely affect its market position and business.
Delays or defaults in payment by its customers could affect its cash flows and may adversely affect its financial condition and operations.
An inability to pass on any increase in operating expenses to its customers may adversely affect its business and results of operations.
FSC are heavily dependent on machinery and equipment for its operations. Any breakdown of its machinery or equipment will have a significant adverse effect on its business, reputation, financial results and growth prospects.
FSC business is highly dependent on technology and automation and any disruptions of or failure to update such technology or automation could have an adverse effect on its results and operations.
Changing regulations in India could lead to new compliance requirements that are uncertain.
The trend toward outsourcing of supply chain management activities, throughout India or within specific sectors, may change, thereby reducing demand for its services.
Conditions and restrictions imposed on FSC by the agreements entered into with some of its customers could adversely affect its business and results of operations.
The performance of its express logistics and temperature-controlled businesses may continue to decline.
Dependence on third-party vendors could have an adverse effect on its business financial condition and results of operations.
Some of its lease agreements may have certain irregularities.
FSC's Promoter, Group Companies, and Directors are involved in certain legal proceedings and potential litigation.Any adverse decision in such proceedings may render us/them liable to liabilities/penalties and may adversely affect its business and results of operations.
Compititive positioning of Logistics service providers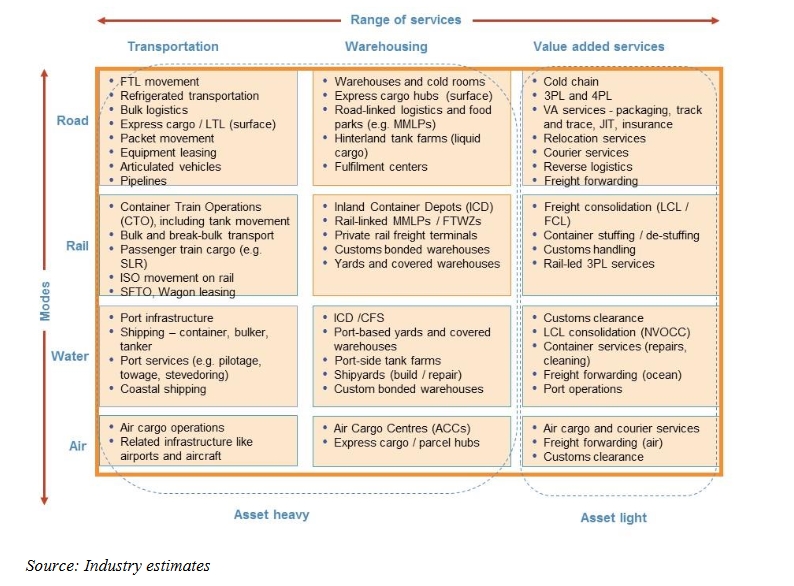 Financials
For FY 2017, 2016 and 2015, the revenue from operations was Rs. 5,611.83 crores, Rs. 5,198.70 crores, and Rs. 4,079.63 crores, respectively. (A CAGR of 17.3%.)
For FY 2017, 2016 and 2015, the net profit was Rs. 457.54 crores, Rs. 294.27 crores, and Rs. 246.57 crores, respectively, (A CAGR of 36.2%.)
For FY 2017, 2016 and 2015, the EBITDA was Rs. 742.82 crores, Rs. 699.40 crores, and Rs. 639.40 crores, respectively, (A CAGR of 7.8% during the last three Fiscals.)
Financial snapshot of Key companies.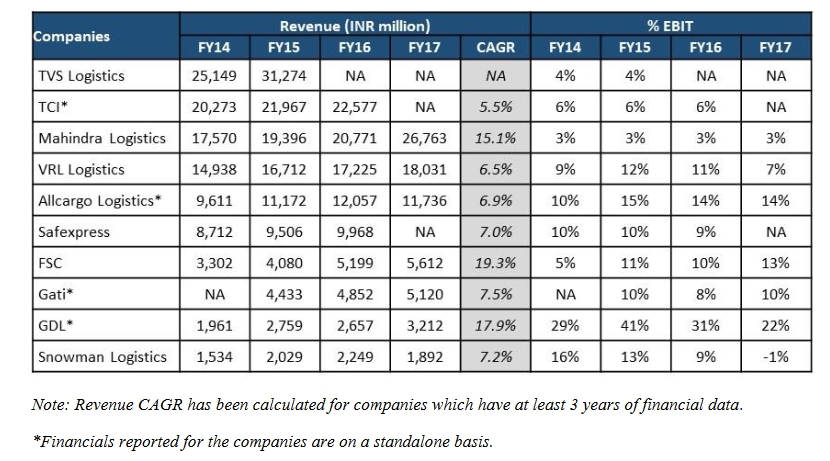 Valuations
On the upper price band of Rs.664/- and Restated FY17 EPS of Rs.11.69, P/E ratio works out to be 56x. Even based on last three years restated EPS of Rs. 9.41, P/E ratio works out to be 70x. Means, companies are asking higher price band of Rs.664/- in the P/E ratio of 56x to 70x. Its only listed peers Mahindra Logistics Ltd. is trading at P/E ratio of 68x. Hence we compare this way; Future supply chain is overpriced.  
Grey market premium
Currently, Grey market premium is Rs. 20/- ( Seller )
DISCLAIMER
No financial information whatsoever published anywhere here should be construed as an offer to buy or sell securities, or as advice to do so in any way whatsoever. All matter published here is purely for educational and information purposes only and under no circumstances should be used for making investment decisions. Readers must consult a qualified financial advisor before making any actual investment decisions, based on information published here.