General Insurance Corporation of India Ltd. (GIC) is the largest reinsurance company in India in terms of gross premiums accepted in Fiscal 2017, and is accounted for approximately 60% of the premiums ceded by Indian insurers to reinsurers during Fiscal 2017, according to CRISIL Research. GIC is also an international reinsurer that underwrote business from 161 countries as at June 30, 2017. According to CRISIL Research. Corporation ranked as the 12th largest global reinsurer in 2016 and the 3rd largest Asian reinsurer in 2015, in terms of gross premiums accepted. It provides reinsurance across many key business lines including fire (property), marine, motor, engineering, agriculture, aviation/space, health, liability, credit and financial and life insurance. Through more than 44 years of experience in, and commitment to, providing reinsurance products and services, GIC believe that it has become a trusted brand to its insurance and reinsurance customers in India and overseas.
IPO Dates & Price Band:
IPO Open: 11-October-2017
IPO Close: 13-October-2017
IPO Size: Approx Rs. 11500 Crore (Approx)
Face Value: Rs. 5 Per Equity Share
Price Band: Rs. 855 to 912 Per Share
Listing on: BSE & NSE
Retail Portion: 35%
Equity: 12,47,00,000 Shares
Market Lot:
Shares: Apply for 16 Shares (Minimum Lot Size)
Amount: Rs.14592
IPO Allotment & Listing:
Basis of Allotment: 18-October
Refunds: 23-October
Credit to demat accounts: 24-October
Listing: 25-October
Registrar:
Karvy Computershare Private Limited
Lead Managers:
Axis Capital Limited
Citigroup Global Markets India Private Limited
Deutsche Equities India Private Limited
HSBC Securities & Capital Markets Pvt Ltd
Kotak Mahindra Capital Company Limited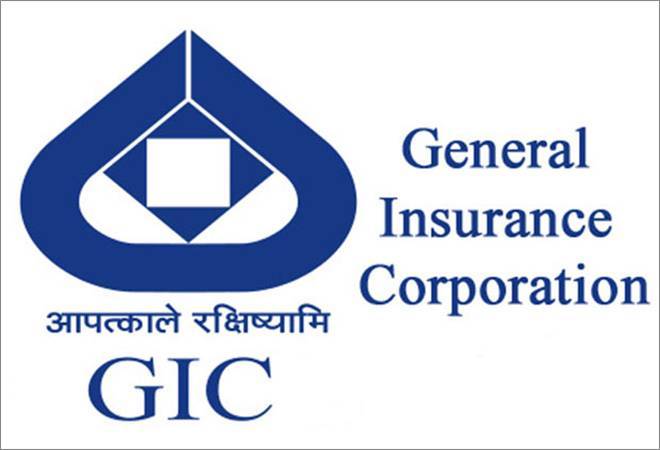 Offer for Sale:
GIC will not receive any proceeds from the Offer for Sale.
Fresh Issue
GIC proposes to utilize the Net Proceeds from the Fresh Issue towards:
(i) Augmenting the capital base of its Corporation to support the growth of its business and to maintain current solvency levels; and
(ii) General corporate purposes, subject to applicable law.
List of shareholder

Competitive Strengths:
Leader in Indian reinsurance industry with a trusted brand and 44 years of experience.
Significant global player with growing international presence.
Diversified product portfolio and revenue streams.
Robust and comprehensive risk management framework.
Diversified investment portfolio generating strong growth and attractive yields.
Strong financial track record and a strong balance sheet.
Experienced management team.
Strategy:
Expand and leverage its leadership position in the domestic reinsurance industry and continue its strong business growth.
Expand its presence internationally and grow its overseas business.
Focus on improving profitability through a reduction in combined ratio.
Grow its life reinsurance and other business lines in India and overseas markets.
The following charts show the penetration for life and non – life insurance business in 2016 in Brazil, Russia, India, China, South Africa, South Korea, Taiwan, Japan, Hong Kong, Singapore, the United States, the United Kingdom and worldwide.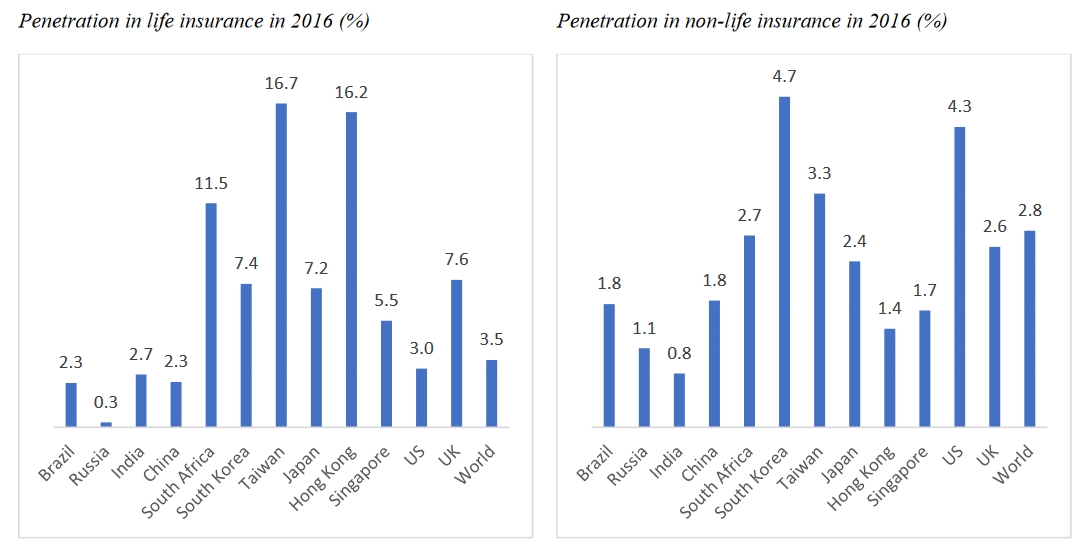 Source: Swiss Re World insurance reports Sigma No 3/2017 as extracted from the CRISIL Report
Brazil – The proportion of primary life and non – life insurance premium is well balanced for  Brazil, with the life segment contributing a slightly higher proportion of 54%. (Source: CRISIL Report)
Russia – Russia is completely different compared with other BRICS countries, as the proportion of non -life insurance is far higher at 87%.  (Source: CRISIL Report)  However, the life segment's share has been increasing over the past five years, as it has grown at a very high pace, while non – life premiums have been growing at a subdued pace. (Source: CRISIL Report)
India – India is the second largest market among the BRICS nations, behind only China. India has a far higher domination of life insurance, which contributes to about 79% of the total premium collected. (Source: CRISIL Report)   However, over the past five years ended 2015, India has grown at a subdued pace compared to the rate of growth in non -life insurance premiums.Penetration levels (defined as premiums as a percentage of GDP), were at 0.8% in 2016, which is the lowest amongst BRICS and other Asian economies, reflecting the significant growth potential of the Indian non -life insurance market.
China – The Chinese market is similar to the Brazilian market, with the contribution of life insurance at 56% in 2016. (Source: CRISIL Report)  However, the share of non – life has been increasing, as it has grown at a much faster pace than life insurance premium over the past five years. (Source: CRISIL Report)
Top 20 Global Reinsurance group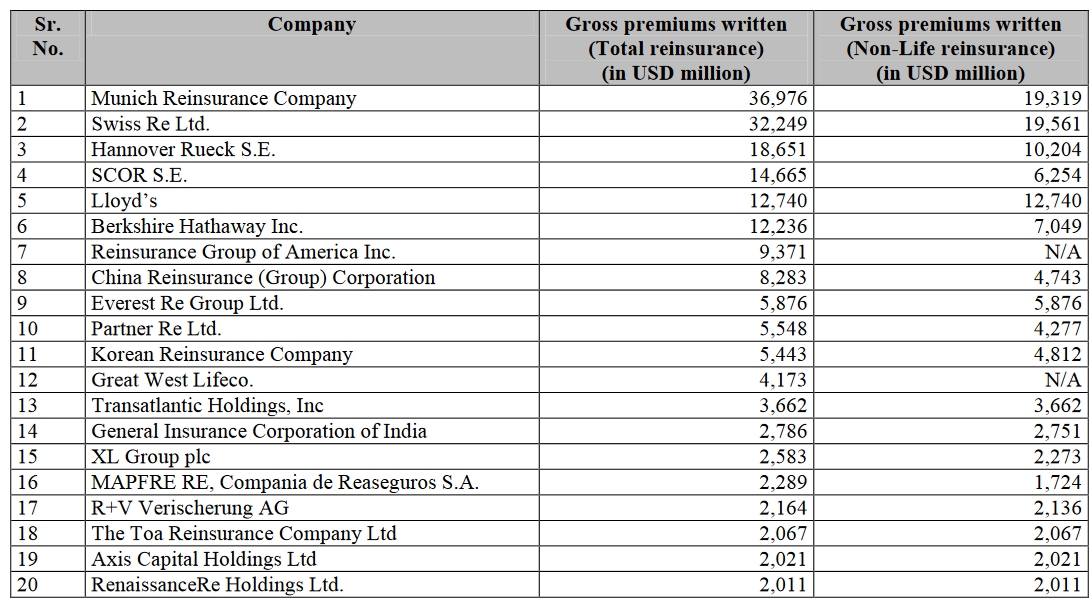 Negative:
Its success depends upon its ability to accurately assess the risks associated with the businesses that GIC reinsure, and if actual losses exceed its estimated loss reserves, its net income and capital position will be reduced.
The catastrophe business that they reinsure may result in volatility of its earnings.
The usefulness of analytic models as a tool to evaluate risk is subject to a high degree of uncertainty that could result in actual losses that are materially different from its estimates, including probable maximum losses, and its financial results may be adversely impacted, perhaps significantly.
GIC are exposed to credit risk relating to its reinsurance brokers and cedants.
GIC may decide not to purchase or be unable to purchase retrocessional coverage for the liabilities they reinsure, and if GIC successfully purchase such retrocessional coverage, they may be unable to collect from its retrocession partners, which could have a material adverse effect on its business, financial condition and results of operations.
GIC operate in a highly regulated industry and any changes in the regulations or enforcement thereof may adversely affect the manner in which business is carried on and the price of the Equity Shares.
There are outstanding litigations against our Corporation, its Directors and its Group Companies and any adverse outcome in any of these litigations may have an adverse impact on its business, results of operations and financial condition.
Regulatory and statutory actions against us could cause reputational harm and could materially adversely affect its business, financial condition, results of operations and prospects.
If GIC are significantly downgraded by rating agencies, its standing with brokers and customers could be negatively impacted and may adversely impact its results of operations.
A substantial increase in its agriculture reinsurance business in recent years exposes us to risks, losses, uncertainties, and challenges which could have a material adverse effect on its business, financial condition and results of operations.
The exposure of its investments to interest rate, credit, and equity risk may adversely affect its net income and the adequacy of its capital.
Its investment portfolio is subject to liquidity risk which could decrease its value.
Political, regulatory, governmental and industry initiatives in and outside India could adversely affect its business.
Since GIC rely on a few reinsurance brokers for a significant part of its international reinsurance business, loss of business provided by these brokers or breaches by these brokers of their contractual or regulatory obligations could reduce its premium volume and net income and have an adverse effect on its business, financial condition and results of operations.
Financials
Its gross premiums on a restated consolidated basis from its international business in Fiscal 2017, Fiscal 2016 and Fiscal 2015 were ₹103,004.52 million,₹ 83,396.92 million and ₹ 66,094.53 million, respectively, and its gross premiums have grown at a CAGR of 24.84% from Fiscal 2015 to Fiscal 2017. In Fiscal 2017, Fiscal 2016 and Fiscal 2015, its gross premiums for risks outside of India were 30.53%, 45.00% and 43.28%, respectively, of its total gross premiums. GIC develop its overseas business through its home office in Mumbai, branch offices in London, Dubai and Kuala Lumpur, a representative office in Moscow, a subsidiary in the United Kingdom that is a member of Lloyd's of London and a subsidiary in South Africa.
Its gross premiums on a restated consolidated basis in Fiscal 2017, Fiscal 2016 and Fiscal 2015 were ₹337,407.91 million,₹ 185,342.45 million and ₹152,701.56 million, respectively, and have grown at a CAGR of 48.65% from Fiscal 2015 to Fiscal 2017. In the same fiscal years, its profit after tax on a restated Consolidated basis was ₹31,406.23 million, ₹28,234.15 million and ₹28,909.75 million, respectively, and has grown at a CAGR of 4.23% from Fiscal 2015 to 2017. Its productivity, as measured by profit after tax per employee on a restated consolidated basis, improved to ₹ 55.78 million per employee in Fiscal 2017 from ₹55.07 million in Fiscal 2015.
Further, as at March 31, 2017, 2016 and 2015, they had a restated consolidated net worth (including fair value change account) of ₹ 495,508.46 million, ₹ 408,702.58 million and ₹ 433,842.92 million, respectively. GIC's total assets on a restated consolidated basis as at March 31, 2017, 2016 and 2015 amounted to ₹ 970,794.39 million, ₹ 761,027.46 million and ₹ 749,164.34 million, respectively. We had a solvency ratio of 2.41%, 3.80% and 3.32%, calculated on a restated standalone basis as at March 31, 2017, 2016 and 2015, respectively, against the minimum statutory requirement of 1.50%. GIC has been rated "A – " (Excellent) with a stable outlook by AM Best for 10 consecutive years. In addition, GIC has paid successive annual dividends in the past five fiscal years (including a proposed dividend in Fiscal 2017) to the Government of India as its shareholder, and its dividends during last five fiscal years were an aggregate of ₹ 33,200.50 million.
Valuations
GIC has posted an average EPS of Rs. 34.81 and average RoNW of 16.61% for last three fiscals. The issue is priced at a P/BV of 3.89 and a P/E of around 31.19. If we annualize latest earnings and attribute it on fully diluted equity post issue, then asking price is around P/E of 32. Thus issue appears fully priced. It has no listed peer to compare with.
Grey market premium:
Currently there is no trade in Grey market.
DISCLAIMER
No financial information whatsoever published anywhere here should be construed as an offer to buy or sell securities, or as advice to do so in any way whatsoever. All matter published here is purely for educational and information purposes only and under no circumstances should be used for making investment decisions. Readers must consult a qualified financial advisor prior to making any actual investment decisions, based on information published here.