HDFC Standard Life Insurance Company Ltd ( HDFC Life ) (Incorporated in 2000) is life insurance provider in India. HDFC Life offers a wide range of individual and group insurance solutions.
The Company is a joint venture between HDFC and Standard Life Aberdeen plc. Standard Life is an Edinburgh based investment company offering a wide range of financial services across the world. Standard Life is a public company established in 1825.
The Company sells Insurance policies through a multi-channel network, which includes direct sales through own branches, Insurance agents, Partner Banks and through other financial institutions. The company has more than 414 branches and 15,406 full-time employees located across India. It has more than 58,147 individual agents.
HDFC Standard Life Insurance raises Rs 2,322 crore from anchor investors.
List of anchor investors.
IPO Dates & Price Band:

IPO Open: 07-November-2017
IPO Close: 09-November-2017
IPO Size: Approx Rs. 7500 Crore (Approx)
Face Value: Rs. 10 Per Equity Share
Price Band: Rs. 275 to 290 Per Share
Listing on: BSE & NSE
Retail Portion: 35%
Equity: 29,98,27,818 Shares
Market Lot:
Shares: Apply for 50 Shares (Minimum Lot Size)
Amount: Rs. 14500
IPO Allotment & Listing:
Basis of Allotment: 14-November-2017
Refunds: 15-November-2017
Credit to demat accounts: 16-November-2017
Listing: 17-November-2017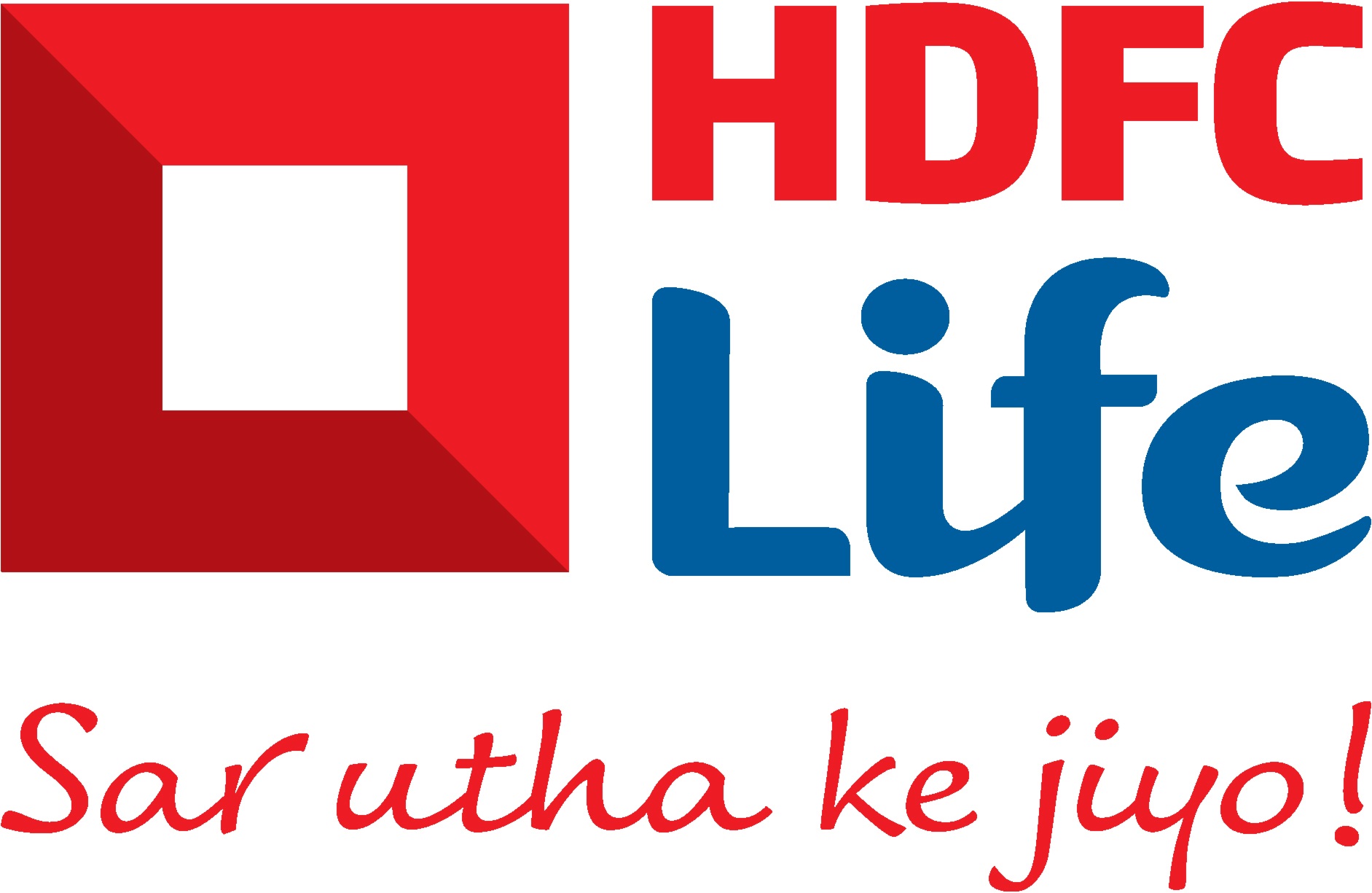 Promoters:
1.Housing Development Finance Corporation Limited ("HDFC");
2. Standard Life (Mauritius Holdings) 2006 Limited ("Standard Life Mauritius"); and
3. Standard Life Aberdeen plc ("Standard Life Aberdeen").
The objects of the issue are:
1.To achieve the benefits of listing the Equity Shares on the Stock Exchanges and
2. To carry out the sale of Offered Shares by the Selling Shareholders.
Top 10 Shareholder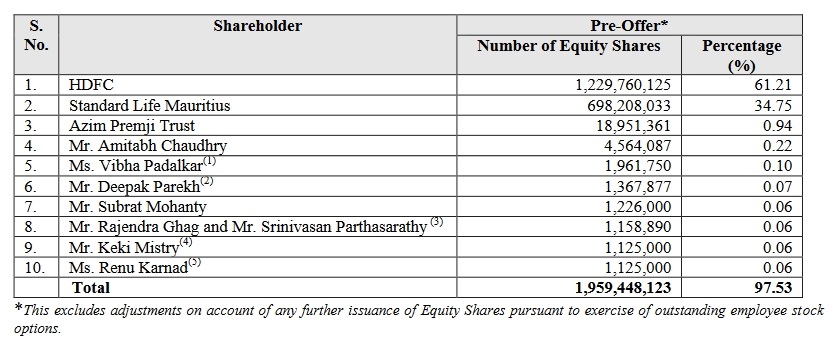 Lead Managers:
1.CLSA India Private Limited
2. Credit Suisse Securities (India) Private Limited
3. Edelweiss Capital Limited
4. Haitong Securities India Private Limited
5. HDFC Bank Limited
6. IDFC Bank Limited
7. IIFL Holdings Limited
8. Morgan Stanley India Company Pvt Ltd
9. Nomura Financial Advisory And Securities (India) Pvt Ltd
10. UBS Securities India Private Limited
Registrar to the IPO:
Karvy Computershare Private Limited
Life insurance penetration  ( 2016 )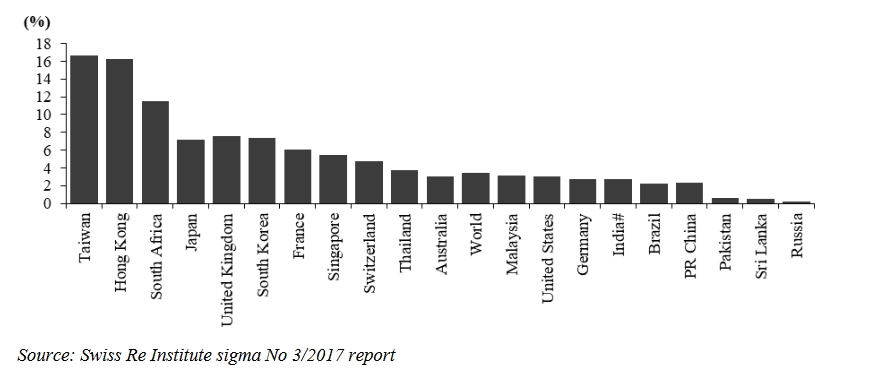 Competitive Strengths
Strong parentage and a trusted brand that enhances our appeal to consumers
Strong financial performance defined by consistent and profitable growth.
Growing and profitable multi-channel distribution footprint that provides market access across various consumer segments in India.
Focus on customer centricity enabling growth across business cycles.
Leading digital platform that provides a superior experience for customers and distributors.
Independent and experienced leadership team.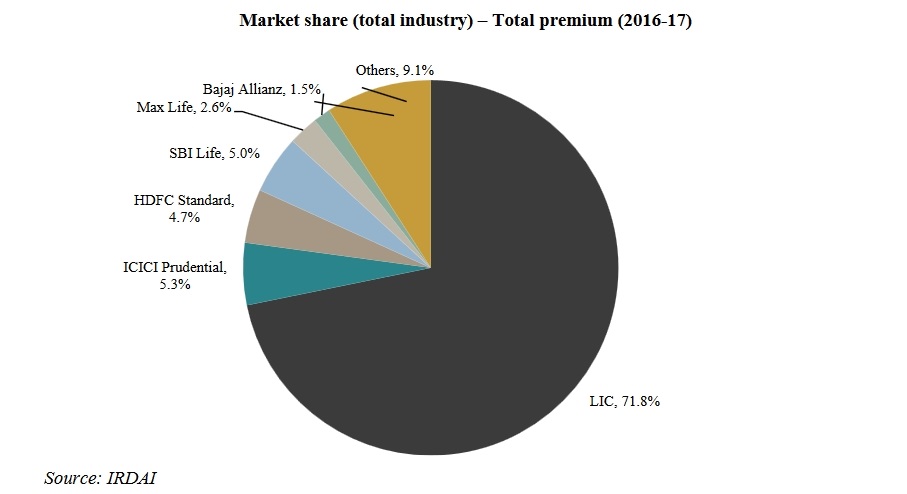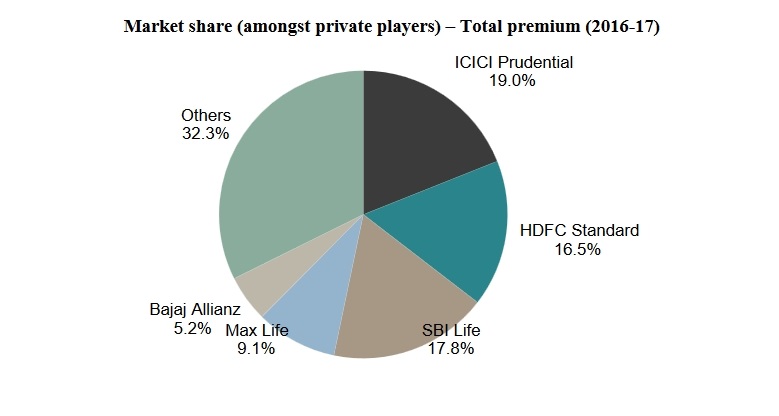 Strategies
Reinforce it's agile,multi-channel distribution platform to fortify and diversify its revenue mix across business cycles.
Drive innovation in product sales to enhance customer value proposition and to capture niche segments.
Invest in digital platforms to establish leadership in the growing digital space.
Continue to build economies of scale to ensure profitability and cost leadership.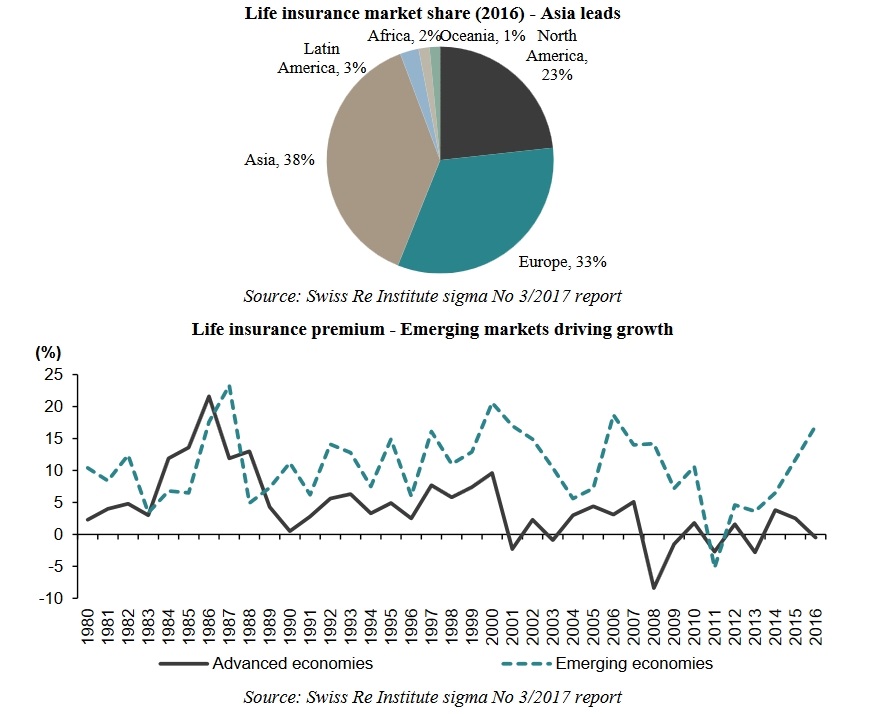 Negative
HDFC Life may be unable to implement its growth strategies and develop and distribute an appropriate product mix for specific customer segments through its multiple distribution channels.
Any termination of, or any adverse change to, its relationships with or performance of its bancassurance partners, including HDFC Bank, could have a material adverse impact on its business, profitability, results of operations and financial condition.
Changes in regulation and compliance requirements could have a material adverse effect on its business, financial condition, results of operations and prospects.
Misconduct by its agents, employees, distribution partners or other third parties is difficult to detect and deter and could harm our brand and its reputation, or lead to regulatory sanctions or litigation against us.
Its Company and certain of its Subsidiaries, Directors, Promoters and Group Companies are involved in certain legal proceedings which, if determined against us, may adversely affect its business and financial condition.
HDFC Life's results are dependent on the strength of its brand and reputation, as well as the brand and reputation of other HDFC group entities.
Variation in its persistency experience from its estimates, as well as concentrated surrenders, may materially and adversely affect its cash flows, results of operations and financial condition.
If actual claims experience and other parameters are different from the assumptions used in pricing its products and setting reserves for its products, could have a material adverse effect on its business, results of operations and financial condition.
HDFC Life depends on its leadership and key management and its actuarial, information technology, investment management, finance, frontline sales staff, underwriting and other personnel, and its business would suffer if we lose their services and are unable to adequately replace them.
Adverse market fluctuations and economic conditions would have a material adverse effect on its business, financial condition, results of operations and prospects.
Failure to secure new distribution relationships, as well as any termination or disruption of its existing distribution relationships, may have a material adverse effect on its competitiveness and result in a material impact on its financial condition and results of operations.
Higher expenses than expected could have a material adverse effect on its business, financial position and results of operations.
There is a risk that customer data could be lost or misused.
In the event that HDFC and/or Standard Life Mauritius reduce the percentage of their respective shareholding in its Company, or the Name Usage Agreement or the Trademark Agreement is terminated, we may not be permitted to use the "HDFC" and/or "Standard Life" trademarks as part of our brand and name for our business.
Catastrophic events, such as natural disasters, which are often unpredictable, may materially and adversely affect its claims experience, investment portfolio, financial condition and results of operations.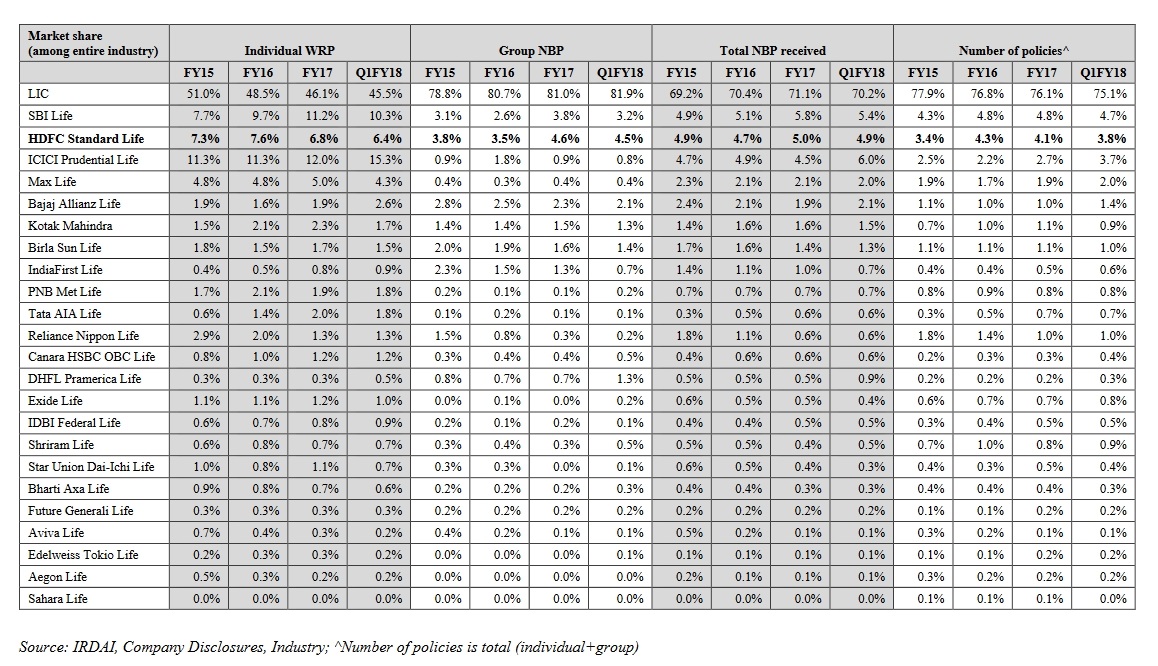 Valuation
HDFC Standard Life Insurance Company is among the top three life insurers in India by terms of market share in new business premium one of the most profitable life insurers based on the VNB margins, and among the top five private life insurers in India. The overall total premium recorded a CAGR of 14.5% to Rs.19445 crore between FY2015 and FY2017. The VNB margins improved from 18.5% in FY2015 to 22.0% in FY2017 by improvement in cost-efficiencies, increasing persistency ratios and selling a balanced product mix. Profit after tax registered a CAGR of 6.3% to Rs 886.92 crore in FY2017 from FY2015.
The company is valued at Rs 58260 crore at the upper price band of Rs 290 per share. With embedded value (EV) at Rs 14010 crore end September 2017, the scrip is offered at 4.2 times the EV.
Comparison with Peers:
ICICI Pru. Life: PE 33.40, RoNW : 28.70%
SBI Life PE 69.40,RoNW : 18.60%
HDFC Std.Life: PE:65.91 ,RoNW:25.70%
Grey market premium
Current Grey market premium is Rs.11/-
Conclusion
Strnogly avoid.
DISCLAIMER
No financial information whatsoever published anywhere here should be construed as an offer to buy or sell securities, or as advice to do so in any way whatsoever. All matter published here is purely for educational and information purposes only and under no circumstances should be used for making investment decisions. Readers must consult a qualified financial advisor before making any actual investment decisions, based on information published here.