Incorporated in 2000, ICICI Lombard General Insurance Company Ltd founded as a joint venture with ICICI Bank Limited and Canada's Fairfax Financial Holdings is engaged in providing various general insurance products and services in India. They mainly offers fire, engineering, hull, aviation, motor, casualty, health, travel, energy, personal accident, marine, liability, home, rural, and credit insurance products and services.
ICICI Lombard allotted 2.46 crore shares to 64 anchor investors, according to an exchange filing. Shares were offered at the upper end of the price band of Rs 661/-
Anchor investors include Nomura, Amansa, Franklin Templeton, DSP Blackrock, Abu Dhabi Investment Authority, Birla Sun Life, FIL Mauritius, Kuwait Investment, Russell Investment, Arch ReInsurance, Goldman Sachs, Wasatch Emerging Fund, MSD India, BNP Paribas, Aurigin, CitiGroup, SocGen, Reliance Nippon, Invesco MF, HDFC Std Life Insurance, ABN Amro, UniSuper, RochDale, DHFL Pramerica, EastSpring Investment, Canara Rebeco, Kotak Mahindra, Axis, IIFL, Sundaram, Motilal Oswal, Greater India, Edelweiss, Samsung India Securities, Pioneer Investment, HSBC and Master Trust Bank of Japan.
Highlights
ICICI Bank will sell 3.1 crore shares.
An indirect subsidiary of Fairfax Financial Holdings will offload 5.6 crore shares.
ICICI Bank's holding will fall to 55.95 percent from 62.95 percent.
Fairfax's stake will come down to 9.91 percent from 21.9 percent.
Of the total 8.6 crore equity shares, 5 percent will be reserved for ICICI Bank shareholders.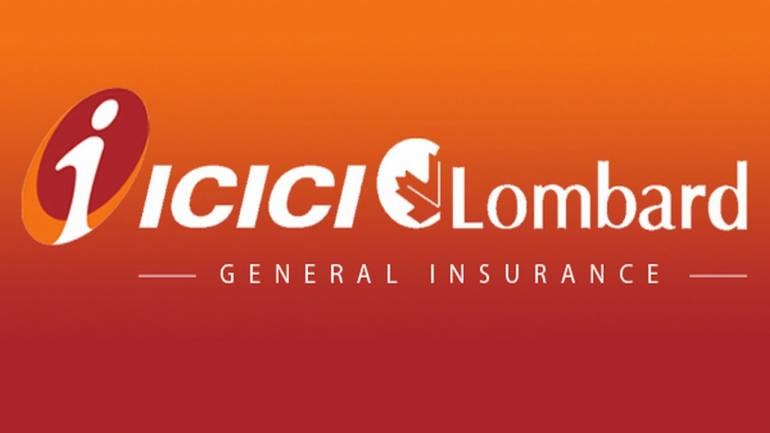 ICICI Lombard IPO Dates & Price Band
•    IPO Open: 15-September-2017
•    IPO Close: 19-September-2017
•    IPO Size: Approx Rs. 5700 Crore (Approx)
•    Face Value: Rs. 10 Per Equity Share
•    Price Band: Rs. 651 to 661 Per Share
•    Listing on: BSE & NSE
•    Retail Portion: 35%
•    Equity Shares: 86,247,18
    Market Lot:
•    Shares: Apply for 22 Shares (Minimum Lot Size)•   Amount: Rs. 14542
•   Amount: Rs. 14542
    Lead Managers:
•    DSP Merrill Lynch Limited
•    ICICI Securities Limited
•    IIFL Holdings Limited
•    CLSA India Private Limited
•    Edelweiss Financial Services Limited
•    JM Financial Institutional Securities Limited
Registrar:
Karvy Computershare Private Limited
Allotment & Listing:
•    Basis of Allotment: 22-September
•    Refunds: 25-September
•    Credit to demat accounts: 26-September
•    Listing: 27-September
Promoters:
The Promoter of the Company is ICICI Bank
Objects of the Issue:
1.    To achieve the benefits of listing the Equity Shares of the Company on the Stock Exchanges;
2. To carry out the sale of up to 86,247,187 Equity Shares by the Selling Shareholders; and
3. Enhance the "ICICI Lombard" brand name and provide liquidity to the existing shareholders.
India Non Life Insurance Sector Overview
The Indian non-life insurance sector offers different products such as motor, health, crop, fire, marine, liability, travel, aviation and home insurance aimed at meeting different protection needs of retail customers, government as well as corporate customers.The industry operates under a "cash before cover" model under which insurers are not required to assume underwriting risk until premiums are received except in the case of government sponsored schemes such as mass health and crop insurance.Most Indian non – life insurance contracts are annual except certain product offerings in a few segments such as home, health, personal accident, crop insurance and travel insurance. Indian non- life insurers also do not discount reserves including IBNR / IBNER which are determined using actuarial methods.
The Indian non life insurance sector has been regulated by the Insurance Regulatory and Development Authority of India (IRDAI). IRDAI was constituted as a statutory body to regulate and develop the insurance industry in 1999 and received statutory status in April 2000. The IRDAI regulates the insurance sector in all states in India, and any regulatory changes or product approvals are enforced uniformly across the country.
The size of the Indian non life insurance sector was ₹ 1.28 trillion on a GDPI basis as of 31st March 2017. Indian non life insurance sector GDPI grew at a CAGR of 17.4% between fiscal 2001 and fiscal 2017.
According to Swiss Re, India was fifteenth largest market in the world and the fourth largest market in Asia in 2016, behind China, Japan and South Korea. India was also amongst the fastest growing non life insurance markets over 2011- 2016, growing at 14.5% (as per Swiss Re).Despite its size and growth profile, India continues to be an underpenetrated market with a non-life insurance penetration of 0.77% in 2016, as compared to 1.81% in China, 1.70% in Thailand, 1.67% in Singapore and 1.62% in Malaysia and a global average of 2.81% in 2016. At US$13.2 in 2016, insurance density also remains significantly lower as compared to other developed and emerging Market economies.
The following charts set forth a comparison of growth rates of non – life insurance, penetration and density across select countries.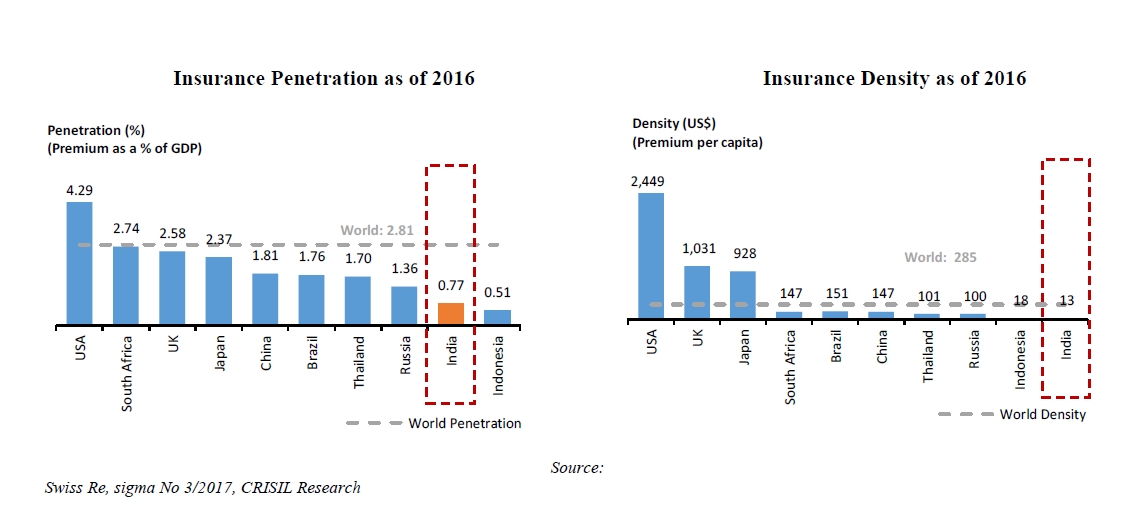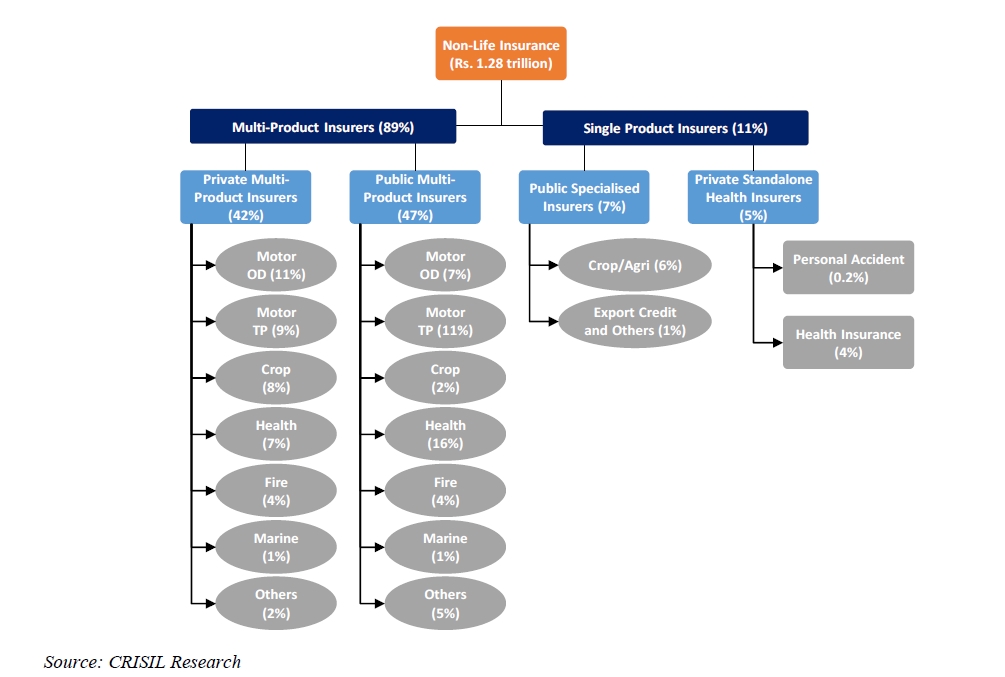 Negative
Some of its Directors, its Promoter and certain Group Companies are involved in certain legal and other proceedings.
Catastrophic events, including natural disasters, could materially increase its liabilities for claims by policyholders, result in losses in its investment portfolios, and have a material adverse effect on its business, financial condition, and results of operations.
ILGI are involved in insuring assets and other works of the government or participating in government sponsored insurance programs and the government or its agencies have in the past and may in the future initiate
investigations /inquiries and issue prohibitory orders against it, which could materially adversely affect its business, financial condition, results of operations and cash flow.
There are certain risks related to its crop/weather insurance offering that could have a material adverse effect on its business, financial condition, results of operations and prospects.
ILGI's business, financial condition, results of operations and prospects may be materially and adversely affected if ILGI is not able to maintain its market position, sustain its growth, develop new products or target new markets.
ILGI's reliance on motor vehicle manufacturers and ICICI Bank and other key distribution partners subject us to a concentration risk and the termination of, or any adverse change to, its relationships with motor vehicle manufacturers and ICICI Bank and such other key distribution partners, or their performance, may have a material adverse effect on its business, financial condition, results of operations and prospects.
Any termination of, or any adverse change to, its ability to attract or retain its agents, both corporate and individual, and key sales employees, could have a material adverse effect on its business, financial condition, results of operations and prospects.
Differences between its actual claim payments and those assumptions and estimates used in the pricing of its products could have a material adverse effect on its business, financial condition, results of operations and prospects. Credit risks in its day to day operations, including in its reinsurance contracts, may expose it to significant losses.
ILGI cede a significant percentage of its reinsurance to GIC Re. Any adverse change in its relationship with GIC Re could result in a material adverse effect on its business and results of operations.
A portion of its corporate premium comes from a limited number of large clients, and the loss or downsizing of any of these clients could adversely affect its business, results of operation, financial condition, and cash flows.
Positive
Consistent market leadership and demonstrated growth.
A diverse product line with multi – channel distribution network.
Delivering excellence in customer value.
Robust risk selection and management framework.
Focus on investments in technology and innovation.
Strong investment returns on a diversified portfolio.
Superior operating and financial performance.
The experienced senior management team and enabling work culture.
Valuations
ICICI Lombard enjoy strong financial with operating profit CAGR growth of 21.8% and PAT CAGR growth of 16.1% between FY13 to FY17. Though the combined ratio (Loss Ratio + Expense Ratio) is higher among its private peers at 104% but because of higher return on investment with higher share of Equity investment, company was able generate ROE of 20% in FY17. Even the Combined Ratio has improved from 107.1% in FY16 to 104% in FY17 and further to 102.4% in Q1FY18. Though we do not have comparable listed peer of ICICI Lombard but as compared to other consumer facing NBFC peer like Bajaj Finance, Gruh Finance, ICICI prudential and PNB Housing finance the share is offered at lower valuation of PE of 41.2 and P/BV of 7.6 with ROE of 18.6% on training basis.
Recommendation
We recommend to Subscribe with long term ( short term investor may avoid ) perspective considering the market opportunity, number one positioning and strong financial of the company.
Grey market premium
Currently Grey market preimum is Rs. 20/- and Kostak is Rs. 0/-
DISCLAIMER
No financial information whatsoever published anywhere here should be construed as an offer to buy or sell securities, or as advice to do so in any way whatsoever. All matter published here is purely for educational and information purposes only and under no circumstances should be used for making investment decisions. Readers must consult a qualified financial advisor prior to making any actual investment decisions, based on information published here.