College tuition and associated education costs rise 10-15% annually. If you have young children, the price you'll pay for their education could be significantly higher than today's prices. Currently, a Domestic 2 Year Full-Time MBA costs roughly ₹12-16 lacs, In 5 years, the cost is likely to touch ₹20-25 lacs.
The percentage of people getting a post graduate degree is merely 12% versus graduate degree of 72%, which is much lower for individuals who grew up in a low income household than individuals who grew up in non-low income household. These means only a lucky child can get an opportunity of getting higher education.
Due to increased Inflation, Competition & Lifestyle Inflation affecting the cost of children's education there is a rise in demand for both the parents to work and earn such living. All the families are under increasing strain and disadvantaged families are strained to limits as they have fewer resources to invest in early development. The without resources like "parent coaching" in the busy life attract private coaching costs nearly ₹70,000-₹1, 00,000 p.a in addition to the academic costs.
Despite this cost escalation, you'll want your children to have the option to go to the college of their choice. So how do you save enough money for college and still achieve your other goals?
LONG TERM AVERAGING OF EQUITY SIP'S IS RAPIDLY BUILDING WEALTH
Be an Early Bird
Starting savings early will not only be able to amass a larger sum, but the money will also gain from the power of compounding. E.g., Suresh Gupta, A Delhi based finance professional having a child aged 8 months started investing in an SIP of ₹ 9,000 for duration plan of 18 years in an equity fund that gives 15 per cent return for getting a target corpus of ₹1 cr. For such individuals like Suresh, Equity based Mutual Funds are more preferred than opting for balanced MF's. If you have a higher risk appetite than your equity investment can be as high as 75% and rest in Fixed Deposits, PPF, Tax Free Bonds etc.
Play it safe in the Short Term:
If you have a short time horizon(<5years) you will have to opt for safer investments which means being risk averse. These investments include recurring deposits, debt investments, PPF etc. Though these investments offer guarantee returns with safety of capital but also provide less returns. E.g., Vimal Singh, A Mumbai based Salaried person having a child aged 15 years have to invest more than ₹50,000 in SIP for the period of 2-3 years to fulfill his child aspiration of studying for a MBA Course costing ₹20-25 lacs. A mid-incomed person cannot afford to put ₹50,000/month aside & ignore his household costs. Hence, the child has to either quit studying for post-graduation or has to take assistance from bank in the form of an educational loan.
Exploring investment Options for your child :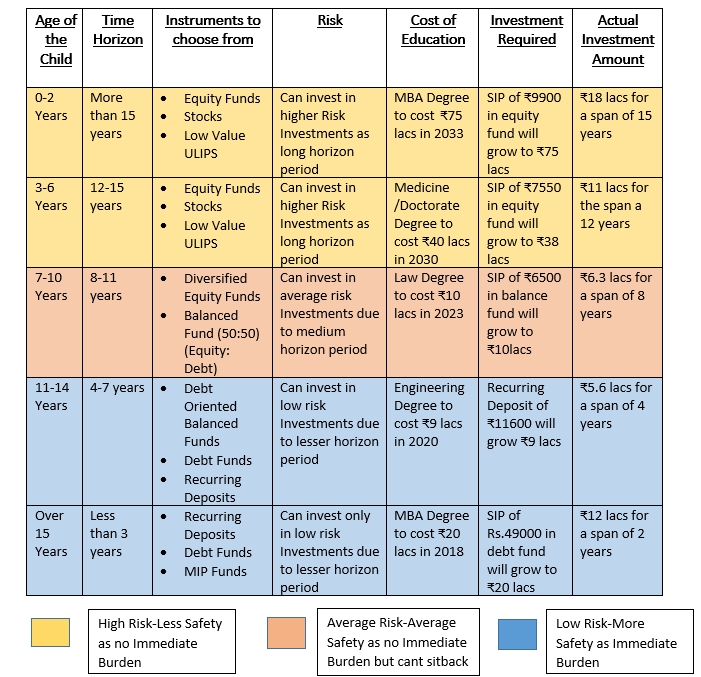 More than 4 lakh Pune flat buyers are victims of the builders
Investing in future child education is also gaining popularity these days. The plan can be established with one of the parents as the beneficiary and then transferred to the child after birth. These leads to more saving and longer time duration to appreciate. A couple married for 6 years before their first child is born has 33% longer time for their investments to appreciate. Otherwise, the parents can invest in Equity Mutual Funds which have delivered averaged annualized returns of 16.5% as compared to investing in traditional life insurance policies which offer low yields of 5-6%. 
Reviewing your performance of the funds in the portfolio is as important as Investing. An underperformance of fund can be rebalanced by replacing with a performing fund.
Example of Different Types Of Investments:
The investment of ₹2000/month for a period of 18 years in an traditional policy can grow till ₹7lacs with return of 5 to 6%, in a recurring deposit till ₹11 lacs with return of 9%, in a balanced fund till ₹15 lacs with return of 12% and in an Equity Fund at ₹22 lacs with return of 15%
Keeping in mind that financial plans are made to achieve such crucial goals in life. Hence the earlier you invest in your child education and the more systemized your financial plan is, the lesser financial burden you/child face in the long term.
"A child educated only at school is an uneducated child" – George Santayana