Nobody in the world gives anything as a charity to anybody without his / her own interest or benefit. Zero percent interest schemes are same. Normally on eve of any festival or for major stock clearances normally either manufacture or dealers launch such schemes for which they tie up with the banks/ NBFC's for these types of schemes.
It is a major gimmicks and that the reason people should read the brochure very carefully before finalizing the option. Prices are always fixed for these types of schemes & companies / dealers do not allow any negotiation or cash discounts or any benefits in any other form of which a person paying in cash enjoys. Normally tenure of loans are almost fixed in some slabs & remains available from 3 months to 12 months for the small value items & up to 36 months especially for the high value house hold electronic and Furniture items.
How do these schemes work ?
Firstly these zero percent schemes have hidden costs inbuilt in them. Perhaps the biggest loss for you would be forfeiting the cash discount on a product that you could have otherwise got if you had bought it on full cash. This apart you will also be paying a transaction or processing fee under the zero percent scheme and consequently more money through advance EMIs.
For example, you decide to buy an Philips 40″ PFL3750 LED colour television that costs around Rs. 34,990. ( after Retailer discounts ) You decide to buy it using the zero percent finance scheme. Under this arrangement you will pay the entire cost in ten EMIs of Rs. 3490 for ten months. This works out to be Rs. 34,990 spread over 10 months. Now here's how you end up paying more! To begin with you pay a processing fee of Rs. 1,000. And since you are buying the LED on a zero percent finance scheme you are not entitled to the cash discount of Rs. 8,000! ( Please check with snapdeal,PAYTM etc.. )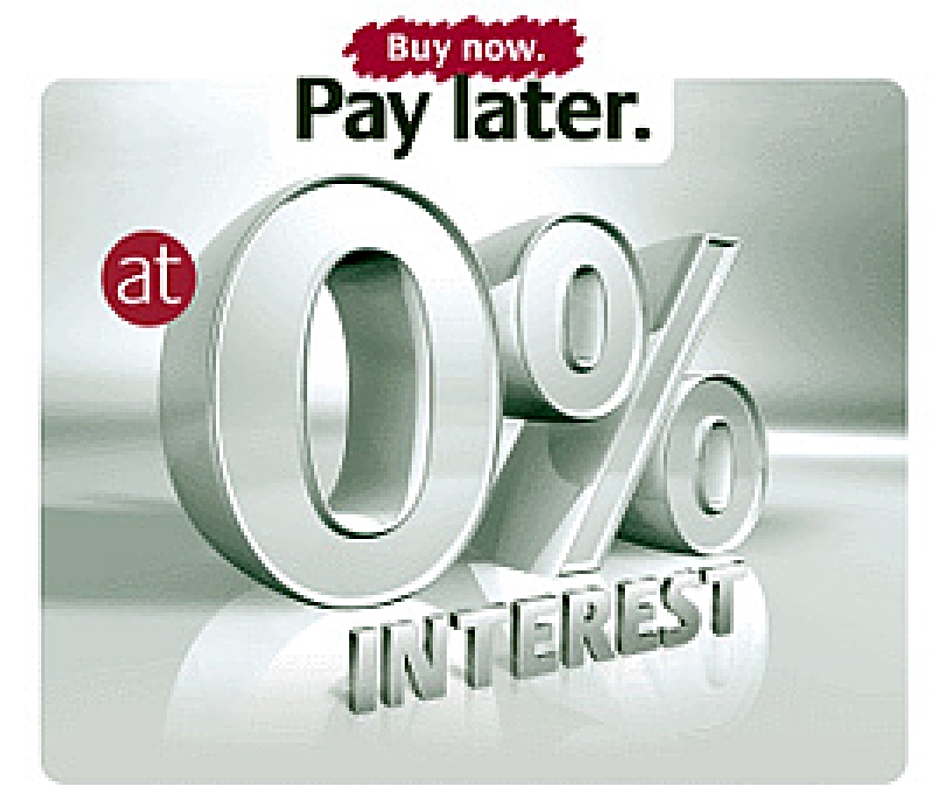 So here's how it looks in the above example. The LED costs Rs. 34,990 ! Add up the Rs. 1,000 processing fee that you pay initially and Rs. 8,000 that was lost out on cash discount. A total of Rs. 9,000! This means you get a net finance of Rs. 25,990 only! Now you pay an EMI of Rs. 3,490 for 10 months which totals up to Rs. 34,990. So at the end of ten months you pay Rs. 9,000 more for what you got.
People can easily identify the hidden component of interest in these schemes by just calculating the price offered for spot payment (i.e. cash payment) & price offered for "ZERO INTEREST SCHEME" which is always the maximum price. Besides this, the interest is collected in the form of handling charges /documentation/services enabling charges & people remain unaware of these hidden charges. People should compare the payback period & amount payable in its comparison. It is always better to keep payback period minimum.
The RBI through its circular asked all banks to discontinue all zero interest EMI schemes on all retail products for violating the fair & transparency pricing practices, & because of which such schemes lowered significantly. Now those which are still continue are by tying up with NBFCs, because central bank has asked to discontinue such scheme & not the NBFCs.
The central bank has also asked such companies to bring more transparences in terms & conditions & total gross mount customer would end up making.
People should compare between consumer loan offered by the banks or finance companies & extended offer by manufacture or dealers & if possible people should prefer loan from banks than finance companies because of their transparency by & large extend & can be made accountable by RBI.
For high value loans such as car loans finance or banks check the CIBIL score of the customer which has to be very good i.e. 750 & above besides their other income criteria. This CIBIL & other conditions restrict large section of prospective buyers & only ten percent of the society become eligible for such schemes & those people can avail loans easily. For high cost items manufacturer incorporate the interest component in its sales price & in the form of significant amount of down payment collects it from the customer & pays it to the a banks or finance companies.