"India is the only country among major emerging markets that satisfies all the conditions — a sizable economy, high growth rate and yield, and political stability," said Go Ikeda, a senior fund manager at Mitsubishi UFJ Kokusai Asset Management Co.
"Investors are looking at where the growth will be in the medium to long term, without having to worry about short-term swings in the market."Kazuto Wada, an executive director at Nomura, Japan's largest brokerage.
Indian economy that's growing at 7 percent annually with reforms showing tangible progress.
India's economy is expanding at about seven times the pace of Japan's, buoyed by a burgeoning middle class and more one than million young people joining the labor force every month. Indian shares have hit multiple records this year amid optimism about Prime Minister Narendra Modi's policies.
Sumitomo Mitsui Asset Management Co.'s Indian bond fund, co-managed with Kotak Mahindra Asset Management, took in a net 24 billion yen ($214 million) from December through June, lifting total assets to about 87 billion yen as of July 10.
Japanese investment trusts' holdings of Indian securities more than doubled to 898 billion yen in June from a year earlier, data from Investment Trusts Association, Japan show.
The rupee has gained 5.8 percent versus the dollar in the past six months in Asia's top performance. The nation's 10-year bond yield of 6.45 percent ranks second after Indonesia among major Asian economies and compares with 0.07 percent in Japan.
The combined assets of three India funds run by Nissay Asset Management Corp. have topped 100 billion yen since their launch 2015.
For Franklin Templeton's Michael Hasenstab, "unprecedented" structural reforms by Modi and relatively high yields make India a "sweet spot" among emerging markets. On July 1, India introduced a goods and services levy designed to unify the nation into a common market and widen the tax net.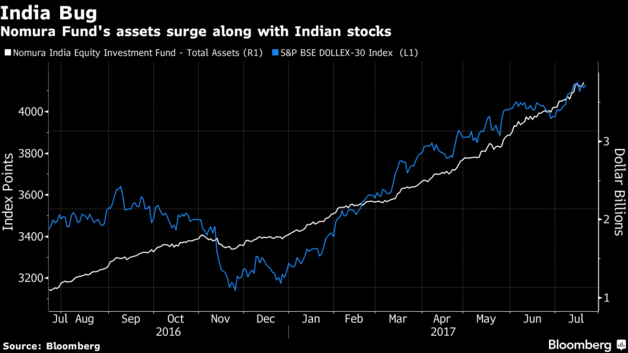 Kato shared his views in an interview in Tokyo on Friday.
Key Point
Why is India so popular now?
India is becoming a popular destination because of improvements in fundamentals.
The fiscal deficit has narrowed and is likely to shrink further, while the current-account deficit has also decreased. Inward direct investment can finance the current-account gap, which is positive for the rupee and currency stability.
Inflation has been under control and the Reserve Bank of India has gained credibility for curbing it.
A series of positive news including the ruling party's win in state elections have helped boost Prime Minister Narendra Modi's government; the goods and services tax roll out has led to limited disruption, nd the impact from the scrapping of high-value currency bills has been smaller than expected.
How does India compare with other countries?
Stocks in developed markets look relatively expensive and face more downside risks, while bond yields in those markets may rise amid hawkish tone of major central banks.
India's defensive character also makes it stand out; it is less dependent on exports and when the global economy is weakening, because domestic demand is solid, the impact from a slowdown is less.
The South Asian country's reliance on China is low in terms of trade and the two don't compete in terms of the goods they sell in global markets. That makes India resilient to external shocks.
India is a net importer of oil and falling crude prices contribute to a lower trade deficit and slower inflation. Foreign ownership of Indian bonds is also relatively low, which shields it at a time of capital flight.
What is your outlook on RBI's monetary policy, impact on bonds?
Even if the RBI cuts rates, yields are unlikely to drop sharply because the move has been priced to a certain extent. The 10-year rate will probably stay above 6 percent, which remains relatively high, while the rupee may also remain stable. The real yield will still be high and the nation's debt will continue to be attractive for foreigners.
What is your outlook for the rupee?
The rupee is likely to trade steady, near the 65 per dollar area. From a valuation standpoint, the currency seems to have become expensive but a narrower current-account deficit and ability to finance it with the direct investment should be supportive.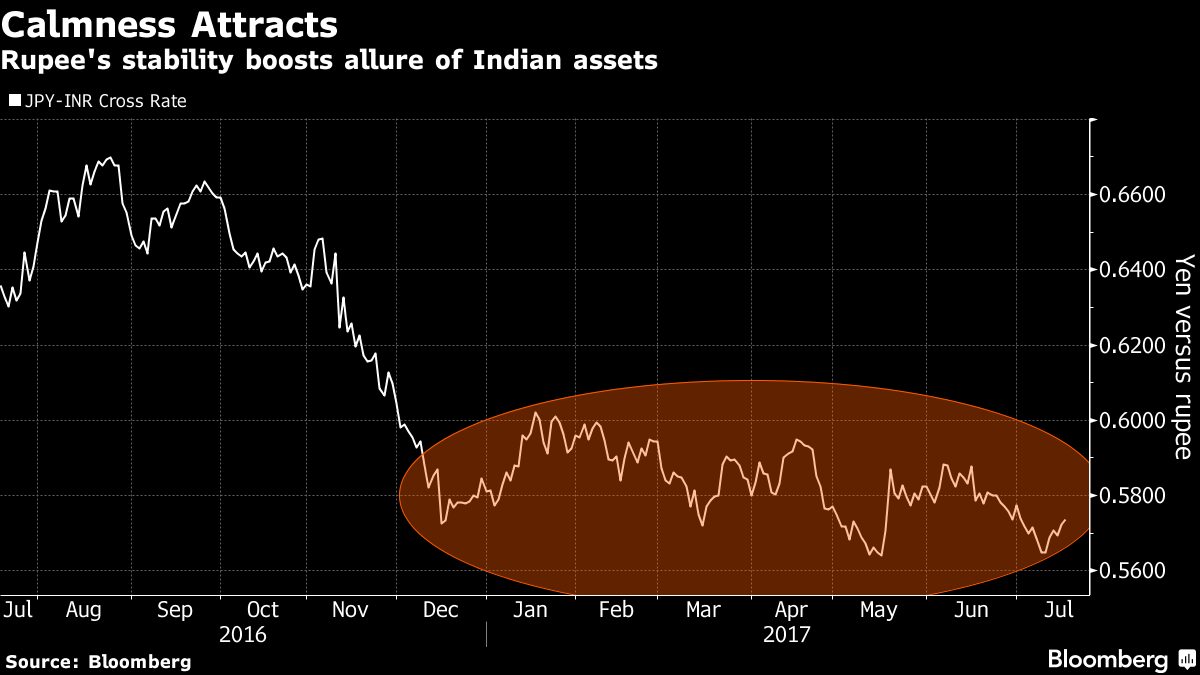 What does the India bond fund hold now?
Rupee bonds account for about 70 percent of total assets, while dollar-denominated notes make up the rest. The fund is becoming cautious about its dollar-bond holdings on prospect for higher interest rates.
Duration of the dollar notes is also relatively shorter at about three years, while that of local-currency securities is longer at about 6 to 6.5 years as yields are under pressure because of stable inflation outlook
With assistance by Garfield Clinton Reynolds