In all the noise about rising bad loans, a deposit deluge in the aftermath of demonetization and the collapse of credit growth, it's time to take stock of where public funds are lying right now in the economy.
In a report from the Reserve Bank of India, the credit-deposit ratio as of the month of May was 72%, which means that out of Rs.100 deposited in the bank, Rs.72 used for lending and the rest Rs.28 was used to buy government bonds. In the same time of the previous year, banks have used Rs.76 out of Rs.100 deposit for lending and had left the rest Rs.24 in bonds. This is as per the stock of deposits on the 30th of the month.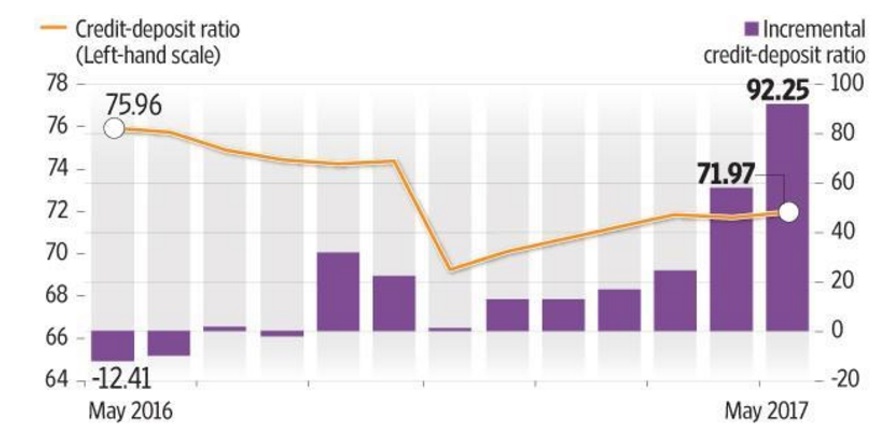 Source : Centre for Monitoring Indian Economy
Taking a look at the additional credit-deposit ratio, which shows what portion of the new flow of deposits, is getting placed in the credit. And this reflects the slump in credit growth in 2016-17.
By the time of March-end the additional credit-deposit ratio was 42%, this shows that more than half of the deposits that came in were placed in government bonds. These are low-yielding and very safe assets. This could be easily understood by the fact that the deposit stream following the demonetization of Rs.500 and Rs.1000 currency bills left a little choice to the banks to buy nothing but the government bonds as the loan demand is very less. Moreover, during the demonetization period, this was even lesser in the month of November, it was 1% only which aroused to nearly 13% in the month of December.
Trouble in India's Credit System of banks having foremost NPAs
Now, if we talk about the month of May where the credit-deposit ratio was 72%, the large amount of share is still placed with industry through the loans accompanied by credit to services as well as individuals.
Share/Portion of Rs.100 Deposited
Out of every Rs.72 lent, nearly Rs.17 only went to personal loans and services each, and approximately Rs.28 or 29 went to build or run the factories. A share of Rs.10 went to agriculture. The share of personal loans has aroused in one year to approximately 25% of total non-food credit from 21%. On the other side, the industry has dropped to 38% from 41% while farming maintained its portion of nearly 14%. Basically, only Rs.25 of every Rs.100 deposited in a bank comes back to the people in the form of loans like home loans, car loans and other credits.
It is known that the banks are burdened with a big heap of bad loans. Approximately Rs.14 of every Rs.72 lent is now classified as stressed portion, which means it neither originate any income for the banks or due to the late payments by the borrowers to lenders.