The expected returns are in between 5.6% to 6.8%.
Similar to the earlier post regarding 'LIC Jeevan Shikhar", this plan i.e., LIC Jeevan Labh Plan also has a similar kind of offering.
LIC Jeevan Labh is a limited premium, non-linked with profit endowment insurance plan which was launched on 4th January, 2016 for the sole purpose of attracting individuals who want to avail taxation benefits. The plan is suited to those who want premium commitment for short duration having life coverage and benefits for a longer period.
The limited feature in this plan lets you chose among the three variants of policy terms (duration) i.e., 16,21 & 25 years and premium paying years are 10,15 & 16 respectively.
Features & Benefits:
Minimum Entry Age: 8 years
Maximum Entry Age: 59 years
Minimum Sum Assured: Rs.2,00,000
Maximum Sum Assured: No LIMIT
Policy Term & Premium Payment Term(years) : 16 (10years), 21(15years) & 25(16years)
Maximum age at Maturity : 59/54/50 years
Payment option Facility :3/6/12 months
Additional Premium Benefit : Optional Rider as Accidental Death & Disability Benefit
Term Insurance Rider Benefit : Increases the Death Benefit with sum assured
Loan Facility – Duration 3 years
Surrender Benefit – Post 3 Years of premium
Though the tenure is 16,21 & 25 years you need to pay premiums only for specific period
Maturity Benefit : Sum Assured + Bonus + Final Addition Bonus
Death Benefit : Sum Assured + Bonus + Final Addition Bonus Sum Assured (Not less than 105% of total premium paid as on date of the death occurred)
Commencement of Risk : Immediate
Fixed Premium Deduction every year
Grace Period : 1 month
Bonus Rates (per Rs.1000 Sum Assured) of LIC Endowment Plans are in the below range:
• <11 years - Rs34 • 11years-15years – Rs.38 • 16years-20years – Rs. 42 • >20 years – Rs.48
LIC Terminal Bonus Rates: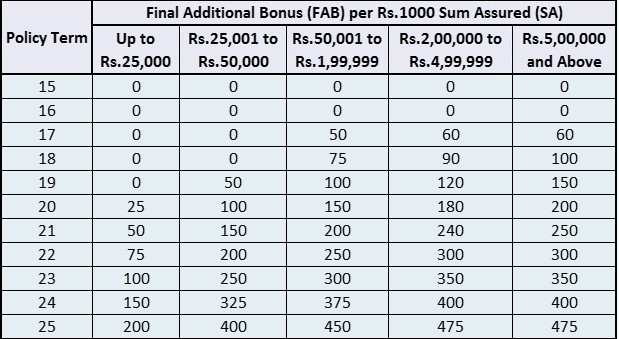 Source : LIC Website
Illustration:
If a 35 year old individual opts for a sum assured value of Rs.2 lacs for term 21 years for a premium paying term of 15 years then after completion of 22nd year he would receive maturity benefit of Rs.4.21 lacs(Inclusive Sum Assured + Accrued Bonuses + Final Addition Bonus.
The expected returns are in between 5.6% to 6.8%.
Higher the Age — Higher Premium — Lower Returns
Lower the Age — Lower Premium — Higher Returns

The main intension to buy Endowment plans is avail the money back option, risk aversion & insurance plus investment benefits. The combination of Insurance + Investment is not a good option to invest as you get minimum Insurance coverage & minimum return on Investments. Therefore before buying any endowment product, check for two most important things, insurance coverage on which all diseases & return on investment.
Hence, buying LIC Jeevan Labh Plan is not a right decision for people looking for more than 10% returns p.a on their investment, over a lock in period of more than 10 years.