As per the Insurance companies data it is said that 70% business is generated in the last financial quarter i.e., January to March where people want to save maximum tax by opting tax saving instruments.
LIC Jeevan Shikhar Plan is one of them mainly to target people who invest in tax saving instruments on the last call & end up paying premium due to lack of tax planning. It is a newly launched endowment plan (Benefit of Insurance and Investment) which is currently available for sale for a limited period between January to March, 2016 period.
How does Jeevan Shikhar work?
Features:
1. Minimum Entry Age: 6 years
2. Maximum Entry Age: 45 years
3. Minimum Maturity Sum: Rs.1, 00,000
4. Maximum Maturity Sum: No LIMIT
5. Premium Payment Mode : Single Premium Only
6. Policy Term : 15 Years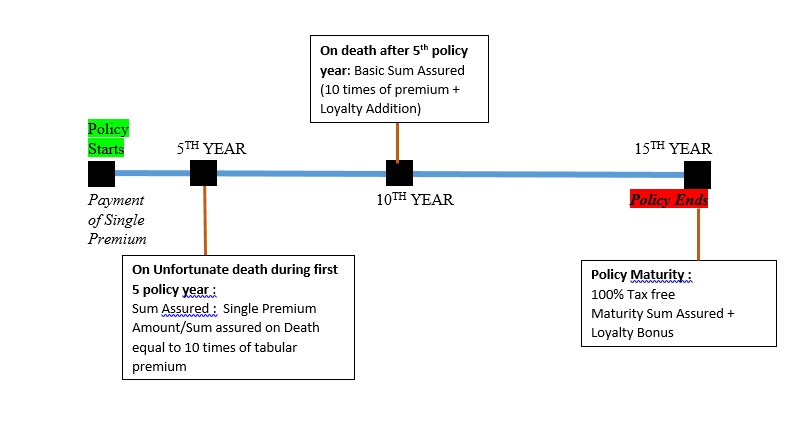 LIC Jeevan Shikhar is targeting young individuals below the age of 40, Hence the below illustration is being taken of a 30 year old individual: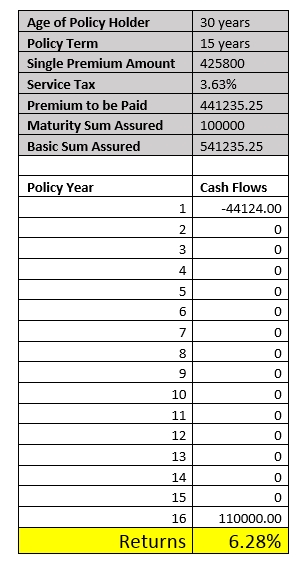 Negatives:
1. Long Waiting period : loyalty additions after 5 years of 15years policy term.
2. Loan granted in the policy term is 55% till 3RD Policy Year and 85% after completion of 13TH Policy Year.
3. Benefits of Loyalty Additions are variable depending upon the performance of LIC therefore assumed Loyalty returns at 10% are not guaranteed.
4. For Investment purpose, the policy should not be opted as it offers Return of 6.3% after 15 years of duration where a fixed deposit, PPF etc (safest & liquid investments) offers a higher return.
5. For healthy individual who pays more than 40% premium has received a sum assured of Rs.1 lac that too after 15 years. Even after considering Inflation at 5.5% constant for 15 years the future cost inclusive of inflation will be Rs. 98,505. Hence, it does not really matter if we invest Rs. 98,505 after 15 years because the value of the investment isn't appreciating.
6. Any cancellation request will attract stamp duty charges, medical charges, service taxes, underwriting charges and proportionate risk premium for the period of cover.
Therefore to summarize Endowments policies should be opted carefully by going through a quick checklist i.e., returns, surrender terms, risk cover, tax coverage, bonuses, etc. To achieve your financial & personal safety goals wisely, better keep investment and insurance separate as per the analysis. There are many products available in the market which provide Insurance and Investments like Term Plan & PPF, Term Plan & ELSS, Term Plan & ELSS, Term Plan & National Pension Schemes, Term Plan & Tax Free Bonds etc which give better yields over the period of time.
Invest Smart and Safe