Mahindra Logistics Limited (Incorporated in 2008 ) is end-to-end logistics solution and service provider. Mahindra Logistics is part of Mahindra Group (M&M), one of India's leading groups with business spanning across several industries and countries. Before 2008, the logistics activities of M&M was operated as a division of M&M.
The logistics business of the company includes transportation and distribution, warehousing, in-factory logistics and value-added services to M&M and other more than 120 clients which provides for domestic and multinational companies operating in the IT, ITeS, business process outsourcing, financial services, consulting and manufacturing industries in 12 cities.
Its subsidiary, 2X2 Logistics, provides logistics and transportation services to OEMs to carry finished automobiles from the manufacturing locations to stockyards or directly to the distributors through specially designed vehicles.Other subsidiaries, Lords, provides international freight forwarding services for exports and imports, customs brokerage operations.
List of Anchor Investors
Mahindra Logistics has allotted 57.62 lakh equity shares at Rs 429 per share to 15 anchor investors, aggregating to Rs 247.2 crore, ahead of its initial public offering ( IPO ). Six mutual funds have applied for the issue through a total of 10 schemes.
The promoters :
Mahindra & Mahindra Limited.
The main object of the issue is:
To achieve the benefits of listing the Equity Shares on the Stock Exchanges.
Lead Managers:
Axis Bank Limited
Kotak Mahindra Capital Company Limited
Registrar to the IPO:
Link Intime India Private Ltd,
Phone of the Registrar:+91-22-25963838
Registered Office of the Company :
Mahindra Logistics Limited
 IPO Dates & Price Band:

IPO Open: 31-October-2017
IPO Close: 02-November-2017
IPO Size: Approx Rs. 701 Crore (Approx)
Face Value: Rs. 10 Per Equity Share
Price Band: Rs. 425 to 429 Per Share
Listing on: BSE & NSE
Retail Portion: 35%
Equity: 1,93,32,346 Shares
Market Lot:
Shares: Apply for 34 Shares (Minimum Lot Size)
Amount: Rs. 14,586
Allotment & Listing:
Basis of Allotment: 8-November
Refunds: 9-November
Credit to demat accounts: 9-November
Listing: 10-November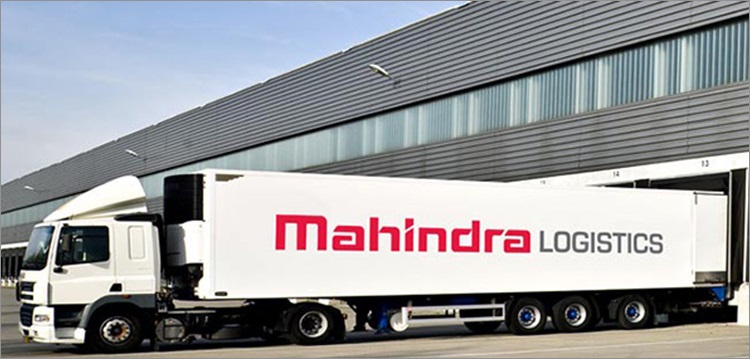 BUSINESS STRATEGY
Continue to grow share of its business from non-Mahindra Group clients.
Focus on large revenue clients by providing integrated, end-to-end solutions and continue to provide additional services to existing clients.
Continue to diversify its revenues from industry verticals such as consumer goods, pharmaceuticals, e-commerce, and bulk.
Continue to focus on enhancements in technology.
Leveraging on the changing logistics industry dynamics, particularly with the implementation of the GST regime.
Continue to establish new multi-user warehouses.
Continue to explore new business opportunities in new industry verticals and business segments.
Qualitative factors
Some of the qualitative factors which form the basis for computing the Offer Price are:
An"asset-light" business model which allows flexibility and scalability in operations and high capital efficiency;
Customized, technology-driven logistics solutions;
Integrated, end-to-end logistics services and solutions;
The Mahindra brand and support from the Mahindra Group;
Presence across diverse industry verticals with long-standing client relationships; and
Experienced management team with strong domain expertise.
Below is a graphical representation of its SCM services as well as its integrated, end-to-end solutions.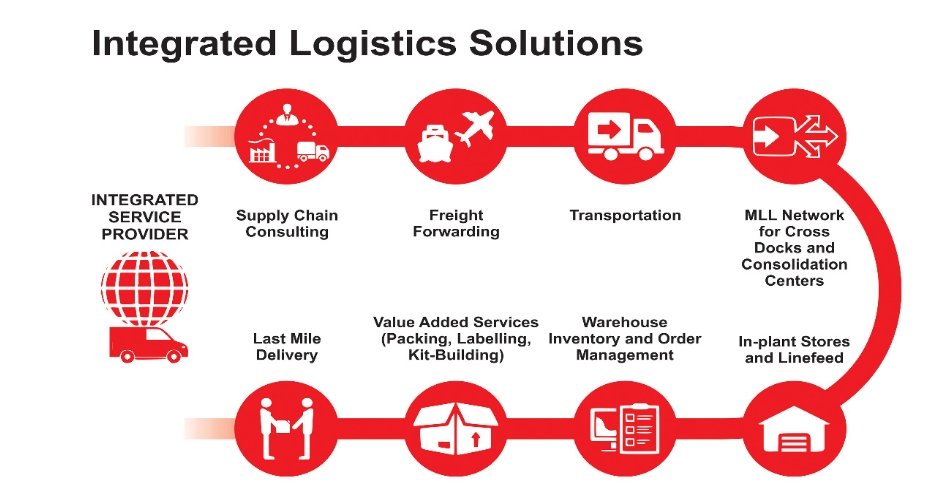 Salient trends in the Indian logistics industry
Indian logistics industry to grow at a CAGR of approximately 13.0% to ₹ 9.2 trillion in Fiscal 2020.
The Indian Government's increased focus on infrastructure.
Integrated network development will promote use of multi-modal transportation.
A simplified tax regime to lower costs and provide an opportunity for outsourcing.
GST implementation to provide an opportunity for organized service providers.
3PL service providers: One stop shop for logistics end-users.
The future trend in the 3PL industry is an asset-light model.
A 3PL market in India to grow at a CAGR of 19-21% by Fiscal 2020.
PTS industry to reach a market size of ₹ 85 – 95 billion in Fiscal 2020.
Freight forwarding market to increase at a CAGR of 8-9%.
Road freight to continue to occupy a significant share.
Key drivers for growth of 3PL service providers in India
GST implementation to drive 3PL growth.
Focus on core business results in increased outsourcing trend.
Increased flexibility and scalability.
Offer value added services.
Increasing global presence in India to further 3PL growth.
Large, organized 3PL service providers to enjoy a distinctive edge over smaller, unorganized service providers.
Negative
Mahindra Logistics depend significantly on clients in the automotive industry and are highly dependent on the performance of the automotive industry.
A loss of, or a significant decrease in business from clients in the automotive industry could adversely affect its business and profitability.
Mahindra Logistics depend on a limited number of clients, which exposes us to a high risk of client concentration. Fluctuations in the performance of the industries in which its clients operate may result in a loss of clients, a decrease in the volume of work we undertake or the price at which we offer its services.
Mahindra Logistics business and operations depend significantly on its parent and Promoter, Mahindra & Mahindra Limited and the other Mahindra Group entities.
Mahindra Logistics operate in a highly fragmented and competitive industry and increased competition may lead to a reduction in its revenues, reduced profit margins or a loss of market share.
Mahindra Logistics may not be able to manage the growth of its business effectively or continue to grow its business at a rate similar to what we have experienced in the past.
Mahindra Logistics business is highly dependent on technology and any disruption or failure of its technology systems may affect its operations.
Difficulties and uncertainties surrounding the implementation of a GST regime in India may adversely affect its business strategy.
Mahindra Logistics are susceptible to risks relating to compliance with labor laws.
Mahindra Logistics, its Directors, its Promoter and its Group Companies are involved in certain legal proceedings, which if determined unfavorably, may adversely affect its reputation, business, financial condition and results of operations.
Mahindra Logistics may face claims relating to loss or damage to cargo, personal injury claims or other operating risks that are not adequately insured.
Mahindra Logistics experienced negative cash flows from its operating activities, investment activities as well as financing activities.
Mahindra Logistics, its Subsidiaries, its Promoter and some of its Group Companies have availed of debt facilities that can be recalled by lenders at any time.
Loss making Group Companies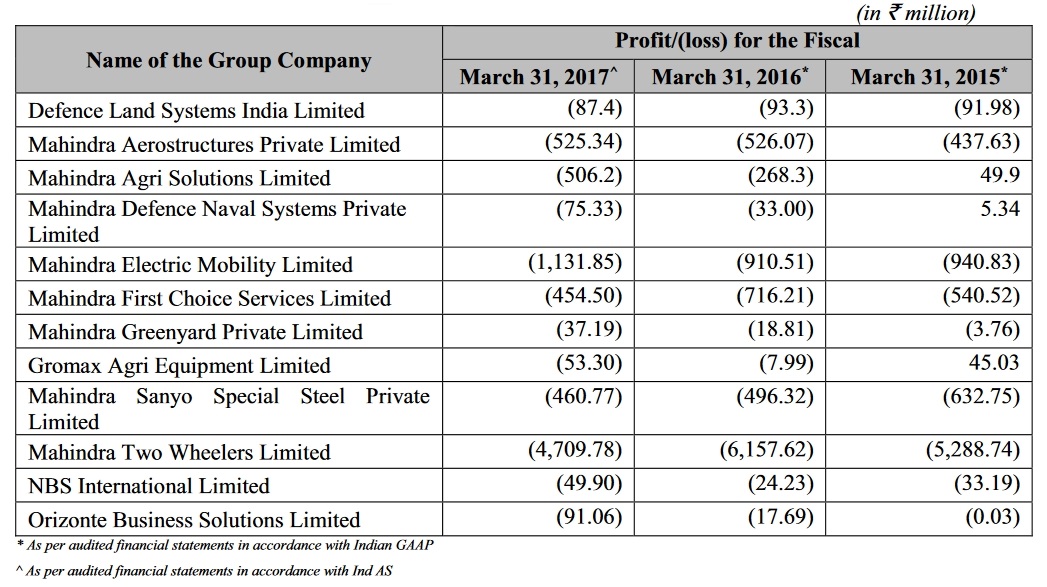 Financial

Mahindra Logistics net worth stood at Rs 363 crore for the quarter ended June, translating into a book value of Rs 51/- share.
Revenue clocked a compounded annual growth rate of 15 percent, and net profit rose to 17 percent in five years to March.
Revenue and net profit for the quarter ended June stood at Rs 852 crore and Rs 15 crore, respectively.
Earnings before interest and tax margin have been close to 2 percent as it follows an asset-light business model.
The company has not declared any dividend in the last five financial years.
Valuations
At the upper end of the price band, earnings per share for the year to March stood at Rs 6.4 and the price-earnings ( P/ E ) ratio at 67 times.
 Grey market premium
 Grey market premium is  38/- to 39/-, Kostak is Rs.350/-
Conclusion
Investors may consider for medium to long term.
DISCLAIMER
No financial information whatsoever published anywhere here should be construed as an offer to buy or sell securities, or as advice to do so in any way whatsoever. All matter published here is purely for educational and information purposes only and under no circumstances should be used for making investment decisions. Readers must consult a qualified financial advisor before making any actual investment decisions, based on information published here.