NIFTY 50 is a broad based index consisting of 50 large and liquid companies listed on National Stock Exchange of India (NSE). NIFTY 50 is the benchmark index of India, reflecting the overall conditions of Indian equity market as well as Indian economy. Over the years, NIFTY 50 has be-come the most widely used benchmark for exchange traded products in Indian equity market.
NIFTY 50 & GDP growth rate
Growth rate of India's GDP is fairly captured in the growth story of NIFTY 50. Over the years, India has been one of the fastest growing large economies of the world which is also reflected in the rise of NIFTY 50 Index.
Performance of NIFTY 50 and GDP Growth Rate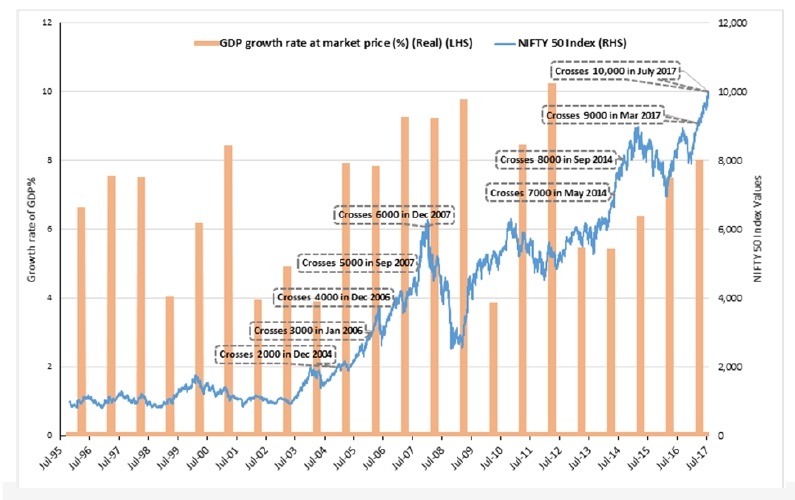 NIFTY 50 values as on financial year end & on days of reaching multiples of 1000 levels and GDP growth rate for respective financial year.
Beginning FY 2003-04, Indian economy was in a boom phase driven mainly by investments until it was disrupted by the global financial crisis of 2008. Large fiscal stimulus helped spur the growth process and so India began to recover much before most economies of the world.
Recovery had been hampered by temporary shock in FY 2016-2017, while since beginning of FY 2017-18, market has picked momentum primarily on back of introduction of GST & several other reforms intro-duced by the Government of India.
The 10,000 milestone that NIFTY 50 has reached is a faithful representation of India's growth prospects.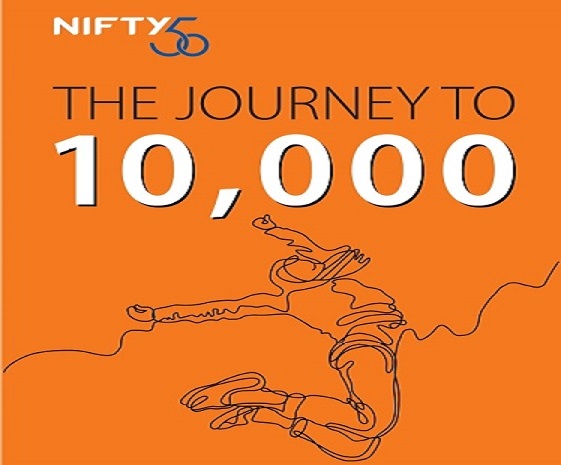 Journey to 10,000 level
From its base value of 1000 in November 1995, the NIFTY 50 reached the 2000 mark in December 2004, taking 9.1 years to double. Thereafter, the journey of NIFTY 50 was swift wherein it reached the 6000 mark in only 2.9 years. It took another 6.4 years to reach the 7000 mark in May 2014 from 6000 in December 2007. The 9000 level was achieved in March 2017 which was relatively faster from 7000 level taking only 2.8 years.
The flagship index 'NIFTY 50' hit the 10,000 mark on July 25, 2017, taking only 4.3 months to move from 9000 to 10000.
The NIFTY 50 Index tracks the performance of a portfolio of the 50 largest and most liquid Indian securities. The companies are filtered for liquidity on the basis of impact cost which is the cost of executing a transaction in a security in proportion to its index weight, measured by market capitalization at any point in time. NIFTY 50 methodology delivers the most replicable and reliable benchmark index for the Indian equity market.
Index is rebalanced on semi – annual basis. The cut-off dates are January 31 and July 31 of each year, i.e. for semi-annual review of indices, average data for six months ending the cut-off date is considered. Four weeks prior notice is given to market from the date of change.
NIFTY 50 Index has an inception date of November 3, 1995. The index was constructed using a unique concept of impact cost, which helps in the selection of highly liquid stocks and results in the creation of a replicable index. Initially constituents were weighted on the basis of full market capitalization and from June 26, 2009 onwards, the computation was changed to free float methodology.
Performance
Since inception, NIFTY 50 has given annualized returns of 11.2% while having annualized volatility of 24.5%. Volatility in recent periods has reduced from over 24% since inception to close to 8-11% in more recent times (6 month to 1 year period). The return to risk ratio of NIFTY 50 has also improved substantially over the years from 0.46 since inception to 1.98 in the last 6 month period.
NIFTY 50 as on July 24, 2017 was trading at P/E of 25.45x and P/B of 3.55x which are lower than the previous highs of 28.5x on Feb 11, 2000 and 6.6x on Jan 08, 2008 respectively.
NIFTY 50 Performance – Price Return Index (Nov'95 to Jul'17)
Nifty 50 Performance – Return and Risk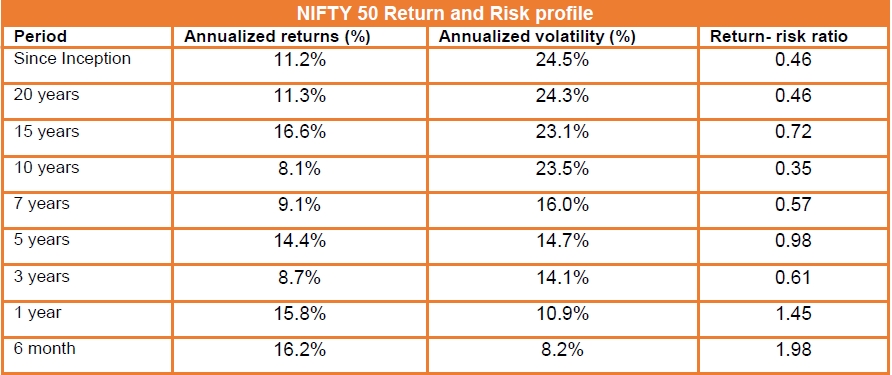 Calendar Year Performance
In terms of calendar year returns, since 1996, NIFTY 50 has given more than 50% return in 4 calendar years and more than 30% return in 7 calendar years. NIFTY 50 has fallen by over 20% only in 2 calendar years, giving positive returns in 15 out of 23 years.
Calender Year wise performance of NIFTY 50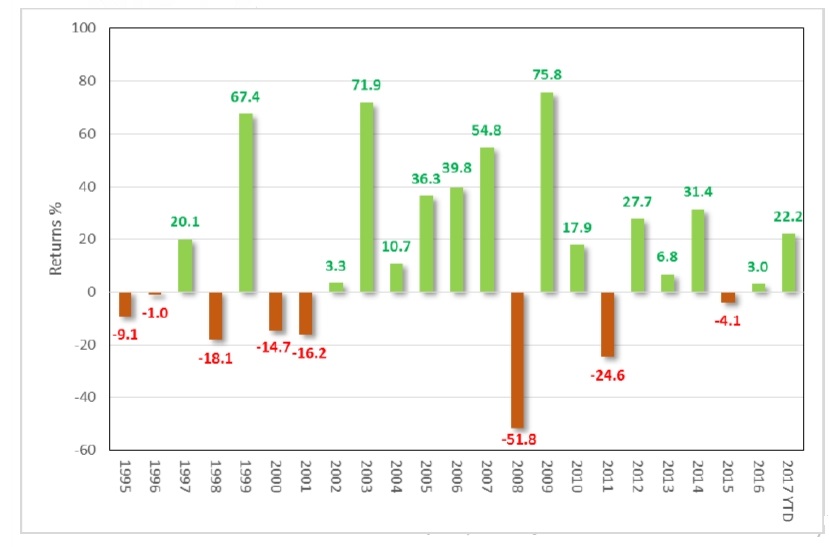 At the time of inception, NIFTY 50 represented 13 sectors while there are 12 sectors as of June 30, 2017. Over the years weight allocation in these sectors has undergone a significant change. IT sector was not represented at the time of inception, but now represents around 11.6% of weight in the index as on June 30, 2017.
Sector weights for 1995 is as on date of inception (Nov 03, 1995) and for 2017 & 2005 as on June end.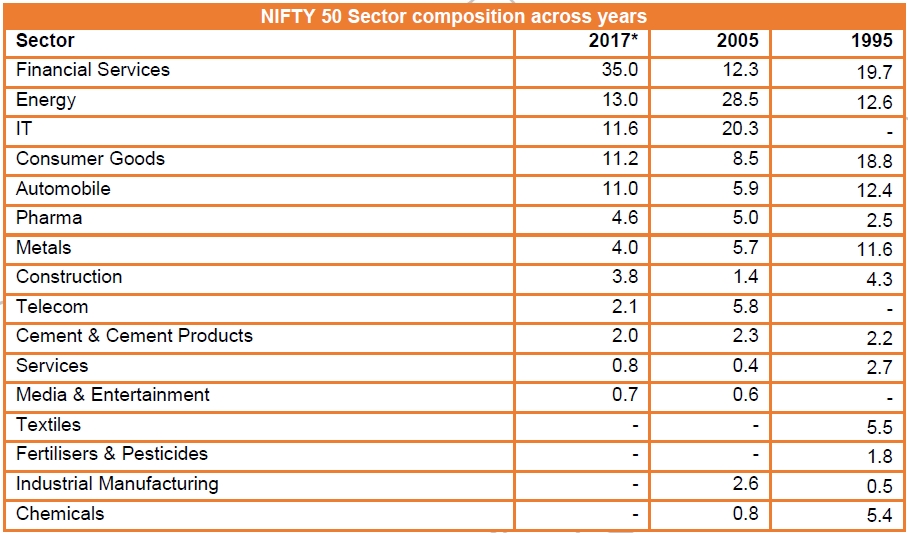 From 1995 to 2017, weights of financial services sector has increased from 19.7% to 35% and for metals and consumer goods have declined from 11.6% to 4% and 18.8% to 11.2% respectively. Other sectors like chemicals & textiles which represented 5.4% and 5.5% respectively at the time of inception, no longer form part of NIFTY 50.