As the Indian economy is upwardly growing at 7.3% levels, the country is bringing efficient changes like Repo Rate Cuts, Interest Rate Cuts on Small saving schemes, introducing schemes and campaigns like JanDhanYojana, Pension schemes etc with a sole vision to build a high functioning economy focused on industry, innovation and entrepreneurship.
Union Budget 2016 announced PPF Rate cut of 60 bps i.e., from 8.7% to 8.1%, the highest reduction after 2004.The short tenure investments of 1yr,2yr & 3yr term deposits have reduced their interest rates as they have only 25 basis spread over comparable government securities rates.
How are the interest rates determined for such small saving government schemes?
The market determines the interest rate and government gives subsidy on its securities, including saving schemes.
So for example, the Sukanya Samriddhi Yojana and the Senior Citizens Savings scheme offer 9.2% and 9.3% rates respectively; the highest among the Small Savings schemes. They enjoy a spread of 75 bps and 100 bps over the rate of G-securities of comparable maturities.
As per information from the RBI, at the end of May 2015 deposits under all the savings schemes put together, totaled Rs. 6.28 lakh cr. This included funds & rates allocated towards Deposits, Certificates and the Public Provident Fund (PPF) schemes are as below: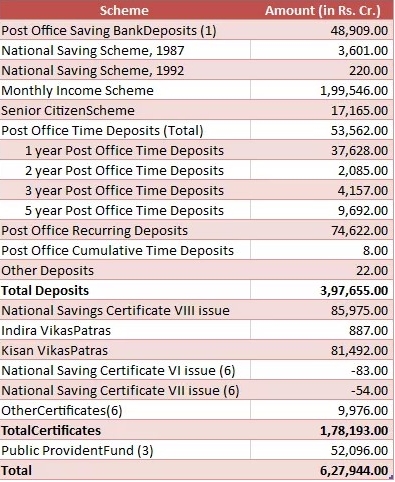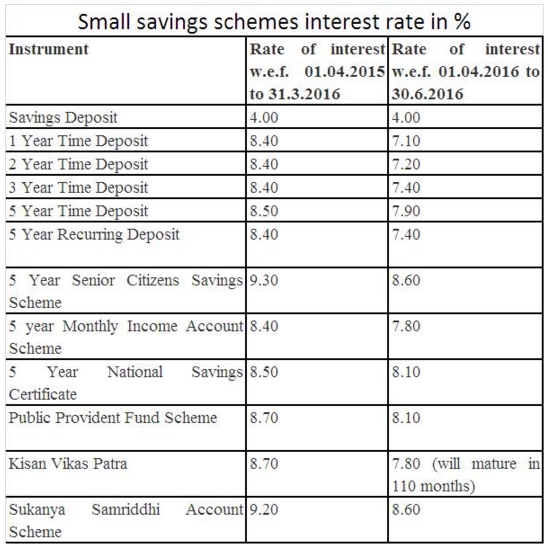 Source : Rbi.org
Since January 2015, RBI has cut the repo rate by 125 basis points but the banks have reduced the lending rates by maximum 70 basis points. In the previous rate cut of 50bps by RBI in September 2015, it had asked government to review the small savings rate on Post Office Schemes, National Saving Schemes, Public Provident Fund etc to encourage banking investments which will bring financial inclusion in the country and hence lead to more lending.
More Deposits = More Loans = More Credit Growth = Leads to Capital Formation
The current government initiatives like Make in India, Start up Stand up India, Digital India, Smart Cities Project etc where lending rates are required to remain low, rising deposit rates will make the economy sluggish rather than efficient. Therefore both are interlinked.
To attract long term investments, Tax free bonds are going to be the best thing going forward for long term savers and pensioners assuming the liquidity needs are not immediate.
What are the implications of a downward trend in the rates?
– Savers have to save more and spend less. Real interest rates are yet positive, a Fixed Deposit giving 7.5% interest per annum and inflation of 6% will compensate the individual with 1.5-2% gain but post tax gain can turn negative. Therefore, putting your money in tax free bonds, SIP's etc will be a smart decision for an investor to attract real gains.
– Lower Rates is a need for investment boom in the Indian economy to accelerate the Government initiatives like Make in India, Start up Stand up India, Digital India etc this will lead to higher GDP and more employment in the country.
– Debt funds will gain as higher coupon bonds will not see negative price fluctuations.
– Banks suffering from the NPA effect will be the biggest beneficiary as they can offer lower deposit rates thus improving their margins.

– RBI can have further reduce repo rates provided the inflation meets the target as it was to maintain at 5.6% in December,2015
Therefore, the overall effect of this rate cut will lead to annual savings of approximately Rs.1250 cr to the government which will help in reducing the fiscal deficit and create investments in the field of innovation and entrepreneurship, promotion of investor confidence, job creation, development of infrastructure & achieving total digital connectivity.