It say's "Family, Nature & Health all go together", the three things which matter the most in an individual's life especially in a women's life who is gifted with inborn qualities of being kind, nurturing,brave,perfectionist,vivacious but at the same time she is delicate, sensitive who requires special care in her hectic lifestyle.
As per IRDA (Insurance Regulatory & Development Authority), India continues to have the highest levels of under-penetration in the world, with only 0.16% of the total population insured for health. Little wonder then that 70% of healthcare expenses are met from one's pocket.
According to the 2015 survey by insurer ICICI Lombard, only 39% of the women are covered by proper Health Insurance. This also pointed out that women were prone to an increasingly succumbing to chronic ailments like anaemia, metabolic disorders, arthritis and cancer as compared to men. Of the 39% women who were covered, only 22% purchased policy by themselves while a large share around 63% was owned through husband or father with the rest sponsored by employer.

With the Government Program Initiatives like Indira Gandhi Matrtiva Sahyog Yojna, Indira Gandhi Maternal Relief Scheme etc., which has almost doubled the budget from Rs.230 crore to Rs.400 crore which compensates women who don't receive maternity leaves. This initiatives gives relief on the monetary portion for a specific period at a later stage. But it does not relieves on huge initial costs like hospitalisation expenses, medicines cost, routine check-ups etc. which hence should motivate a women to attain a health insurance policy to protect against the initial monetary burden of the disease.
In low and middle-income countries like India which has 72.2% of village population, many deliveries occur at home without the assistance of trained attendants which increases the infant & maternal mortality rate. This is purely due to bad hygienic conditions, less infrastructural facilities, lower income, safety issues, less trained professionals etc. By protecting women by health insurance which compensates 50% of the monetary costs, women with less income will be facilitated to avail better facilities which will protect its overall primary health care.
In the current scenario of mental stress where a woman is demanded with multiple roles in her life being a supportive wife, a caring mother, a successful corporate leader or a successful businesswoman leads to increase in illness like Polycystic ovary disease, osteoporosis, Blood Pressure, Diabetes, Cancer at an age as early as 25 years and surprisingly less than 0.1% of the people opt for any health insurance facility at this age. Hence, this can be solved by availing a health insurance policy at an early age to benefit with maximum coverage and include critical illnesses which are not covered at later stages of age.
An illustration given below shows you the difference in medical premium between Family Floater or Individual Plan in accordance to the age of the family members.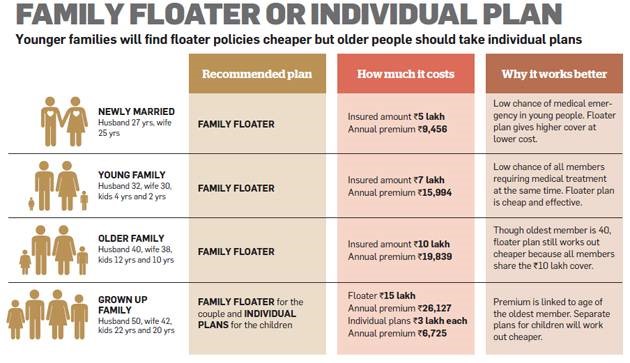 Source: Insurance Companies
This shows that a family floater plan will cost more with less coverage of illness vis-a-vis separate individual plans which customise as per your eligibility and requirements.
Therefore, to conclude it is of utmost importance to insure your health along with climbing up the pyramid in this challenging role of life to have a Wealthy and Healthy Living.