The Modi government's agenda of affordable housing and its aim to provide 'Housing for All' by 2022, made the realtors and home buyers to expect much from the budget. They were expecting, tax incentives for first-time home buyers and higher tax savings on housing loans. But unfortunately, the budget not only missed out on these things, but with its proposals it is also believed to have discouraged investors from investing in second or more homes.
The budget proposals have restricted the taxpayers to avail the tax exemption on the interest paid on housing loans in case of rented out properties.
Under the existing provisions, the interest on housing loan paid in respect of a rented property (including deemed to be let out property) is allowed to be set off completely and in case where the rental income is less than the interest on housing loan, it could be set off with income from any other source —salary, business income, etc., resulting in reduction in tax liability.
This provision allows the tax payer to substantially save on his total income tax payable on rental income as well as total income.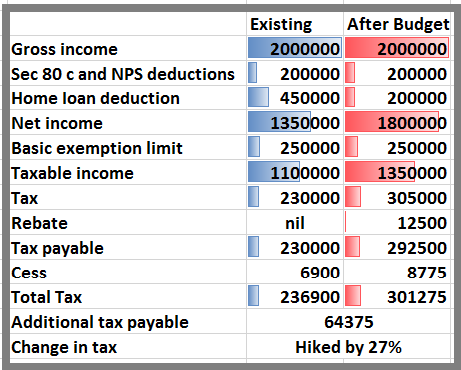 Now, the budget has proposed to cap tax breaks on interest paid on rented homes at Rs 2 lakh a year from 1 April, 2018. The move, therefore, is likely to affect the buyers who invested in property with this tax benefit as the associated tax savings through deductions will no longer be available.
As a result, individuals, will now abstain from investing in house property thereby affecting the overall realty sector.
Let's understand the whole phenomena mathematically, Suppose, you have taken a loan for a second home with an interest outgo of Rs 4 lakh last year. If you had rented out the house for Rs 15,000 a month, or Rs 1.8 lakh a year, you were allowed to set-off or adjust the entire loss of Rs 2.2 lakh (Rs 4 lakh – Rs 1.8 lakh) against your salary income or any other source of income.
From 1 April 2018, the set-off you can claim will be capped at Rs 2 lakh, even if the loss extends beyond this limit. However, you will be allowed to carry forward the remaining losses not claimed for up to eight years. This effectively removes an anomaly that allowed individuals buying second homes on loan to enjoy higher tax relief than those buying for own use.
This will have a two-sided effect, firstly, it can slash down the property prices in a significant way and secondly, it will discourage individuals who can invest in property for renting out to the needy.
Impact of Demonetization on Real Estate & its effective resolution plan
The reform will affect the individuals who tried to avoid taxes by taking heavy home loans. This change in tax rules will restrict them from doing so.
Investors in property lose some benefits
The threshold limit of Rs 2 lakh will affect individuals who have recently taken heavy home loans and are in the initial days of repayment when the interest component comprises a chunk of the EMIs.
Another disappointing news for landlords is that the tenants will now have to deduct 5% TDS on rent exceeding Rs 50,000 a month. But this will have an impact on a small group of investors only as the rent limit is set higher.
The above points prove that investing in real estate is not so favourable post budget reforms. However, the Budget has given some relief on capital gains taxation on immovable property by lowering the holding period for long-term capital gains to two years which was earlier set at three.
This brings out that the homeowners have to pay tax at lower rates i.e. 20% after indexation benefit, on capital gains at the time of selling the house after two years. Earlier, they would have incurred tax at the marginal rate if property was sold within three years. They can now sell their properties earlier to avail exemption in taxes. this will also bring more inventory in the real estate sector.
Another change is made regarding the base year for indexation of capital gains which is proposed to be shifted from 1 April 1981 to 1 April 2001 for all classes of assets including immovable property. This change will result in more accurate computation of acquisition cost of the house while claiming indexation benefits at the time of sale. This will further reduce the tax burden on capital gains.