Reliance Nippon Life Asset Management (RNAM) is one of the largest asset management companies in India, managing total AUM of INR 3,62,550 Lakh crore as of June 30, 2017. The company is involved in managing (i) mutual funds (including ETFs); (ii) managed accounts, including portfolio management services, alternative investment funds (AIFs) and pension funds; and (iii) offshore funds and advisory mandates. It is ranked the third largest asset management company, in terms of mutual fund quarterly average AUM (QAAUM) with a market share of 11.4%, as of June 30, 2017, according to ICRA. For the financial year 2016, it was ranked the second most profitable asset management company in India, according to ICRA.systematic investment plan (SIP) accounts that generate inflows of close to Rs. 510 crore per month or Rs 6,120 crore annually. SIPs account for 10 percent of the company's equity AUM.
The company started its mutual fund operations in 1995 as the asset manager for Reliance Mutual Fund and manages 55 open-ended mutual fund schemes including 16 ETFs and 174 closed-ended schemes for Reliance Mutual Fund as of June 30, 2017. It has a network of 171 branches and approximately 58,000 distributors including banks, financial institutions, national distributors and independent financial advisors (IFAs), as of June 30, 2017. Reliance Nippon Life Asset Management manages offshore funds through its subsidiaries in Singapore and Mauritius and has a representative office in Dubai.
As part of its managed accounts business, the company provides portfolio management services to high net worth individuals and institutional investors including the Employees' Provident Fund Organisation (EPFO) and Coal Mines Provident Fund Organisation (CMPFO). Its Subsidiary, Reliance AIF Management Company Limited manages two alternative investment funds, which are privately pooled investment vehicles registered with SEBI. Further, it received a certificate of commencement of business as a pension fund manager from the Pension Fund Regulatory and Development Authority (PFRDA) in 2009 and manages pension assets under the National Pension System (NPS). As of June 30, 2017, it managed total AUM of INR 1,503.93 billion as part of its managed accounts business.

IPO Dates & Price Band:  
IPO Open: 25-October-2017
IPO Close: 27-October-2017
IPO Size: Approx Rs. 1542 Crore (Approx)
Face Value: Rs. 10 Per Equity Share
Price Band: Rs. 247 to 252 Per Share
Listing on: BSE & NSE
Retail Portion: 35%
Equity: 6,12,00,000 Shares
IPO Market Lot:
Shares: Apply for 59 Shares (Minimum Lot Size)
Amount: Rs. 14,868
IPO Allotment & Listing:
Basis of Allotment: 1-November
Refunds: 3-November
Credit to demat accounts: 3-November
Listing: 6-November
Company Promoters:
RELIANCE CAPITAL LIMITED
NIPPON LIFE INSURANCE COMPANY
Lead Managers:
JM Financial Institutional Securities Limited
CLSA India Private Limited
Nomura  Financial  Advisory  and  Securities  (India) Private Limited\
Axis Capital Limited
Edelweiss Financial Services Limited
IIFL Holdings Limited
SBI Capital Markets Limited
YES Securities (India) Limited
IPO Registrar:
Karvy Computershare Private Limited
Anchor investors
Reliance Nippon Life Asset Management IPO raises Rs 462.67 Cr from Anchor Investors (subscribed 30+ times)
This is one of the largest anchor responses any company has received for its IPO in the recent past. Rs.15,000+ Cr received from over 50 investors against anchor book size of Rs 462.67 Cr – allocation made to 24 investors.
Large Sovereign Wealth Fund – Abu Dhabi Investment Authority, Kuwait Investment Authority.
Foreign institutional investors – Fidelity International, Morgan Stanley, Eastspring Investments, Columbia Threadneedle Investments, Pictet, DE SHAW and Neuberger Berman.
Top mutual fund houses – HDFC MF, Birla MF, SBI MF, UTI MF, DSP Blackrock MF, IDFC MF
Large private insurance companies – ICICI Prudential Life,Bajaj Allian
Rs. 4 Lakh In Reliance Banking Fund Turns Over Rs. 1 Crore In Less Than 15 Years
The following chart sets forth a summary of the evolution of the Indian Mutual Fund Industry: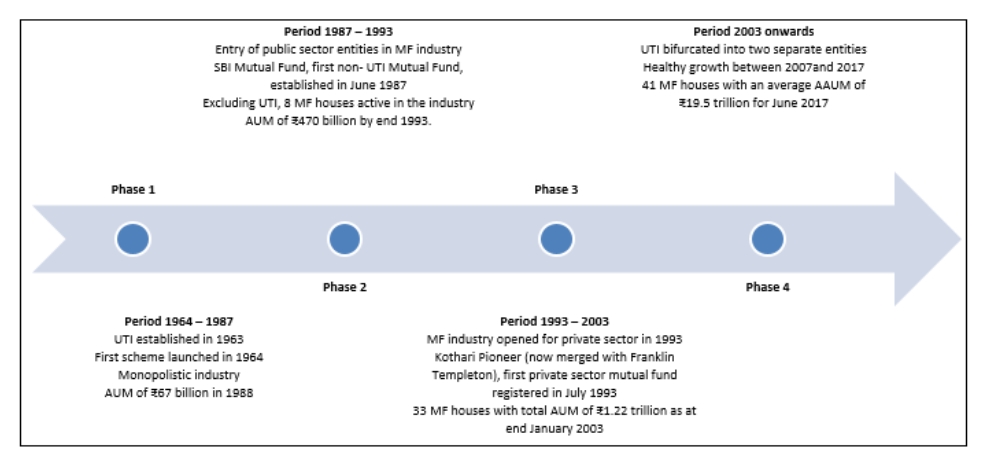 The objects for which its Company intends to use the Net Proceeds are as follows:
1. Setting up new branches and relocating certain existing branches;
2. Upgrading the IT system;
3. Advertising, marketing and brand building activities;
4. Lending to its Subsidiary (Reliance AIF) for investment as continuing interest in the new AIF schemes managed by Reliance AIF;
5. Investing towards its continuing interest in new mutual fund schemes managed by us;
6. Funding inorganic growth and other strategic initiatives.
7. Meeting expenses towards general corporate purposes.
The following table sets forth the trend in the net financial savings of India.
Strengths
Leading Asset Management Company with Strong Credentials to Drive Growth.
Multi-Channel Distribution Network.
Comprehensive Suite of Products with Distinguished Investment Track Record.
Strong Focus on Processes.
Focus on Customer Centricity and Innovation.
Experienced Management Team.
Retirement Fund : What is a Systematic Withdrawal Plan ( VIDEO )
Strategies
Expand its Investor Base and Focus on Retail Customers.
Focus on Developing its AIF Business.
Inorganic Growth through Strategic Acquisitions.
Leveraging Technology to Improve Investor Experience.
Expand its Overseas Operations.
Continue to Focus on Robust Investment Process and Product Innovation.
Negative
There are outstanding proceedings against its Company, and certain of its  Subsidiaries, Promoters, Directors and Group Companies and any adverse  outcome in any of these proceedings may adversely affect its profitability and  reputation and may have an adverse effect on its business, results of operations and financial condition.
RNAM's future revenue and profit are largely dependent on the growth, value and composition of AUM of the schemes managed by us, which may decline.
Underperformance of investment products in respect of which we provide asset management services could lead to a loss of investors and reduction in AUM and adversely affect its revenue and reputation.
RNAM's business has grown consistently in the recent past and such growth might not continue or might reverse.
The regulations that apply to the industry in which RNAM operate may change.
Non-compliance with SEBI's observations made during its periodic inspections could expose us to penalties and restrictions.
RNAM depend on third-party distribution channels and other intermediaries, and problems with these distribution channels and intermediaries could adversely affect its business and financial performance.
RNAM may not be able to attract and retain senior investment professionals and other personnel.
RNAM may be required to merge, wind up or change the fundamental attributes of some of the mutual fund schemes managed by us, to comply with the recent SEBI circular dated October 6, 2017.
RNAM are dependent on the Reliance Group and Nippon Life for certain aspects of its business and operations.
RNAM require a number of approvals, licenses, registrations, and permits for its business.
Employee misconduct or failure of its internal processes or procedures could harm us by impairing its ability to attract and retain clients and subject us to significant legal liability and reputational harm.
Valuation
At the upper end of the price band (Rs 252 per share), the issue is valued at 5.7 times price to FY18 projected book value. Though Reliance Nippon has no listed peers, given its growth trajectory and consistent return ratios, the valuation looks reasonable. To put things in perspective, over the last four years, the company's top-line and bottom-line registered an impressive CAGR of 21 percent and 15 percent, respectively.
More importantly, the company sold a small portion of its stake at a relatively higher valuation in the past. In July 2017, a group of US and Singapore funds picked up a 4.43 stake in the company for Rs 675 crore, valuing it at around Rs 15,000 crore or 8 times its FY17 book value.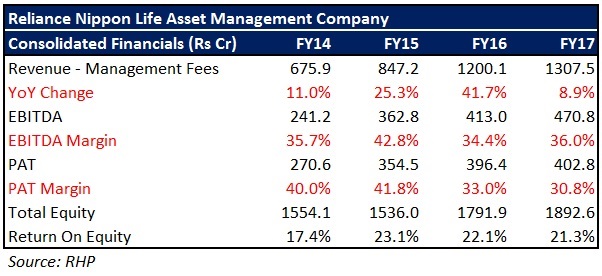 Grey market premium
Grey market premium is Rs. 64 to 68 and Kostak is Rs. 725
Conclusion
Investors may consider for short to medium term.
DISCLAIMER
No financial information whatsoever published anywhere here should be construed as an offer to buy or sell securities, or as advice to do so in any way whatsoever. All matter published here is purely for educational and information purposes only and under no circumstances should be used for making investment decisions. Readers must consult a qualified financial advisor prior to making any actual investment decisions, based on information published here.