If you are planning to take a sabbatical from work or are retiring soon, you may be looking at different investment options that give a regular income. Usually, a lump sum is invested in getting regular fixed amounts later. Popular products include post office monthly income scheme, Senior Citizens Savings Scheme and monthly income plans (MIPs). A lesser-known option is the systematic withdrawal plan (SWP) in mutual funds. Recently, some funds have even removed the exit load on SWPs if you were to withdraw up to 15-20% in the first year, to encourage people who want to start investing in this instrument. Here is a look at what an SWP is.
What is SWP?
Systematic Withdrawal Plan (SWP) is a service offered by mutual funds which provide investors with a specific amount of payout at a pre-determined time interval, like monthly, quarterly, half-yearly or annually.
How is SWP better than the dividend option?
An SWP is more reliable than a dividend plan when it comes to regular income. In the dividend plan of an equity fund, both the quantum and frequency of dividend is not guaranteed, and it largely depends on market movements and the profits that the asset management company makes.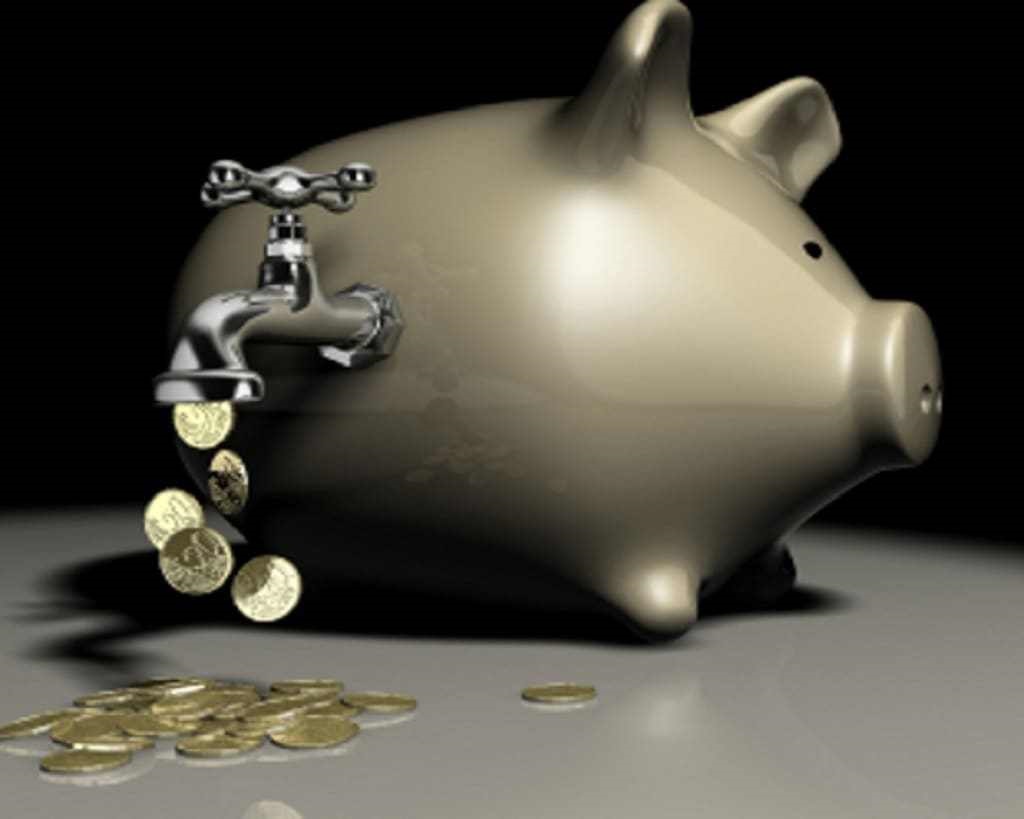 Mr. A invests Rs 15,00,000 in SWP and Mr. B invests the same amount in a bond/deposit scheme with 8% interest. Assuming SWP amount is kept at Rs 10,000 per month or Rs 1,20,000 per year or 8% of the investment amount. Also, let's assume a return 8% in monthly investment plan or SWP. Both Mr. A and Mr. B are in 30% tax slab and continue to get SWP and interest income for ten years respectively.
In the above example, Mr. A would have paid Rs 37,537- as capital gains tax, while Mr. B would be liable to pay Rs 3,60,000 as a tax on interest income. Over a ten years period, they would have got Rs 12,00,000 as SWP amount or interest income respectively. If funds are not withdrawn even after ten years, Mr. A would have paid only 3.12% tax while Mr. B would have paid 30% tax on Rs.12,00,000 if the inflation rate is 6% per annum.
In another example, Mrs. Joshi has retired with Rs. 1,03,00,000 as separation benefit. Her children are well settled, and she stays alone. The corpus received on retirement has to be invested suitably, and it is decided that 45-50 percent of the total amount will be invested in equity while the balance (50-55 %) will be invested in debt instruments.
Rs.56,00,000 is invested in fixed income instruments to generate regular income. The balance Rs 47,00,000 is invested across different diversified equity schemes. At present, since Mrs. Joshi does not require any additional fund over and above what she receives, her fixed income savings are sufficient. However, over a period, say two years later, the returns from her fixed income schemes can become inadequate to cover her requirements. It is at this juncture that Mrs. Joshi can opt to avail the Mutual Fund SWP option. This withdrawal from her equity-based funds will be tax-free, and this is an additional benefit received.
Another example,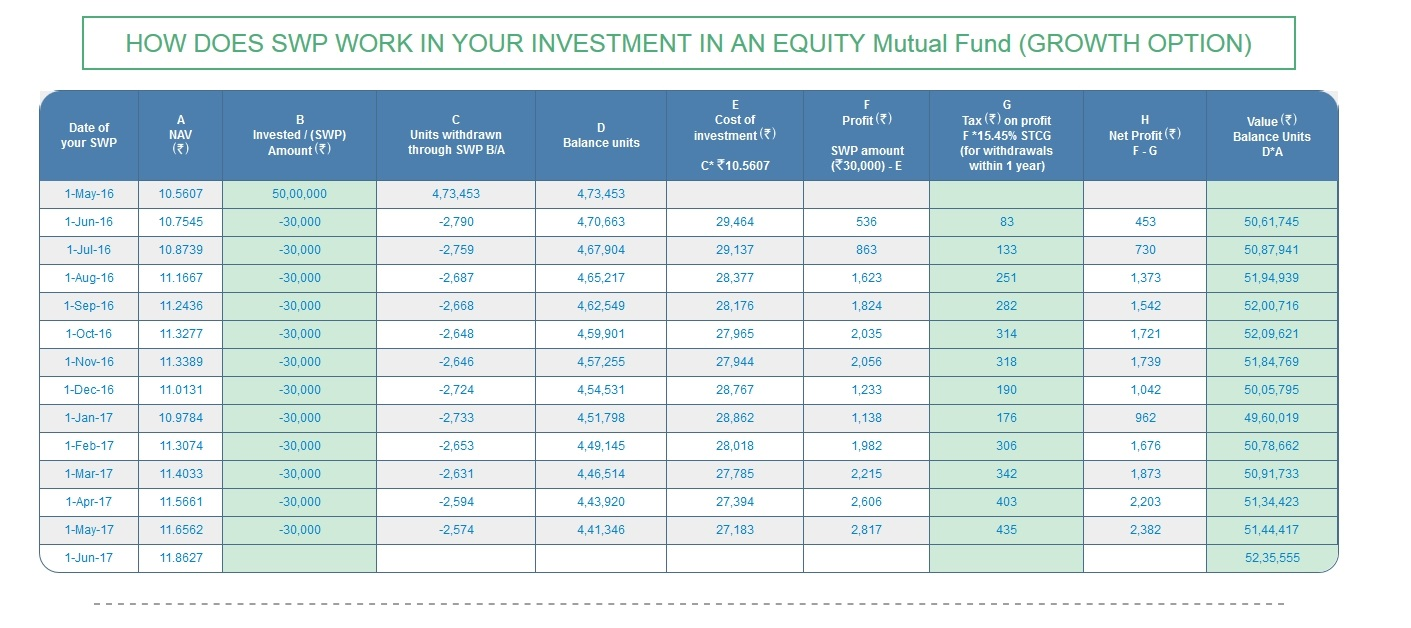 Benefits of Mutual Fund SWP
From the above examples, it is amply clear that the SWP option of the Mutual Funds has its definite advantages. The two major gains derived from this option are again dwelt upon:
Mutual Fund SWP and Regularity:
Mutual Fund SWPs' provide the assurance of getting a fixed amount at a pre-determined time frequency. Among the other options, frequency and pay-out of the dividend-paying monthly income plans are not certain or fixed beforehand. Sometimes, if the fund cannot generate sufficient profits, you might have no dividends to be paid. Hence every month you will have different amounts coming in and some month there might be no money received. SWP is a definite boon in such a scenario.
Inflation Protection through Mutual Fund SWP:
Most of the fixed income instruments do not insulate the investor against the inevitable effect of inflation. The Mutual Fund SWP scores in terms of generating returns to keep up with inflation especially is one opts for the equity fund route.
Mutual Fund SWP and Tax advantage
In case of investments in equity mutual funds for a period of more than a year, the long-term capital gain is exempted. Only short-term capital gains are taxable at the rate of 15% on withdrawals from equity mutual funds investment within one year. Whereas in case of investments in debt schemes, the short-term capital gain ( an invested period is less than 3 years) is added to the investors income and taxed as per their tax slab. Long-term capital gains in debt schemes are taxed at the rate of 20% with indexation. In Systematic Withdrawal Plan (SWP), the tax is paid only on the gains made due to the NAV movement and not on the principal part in the withdrawals making the overall tax incidence lesser.
Unlike SWP, in traditional investment options, the entire gain is taxed according to the investors' tax bracket (the highest currently being 30 %) considering if the investor falls under the highest tax bracket.
Regular supplemental income
The option of SWP in the mutual fund can help you by providing a steady source of income from your investments. This is especially useful for those who need money when their cash flow comes to a halt like a retirement, or at a time when supplemental income becomes a necessity due to the altered circumstances in life.
Meet financial goals
If planned well ahead of time, SWPs can provide a steady flow of money when most needed. They can therefore be linked to long term financial goals, such as providing a steady income in one's retirement years or managing your child's educational expenses.
If planned well ahead of time, SWPs can provide a steady flow of money when most needed.
Who can use SWP?
Systematic Withdrawal Plan (SWP) can be utilized by those who are planning for their retirement in the coming years. Usually, the large amount of money that one receives at the time of retirement is invested in traditional savings instruments which attract income tax at the normal rates. Instead, they can make a lump sum investment in mutual funds with SWP facility. In this case, along with earning capital appreciation on the invested amount, he/she can receive a fixed amount monthly. It will help you in getting a regular income like salary even after retirement.
However, the use of SWPs may not be restricted to retirees alone. It is also useful for middle-aged professionals who have the responsibility of their family. They can use SWP option to get a constant source of fund for their dependents. They can plan it for their child's educational expenses. They can even plan for a steady source of money for their retired parents.
One can easily make all the necessary calculations before investing.
A mutual fund SWP is designed keeping in mind the needs, interests and financial goals of the investors. By judiciously using tools like Systematic Investment Plan (SIP) and Systematic Withdrawal Plan (SWP), you can meet your financial goals without having to go through the hassle of timing the markets and making wrong financial decisions that may cost you dearly and throw you off track.
Mutual Fund investments are subject to market risks, read all scheme related documents carefully.
Disclaimer
The above information is prepared for the purpose of investor education only and intended to consider as investment advice, and is not a recommendation, offer or solicitation to buy or sell any securities or to adopt any investment strategy. Investors should consult their financial advisers before taking any investment decision.