Many investors are concerned about the impact the Essel Group fiasco will have on their mutual fund investments.
The Essel Group claims to have reached an understanding with lenders who hold pledged shares of the group's promoters. This could arrest the decline in the Essel Group stocks. Group companies shares had plummeted 10-33% on Friday, triggered by reports of payment defaults and sale of pledged shares.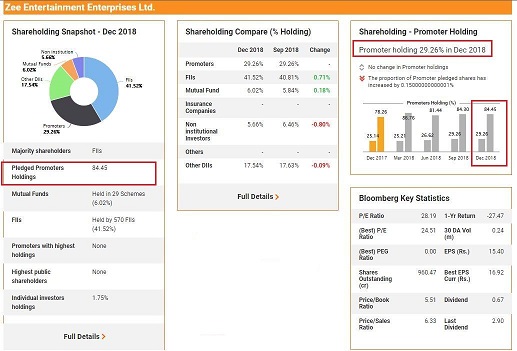 While the sharp fall in stock prices dented the NAVs of equity funds holding these scrips, there were fears that the crisis would spread to debt funds as well. More than Rs 8,000 crore worth of bonds and debentures issued by group companies is held by 150 debt mutual funds. Of this, Rs 6,329 is invested in 60 open-ended debt funds while the balance Rs 1,672 crore is in 90 fixed maturity plans (FMPs).
In a statement issued after the meeting with lenders, the Essel Group stated that it has been agreed that the no default will be declared due to the steep fall in price and there will be synergy and co-operation amongst lenders.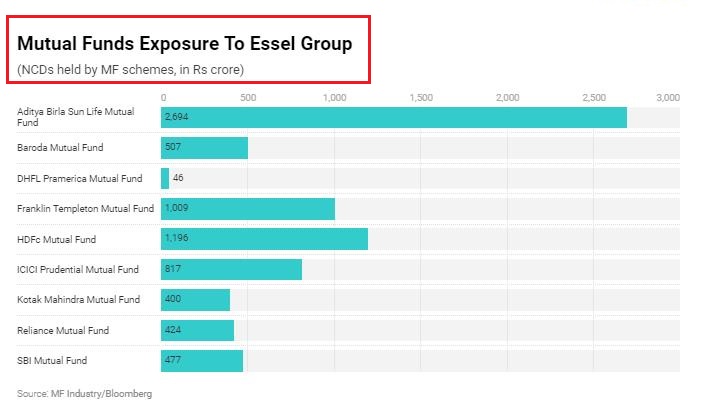 The Aditya Birla Sun Life Mutual Fund is the biggest investor, with an exposure of Rs 2,936 crore spread across 28 schemes. This is almost 37% of the total debt fund exposure to the Zee group. 
However, Aditya Birla Mutual fund is confident that the prices of these bonds and debentures will not be impacted. "These bonds are secure."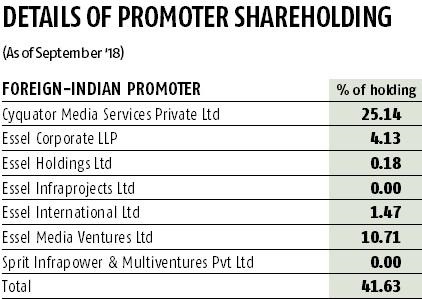 One scheme alone has Rs 1,288 crore invested in Zee group bonds. As on 31 December 2018, the Aditya Birla Sun Life Medium Term Plan held zero-coupon bonds worth Rs 720 crore issued by Sprit Infrapower & Multiventures Pvt Ltd. (credit rating A) and Rs 568 issued by Adilink Infra & Multitrading Private Ltd (unrated). The two holdings account for 12.5% of the fund's total Rs 10,272 crore portfolio and are its top holdings.
Another scheme, the Aditya Birla Sun Life Credit Risk Fund, held Rs 740 crore worth of zero-coupon bonds of Sprit Infrapower & Multiventures Pvt Ltd. and Adilink Infra & Multitrading Private Ltd. The two holdings account for 9.2% of its portfolio, with Spirit Infrapower as its top holding (5.62%). The Aditya Birla Sun Life Dynamic Bond Fund has over 8% of its Rs 5,136 crore portfolio invested in Sprit Infrapower bonds.
In percentage terms, Baroda Mutual Fund schemes have the largest exposure to bonds issued by Zee group companies. As on 31 December 2018, the Baroda Credit Risk Fund had Rs 168 crore invested in zero-coupon bonds of ARM Infra & Utilities Pvt Ltd. and Cyquator Media Services Pvt. Ltd. Together, this is 17.7% of its Rs 947 crore portfolio.
The silver lining for debt fund investors is the new rule that allows side pocketing of distressed assets. It is an accounting method that separates illiquid bonds from quality investments in a debt portfolio. If the Zee group bonds crash, open-ended debt funds may cushion themselves by putting them aside in a separate side portfolio. The fund's NAV then reflects the value of the liquid assets, with a separate NAV assigned to the side pocket assets based on their estimated value.
However, this will not apply to fixed maturity plans (FMPs) where the scheme has a limited tenure and bonds are held till maturity. HDFC Mutual Fund, the second largest investor in Zee group debt with an exposure of Rs 1,196 crore, has most of its exposure through FMPs. It has invested over Rs 900 crore in bonds and debentures through 38 FMPs. Some FMPS have over 20% of their assets invested in Zee group companies.
Note: Mutual fund investments are subject to market risks read all scheme related documents carefully.
DISCLAIMER:
No financial information whatsoever published anywhere here should be construed as an offer to buy or sell securities, or as advice to do so in any way whatsoever. All matter published here is purely for educational and information purposes only and under no circumstances should be used for making investment decisions. Readers must consult a qualified financial advisor before making any actual investment decisions, based on information published here.