Remember year 2008s Lehman brother's subprime crises that traumatize financial institutions, trembled global economy and capital markets across the world. Since then global economy is witnessing periodically hits one after another by way of grace, Spain, Italy's, European crises, last one i.e. Brexit.
Now it's time of Germany's one of the largest bank investment Deutsche bank. No surprise! Reasons are the same  old issues as major corporate frauds, financial mess, over exposure to risk assets, lack of transparency, lust of number one, unhealthy completion .It seems that we are not ready to learn any lessons from the others mistake. At one time Deutsche bank was mixed up in 72 trillion $ of derivatives financial instruments about a quarter of total global derivatives exposure, which is  as on today brought it down to 42trillion $ (only).
Deutsche bank several Vice presidents are being interrogated by Interpol for various corporate fraud.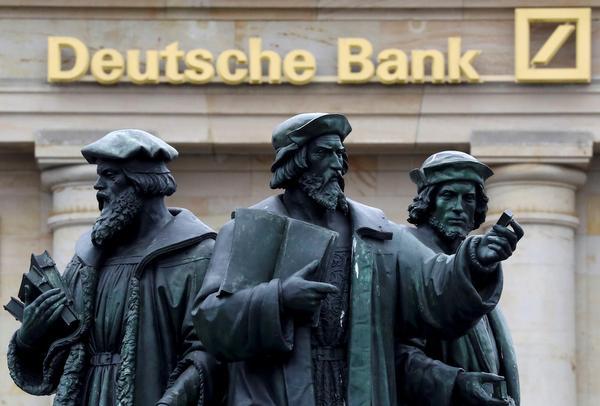 In any business debt ratio beyond certain admissible level is not acceptable. Deutsche bank very smartly (?) converted debt by using currency swap method.
This issue became more dangerously visible when it's US subsidiary failed to clear the US stress test & in the investigation US authorities found deutsche guilty of miss selling mortgage back securities. US authorities offered 14 billion $ settlement with minimum amount of fine but deutsche bank CEO not only express his inability to make its payment but anywhere near to that amount due to liquidity crunch.
Wait not all over yet. Three major banks are in trouble Deutsche is just one of them & this is for sure that if it sinks it could take many more banks with it.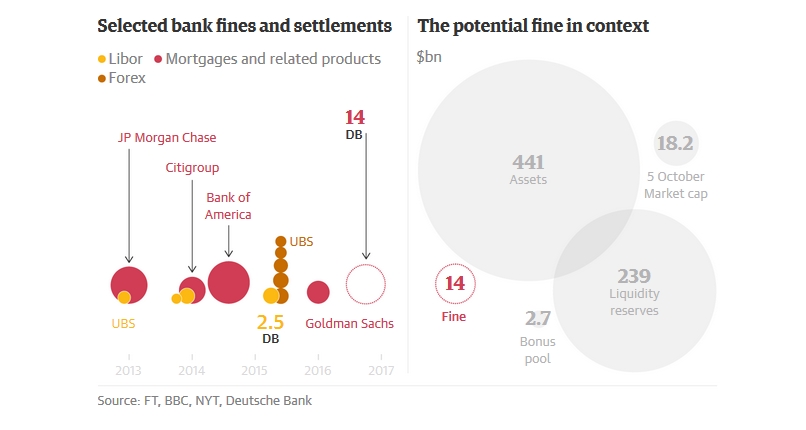 Now the problem is that bank is severally  under-capitalize, should infuse capital. Their capital requirement is 254 % of the market capitalization. But the question is how it will happen? Banks financial derivatives investment appears sound which include interest component along with the principal. Whereas practically some of them are not recoverable. Some of them have cap on loss making circumstances. So the options are very limited.
Turnaround of Deutsche bank is also very limited due to its single arm business as investment banker business with such profitable potentiality. Management is looking several other cost cutting options from staff downsizing to closing operations in some countries including some home branches. Its share is also plummeted heavily & lingering low to its 33 years.
Even if deutsche bank sale its UK & China base insurance business will generate not more than 5 billion $.Sale of equity is also not the option one can consider due to fall in share prices in the market. European Union central bank's rules are stringent even if Germany wants to bail out package.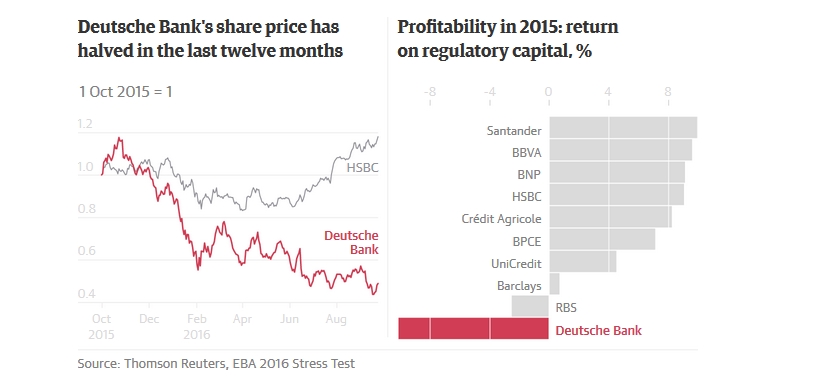 Deutsche bank's failure will be a major embracement for the Germany & its political leaders who gives lectures to other financially stressed European Union member countries. Though initially German authorities denied any government support but they will not allow to fail & will do all possible efforts to save such major bank. But major concern is of its quantum of financial mess.
More important to see all these developments in the back drop of euro zone developments. Already euro zone economy of the euro zone countries, their banks are in crises, Brexit is imminent. Migration in European countries from war zone countries is already affecting the economy of the member countries including Germany besides their euro zone financial crises.  In such situation failure of any such major bank leads to financial earth quick with its magnitude 5 times more than Lehman brothers problem.
But one thing is for sure Germany & Europe  cannot allow to collapse that not only could lead to free fall of global banking but could lead to the entire European Union collapse.
Such major financial catastrophe always results in upsurge of precious metals such as gold, silver due to its safe & secure investment. It is estimated that gold can go up to 1500 to 2000 $ per ounce minimum and silver not less then 50 to 75 $ per kg.
In the given circumstances Indian investors neither required to press panic button immediately nor ignore or buy time with wait & watch approach. Instead of it, should adopt balance approach & start using much neglected strategy SWP i.e. systematic withdrawal plan effectively. Start booking profit of fairly appreciated investments & investing in stocks with strong fundamental background, or schemes with diverse portfolio with investment in blue chip companies.
DISCLAIMER
No financial information whatsoever published anywhere here should be construed as an offer to buy or sell securities, or as advice to do so in any way whatsoever. All matter published here is purely for educational and information purposes only and under no circumstances should be used for making investment decisions. Readers must consult a qualified financial advisor prior to making any actual investment decisions, based on information published here.