India's first REIT (real estate investment trust), Embassy Office Parks REIT plans to raise Rs. 4,750 crore from the market.
The REIT will open for subscription on March 18 and the bid process will close on March 20. The unit price for investment will be determined by the book building process.
According to the document, India's office real estate market offers 7.5%-8.5% p.a rental yield.
Embassy Office Parks is a joint venture between Blackstone Group and Embassy Group. It holds around 33 million square feet of commercial properties spread across four metro cities Bengaluru, Mumbai, Pune and Noida. Currently, it has leased 95% of its total properties of which, 43.4% have been rented to Fortune 500 companies.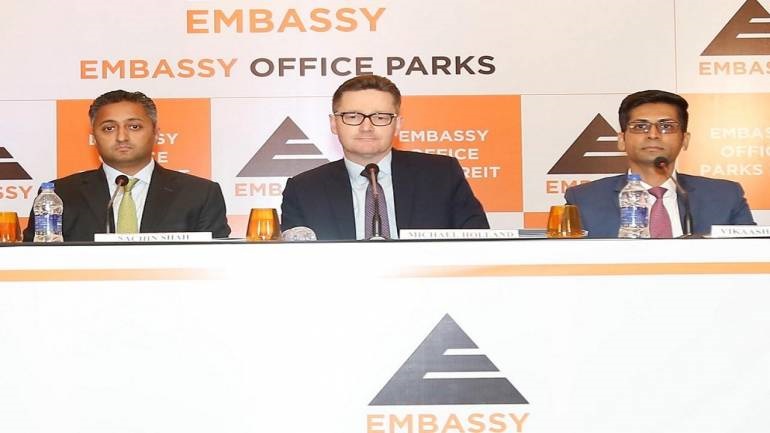 In December 2018, the portfolio had generated Rs. 1,611 crore of revenue from operations. It is expected to grow by 55.8% by FY2023, said the draft document.
Of the total sale offer, the Embassy Office Parks has allocated Rs.3900 crore for retail and institutional investors.
Of the 33 million sq ft, about 24 million sq ft is operational with 95 % occupancy, yielding a rental income of over Rs 2,000 crore annually. Another 3 million sq ft area is under construction and 6 million sq ft is in the pipeline.
The JV has top MNC clients in its commercial projects. Over 50 % of rent comes from Fortune 500 companies such as Microsoft, Google, Wells Fargo and JPMorgan.
What is a REIT?
REIT is an investment tool that owns and operates rent-yielding real estate assets. It allows individual investors to invest in using this platform and earn income.
REITs are listed entities that invest in income-generating properties and distribute at least 90 % of their income proceeds to unit-holders through dividends. After registration with SEBI, units of REITs will have to be mandatorily listed on exchanges and traded like securities.
Properties listed through a REIT are typically commercial assets that can generate steady and lucrative rental income. Even government-run buildings can be placed under REITs.
REITs offer investors, with Rs 2 lakh in capital, an opportunity to invest in the commercial real estate market. Like listed shares, small investors can buy units of REITs from both primary and secondary markets.
According to a CBRE- CII report, a successful REIT listing would prompt other prominent asset holding companies such as Xander, Brookefield and Canada Pension Plan Investment Board to issue their own offerings, thereby widening the real estate investment scenario in the country.
DISCLAIMER
No financial information whatsoever published anywhere here should be construed as an offer to buy or sell securities, or as advice to do so in any way whatsoever. All matter published here is purely for educational and information purposes only and under no circumstances should be used for making investment decisions. Readers must consult a qualified financial advisor before making any actual investment decisions, based on information published here.