In India, diabetes is one of the major health issues. Every 1 person out of 5 is suffering from diabetes. And this number is increasing day-by-day. The number of diabetic patients in year 1980 was 108 million and this number goes up to 422 million in the year 2014. It is being predicted that diabetes will become the 7th leading cause of death on a global level till the year 2030.
So, in the case of any emergency related to diabetes, health insurance will take care of you and your family after you. There are various health insurance plans for diabetic patients, so you need to select best out of it.
Unknown facts about Diabetes in India
There were approx 69.1 million cases of diabetes in India in the year 2015.
It has been predicted that, every 5th diabetic patient in the world will be an Indian by year 2025.
Our India is popular as the diabetic capital of the world having a 2nd position in the number of diabetic patients worldwide.
The number of death from diabetes in the year 2012 was 1 million.
In India, 87 million cases of diabetes by the year 2030 are being predicted by World Health Organization.
According to research, 1 out of 5 corporate workers suffers from diabetes or hypertension.
In India, a number of male diabetic patients is 13% higher that of the female.
The risk of contracting diabetes is 50% more for the people between ages of 60-70 years.
Age-wise Claim for Diabetes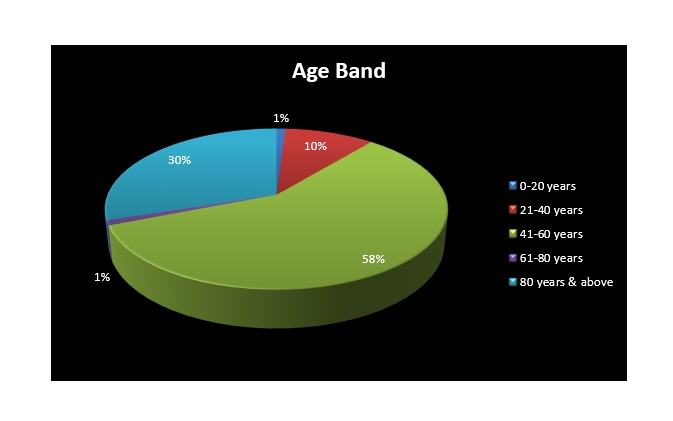 State-wise Claim for Diabetes
After a look at all these charts, you can see how this issue of diabetes is capturing the whole India. Now, it becomes must buy a health insurance plan for diabetic patients.
There are many companies in India which cover diabetes as a pre-existing disease in their health insurance policy which also includes specific health issues arising due to diabetes. But, maximum people are not aware of these policies.
Critical Illness treatments now in Installment/EMI form will be a mode of relief
Types of Diabetes and their policies
 1st Type– It is the type of diabetes in which the body stops producing insulin, which is very much needed to convert glucose into energy, and is known as insulin-dependent diabetes. In this type, the patient needs regular shots of insulin.
There is no policy which covers this type of diabetes.
2nd Type– In this type of diabetes the level of sugar (glucose) in the body goes higher than the normal and the cells of our body becomes insulin resistance and the amount of insulin produced is not sufficient.
Policies covering this type– Star Health Diabetes Safe, National Insurance Varishta Mediclaim, Energy Plan by Apollo Munich Health Insurance Plan.
3rd Type– it is the type of diabetes in which opposition of insulin occurs in the brain and it is the type of Alzheimer disease.
Gestational diabetes–
This occurs in a female at the time of pregnancy and if not cured, it gets converted to the type 2 diabetes.
Policies covering this type– Maternity benefit of health insurance policy cover this type of diabetes.
Premium amount for Diabetes health insurance plans
The premium amount for a diabetic patient is mostly higher than the normal premium amount because the risk is also high. The diabetic patient gets a higher chance of claim due to the frequent medical attention. So, always go for that policy which gives you maximum benefit at minimum cost.
Minimum premium amount of different policies (A person of 45 years of age and cover of 3 lakhs)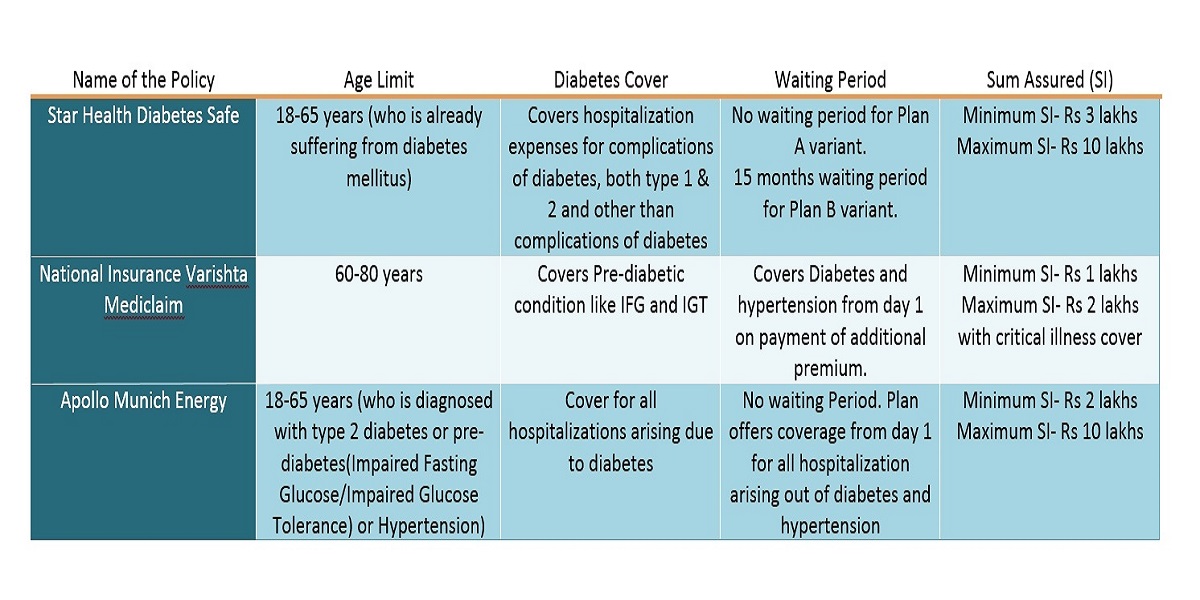 Waiting Period of the Plans
Each and every health insurance policy has its waiting period for which you can claim for your pre-existing disease. Waiting period varies from company to company, but mostly it is of 4 years. You should go for the policy with a minimum waiting period.
Sum assured

Your conclusion to the sum assured should be based on your diabetes condition age, city, hospitalization requirement and the inflation rate of health care. Choose the best which offers you a wide range of sum assured.
Age & Cover for the disease arising due to Diabetes
Always inspect before your buy. Check the age limit of your health insurance policy. It should be flexible because flexibility in the age limit will allow you to get insured at advanced age also. It will also cover problems arising in other body parts due to diabetes.
Points to be remembered
Always try to buy health insurance as early as possible, especially when you have the medical history of diabetes.
Always get a specialized and specific plan which covers you from the inception of the policy.
Terms and conditions related to the policy are very important to understand.
In India, the number of insurance companies covering diabetes is very less but there are sufficient plans to choose the best one. Think, understand, insure, and then buy.