Every stock market investor wants to buy equities when markets are at their low and sell them when markets are at their peak. But it's easier said than done as it is always hard to resist temptation when markets are near their peak and it's always tough to find the courage to jump into equity markets when the markets are falling. But if the investors are willing to take the mutual funds route the above can be easily done with the help of dynamic mutual funds.
Dynamic funds switch between different asset classes, depending on their attractiveness.
Dynamic funds are specifically designed to switch seamlessly between equity and debt, depending on the market conditions. The fund manager of this scheme shifts between the asset classes based on their attractiveness as indicated by certain valuation metrics. Hence, in a rising market scenario, these funds will invest a larger portion of the corpus in equities and hold a lesser amount in debt and cash.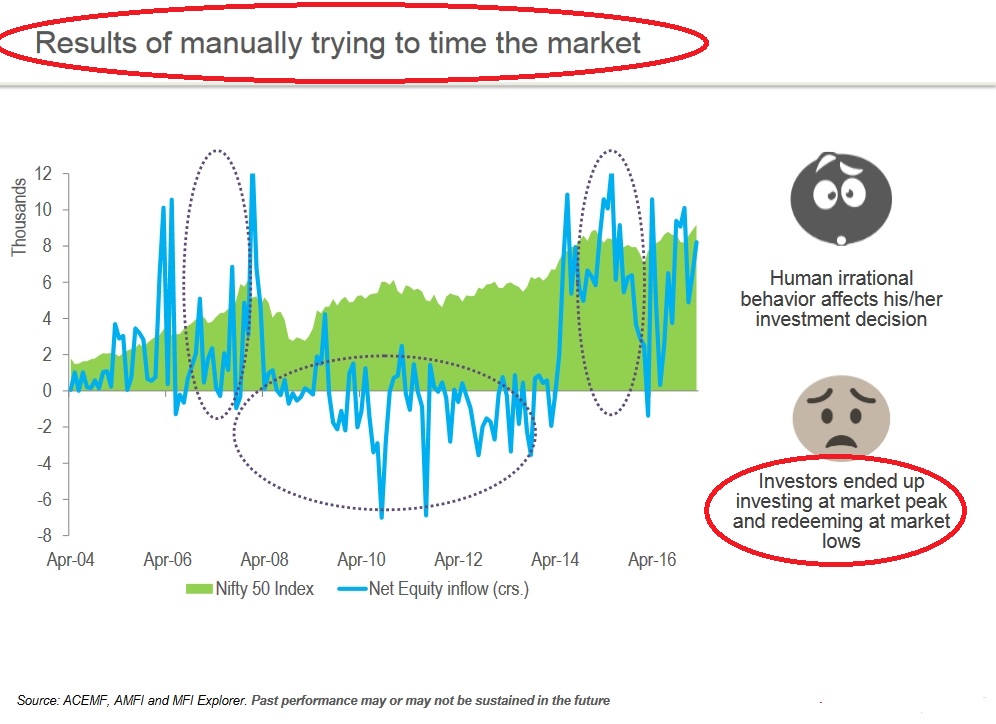 In the case of a falling market, the scheme will allocate more money to debt and, perhaps, hold more cash, while slashing the exposure to equities. Even hybrid funds do that, but they can't switch rapidly between asset classes and they're typically true to one asset class, such as equity in case of balanced funds and they invest less in other asset classes. Dynamic funds aim to switch aggressively between equity and debt and are more opportunistic. In dynamic funds you can buy on dips and sell when the markets are at high levels. These asset allocation funds act as a shield against market downswings and they typically lose less money when the markets are down.
These funds aims to normally invest in equity but can react quickly to a negative market by moving 100 per cent of its assets into money market instruments, fixed income securities and derivatives with an aim to limit the downside risk, in the event that the fund manager is bearish on the market.
Dynamic funds often have another interesting characteristic. The balance between debt and equity is decided not by the fund manager, but by a formula. To be sure, this is not passive investing (as in an index fund), because the recipe for asset allocation is itself a result of research by the fund house, but there is an element of automation involved. Most funds in the space decide their asset allocation based on a clear formula.
For instance, some funds make equity allotments based on the nifty's PE while some funds follow the PBV ratio. The goal is always to use indicators like P/E ratio and others to define a time when the markets are ready to fall and to reduce equity allocation at that time and to increase it when the market has fallen enough. Either way, this type of fund brings an interesting element into equity fund investing.
Normal equity funds are always supposed to be invested in equities. Conceptually, their job is to do better than the equity market, their job is not to make gains but to do better than their benchmark, even if that means falling less than the markets when the markets are falling.
Dynamic funds, on the other hand, implicitly make the promise of being absolute return funds. They define their job as making gains with their equity investments just like non-dynamic equity funds, but additionally as also getting out of equities when the markets are not going to do well.
Typically, dynamic funds underperform as compared to pure equity funds in continuously rising equity markets because these funds sell equities and get into cash as equity markets go up. But when the markets going down or when there are many fluctuations in the market these funds will often perform better than the normal funds.
A well-managed dynamic fund can absolve you of the headache of timing the markets and investors can earn good returns if they remain with these funds for long term. You could consider such a fund for stability in your investments in a volatile climate. However, remember that aggressive rebalancing may not always work in the fund's favor. It is also not advisable to go by the short-term performance of these funds alone. They can provide good results if they are held for a reasonable time, at least three to five years. These funds are able to make the most of the market ups and downs given adequate room to work.
Note : Mutual fund investments are subject to market risks read all scheme related documents carefully.
Past Performance is Not A Guarantee Of Future Returns.
DISCLAIMER
No financial information whatsoever published anywhere here should be construed as an offer to buy or sell securities, or as advice to do so in any way whatsoever. All matter published here is purely for educational and information purposes only and under no circumstances should be used for making investment decisions. Readers must consult a qualified financial advisor prior to making any actual investment decisions, based on information published here.