Chinese equity markets are smashed, European and U.S. markets are distressed, and those in the Japan and elsewhere in Asia are rocked. It is very obvious, equity markets in India can't run up in isolation. That decoupling hasn't happened yet. In such a scenario U.S. Dollar is being considered very safe and has been attracting investors. This is why investors are encashing profits in equities and preferring to stay in USD for a moment; at least unless picture becomes clears.
Speaking about India, last week of August was a devastating one. Overvalued Indian market fell like a house of cards as contagion of Chinese gloom spread everywhere; after Asia's largest economy pegged its currency down. While FIIs exited India; mutual funds came to the rescue. Only time will prove, who's dumb and who's smart.
FIIs might be exiting India for reasons given below
• China has been facing serious structural problems. As slowdown fears in China appear to be more serious and well-accepted now, FIIs are believed to have become risk-averse all of a sudden and thus have been withdrawing from all major emerging markets.
• What looked certain till now, as far as action of Federal Reserve (Fed) on policy rates in the U.S. is concerned, has started looking uncertain after China devalued its currency.
FII VS DII Activity for the month of August and september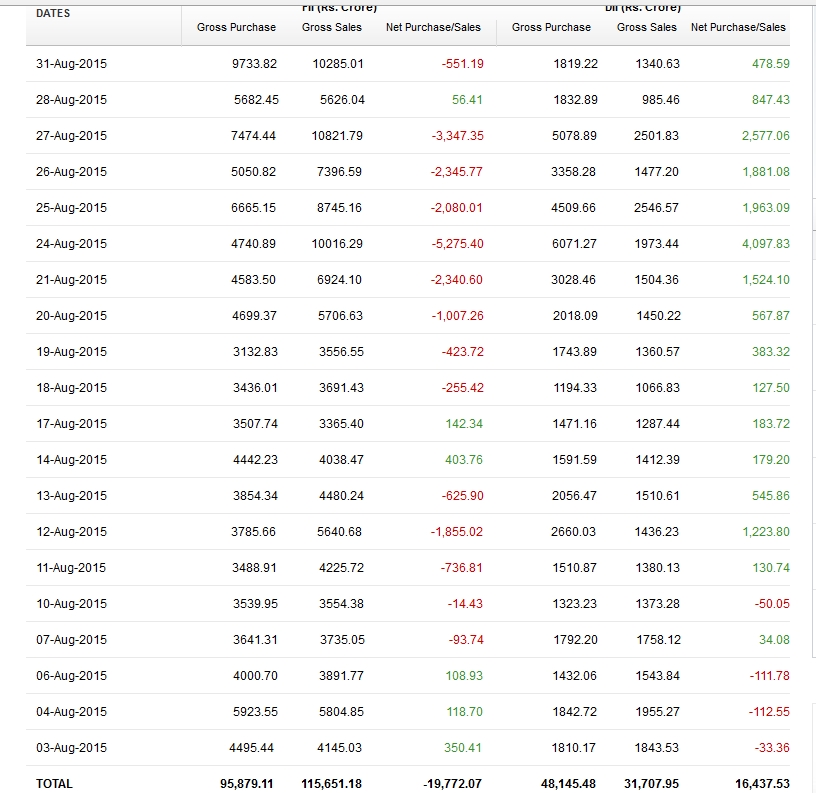 • With 7 odd percent of GDP growth, India still remains one of the most rapidly growing economies. However, despite of showing noticeable improvements, Indian economy is well-short of meeting expectations of global investors.
• It seems lacklustre performance of corporate Inc., quarter after quarter, has finally made FIIs believe that India may take a long to recover in true sense. Valuations appear extremely expensive.
• Logjams in Parliament are obstructing the passage of some key bills which gives a feeling that there is no consensus within India on the reform agenda
In simple words, FIIs had invested heavily in India on expectations that it will be a rewarding investment destination. However, they appear to be worried about prospects of Indian markets now under fast changing environment.
Let's now see how mutual funds are reacting to the changing situation
Taking a contra view, mutual funds aggressively invested in equity markets in August. Net investments by mutual funds amounted to over Rs 10,500 crore in August while the total in first 8 months of 2015 was about 47,000 crore.
What makes mutual funds bullish on India when FIIs are selling in India and global brokerage houses are reducing targets of leading Indian Indices?
Here are the factors…
• Mutual funds have been witnessing huge inflows from the retail segment which is why they still remain net buyers
• Taking advantage of downbeat sentiment, fund houses might have done some value buying
• Although, by and large, mutual fund houses held low cash in their portfolios under diversified schemes, there is a possibility that, money they collected through New Fund Offers (NFOs) launched recently, may have found ways in the market
• Retail investors look upon recent market fall as an opportunity rather than a threat and may have invested aggressively.
Source PFN