The Tata-Mistry boardroom battle greatly affected the Tata group shares in the previous quarter.
It all started on October 24, when the board in an unexpected move dismissed Mr. Cyrus Mistry as the chairman of Tata Sons. Further, in the next few months, Mr. Mistry was dismissed as chairman of the group companies as well.
The clash continued as both the parties resorted to multiple rounds of allegations, counter-allegations, and legal suits. Consequently, investors feared and started dumping Tata stocks which resulted in lowered share prices. Investors turned negative on Tata stocks.
On the other hand, mutual fund houses, with a total exposure of over Rs 15,000 crore to Tata stocks, preferred to play the wait- and watch the game. When prices went down few fund houses picked up shares of the group stocks. Most Tata group stocks lost nearly 15-20% in value over the two-month period of November-December 2016.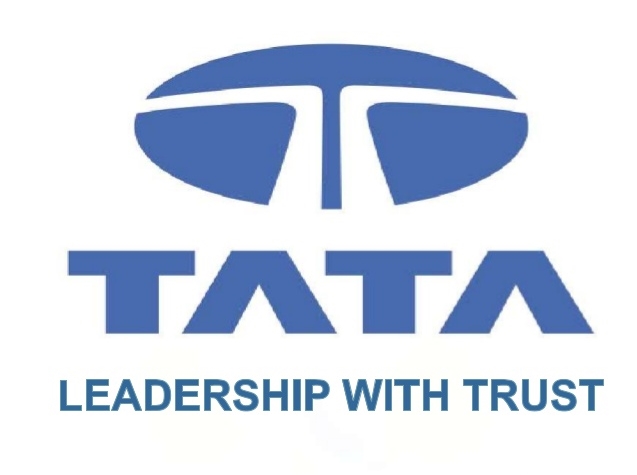 When the current commotion subsided, almost all of the Tata group stocks staged a rally in January 2017, with the appointment of Mr. Natarajan Chandrasekaran, as the new chairman of Tata Sons. In addition to these changes, equity mutual funds also went on a selling binge at that time.
Actively managed equity diversified mutual funds sold Rs 489 crore worth shares of Tata group companies. TCS and Tata Motors were the top-two highest sold stocks with shares worth Rs 456 crore sold.
Are the fund houses suspecting the long term prospects of Tata sons?
Mutual funds sold stocks of the group due to certain reasons, and it's not just these two companies; there were many others stocks of the Tata group as well. Let's have a look at these figures:
Tata Group stocks that were bought and sold in January 2017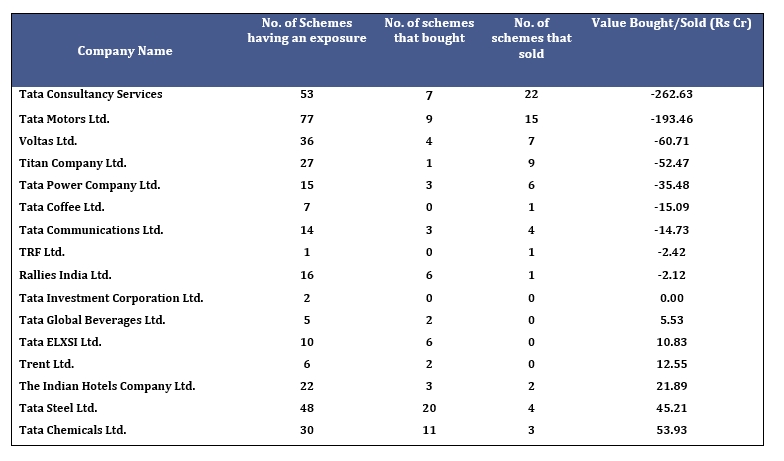 Tata Stocks Came under Pressure
Out of the 53 equity mutual fund schemes that held TCS in their portfolio, less than half were net sellers of the stock in January 2017.
Out of these 53 schemes, seven schemes bought shares of the software major. Similarly, Tata Motors' holding declined as 15 schemes sold shares of the stock amounting to Rs 194 crore. For the remaining Tata group stocks, there was no significant change holding.
Top 10 Fund Houses that bought and sold Tata Group Shares
Most Fund Houses divested Tata Group Shares
The top 3 sellers of Tata Group Stocks were SBI MF, ICICI Prudential MF, and Franklin Templeton MF among various other Fund houses. These three fund houses collectively sold Rs 386 crore worth of shares. While many fund houses were net sellers, in value terms it was much lower than the top four fund houses. Some of the fund houses such as L&T Mutual Fund, BNP Paribas MF and HDFC MF were even buying the shares of Tata stocks, although in lower quantities.
The Recovery stage
After suffering a major decline in November 2016, most of the stocks have exhibited a recovery in the ensuing two months. Fund houses reported buying shares of most companies as the prices decline.
At present, the total exposure to Tata group companies is at the same level as seen at the end of September 2016. Among the major holdings, the exposure to Tata Motors has declined by about 5%, while the price of the stock declined by 2.09%. Similarly, the exposure to TCS declined by 13.40%, while over the same period, the price of TCS declined by 8.13%.
On the other hand, the exposure of equity mutual fund schemes to Tata Chemicals and Tata Steel increased.
Should you be concerned as an investor?
While it seems that the mutual fund houses may be dipping their exposure to Tata group stocks, it may actually be a mix of price volatility and short-term trading bets taken by them. It is clear from the marginal reductions in stocks including mainly the TCS and Tata Motors stocks.
Though short-term portfolio churning is by mutual funds is often looked down upon, but if fund houses see a value buying opportunity or consider averaging out the buying price when stocks are oversold, it may turn out to be a good decision.
What we could learn from the Tata-Mistry spat is that at difficult times, even good stocks come under selling pressure; but that is mostly for the short-term. As most of the company's stocks have recovered since then.
Therefore we recommend all investors to follow the same advice which is, as long as one invests in consistently performing best MF schemes that are from fund houses following sound investment systems and risk management processes, there is no need to bother. These schemes will surely generate optimal returns for them.
While planning for long-term financial goals, one must opt for Systematic Investment Plans (SIPs) mode of investing to mitigate volatility. It is light on the wallet, makes market timing irrelevant, facilitates rupee-cost averaging, compounds your portfolio better, and enforces a disciplined approach towards investing – which is a must in the journey of wealth creation.
However, if one wants proper guidance while investing in Mutual Funds he/she should approach a professional Financial Guardian, who stands as a symbol of Trust and safeguards investor's interests.